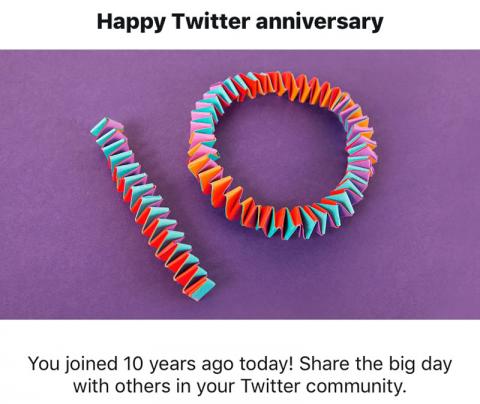 Enlarge Image
Today is my 10th anniversary on Twitter! I wanted to take this opportunity to thank all the good people in the Twitterverse who have invited me to learn about their lives and what they care about, by sharing interesting activities. And to the cultural, art, civic, and creative organizations, thank you for bringing joy into my life by informing me of new opportunities in which I could participate.
"Hello, World" - @sos_jr First Tweet! October 1, 2009
I started on Twitter on the advice of two friends, Jim Evans (a good friend who passed away on May 8, 2018) and Tony Ramos (@TonyRamos), at a meeting of the Web Development Special Interest Group (an educational group that I ran for ten years). They noted that I always started my meetings by announcing all the great tech meetings happening in Cleveland and Akron, and they suggested that I could share my list with a larger audience on Twitter. On 10:48 pm, October 1, 2009, I started promoting Cleveland and Akron educational meetings for tech, social media, and entrepreneurship on Twitter as @sos_jr.

Enlarge Image to Read
When I would go to social media events and blogger meetings (the Ohio Bloggers Association @OHBlogging and the Lake Erie Moose Society), I would say I was a micro-blogger with my @sos_jr tweets. That gave me the idea of basing a blog post on what I shared on Twitter as @sos_jr.
On March 8, 2012, I created my Hello, World! My First Blog Post!, and then posted annually from 2013 to 2016 my "Stuart's List" of tech, social media, and entrepreneurship meetings in my Blogiversary posts (In 2013, I tracked 120 meetings. In 2016, I tracked 164 meetings.)
Article and Blog Post about Stuart Smith on Twitter

Enlarge Image to Read

Enlarge Image
Learn more about how I use Twitter in Dan Yurman's (@djysry) blog post for the Cleveland Digital Publishing Users Group (@CDPUG) on February 6, 2012, entitled: Stuart Smith on Twitter, and in Janet Cho's (@JanetCho) September 18, 2015, Cleveland.com article about me entitled Smarter #SocialMedia Tips from #HappyinCLE Stuart O. Smith Jr. (@sos_jr).
In 2016, I was invited by the PechaKucha Night Cleveland leadership team (@PKNCLE) to speak at a special, first-time-ever PechaKucha Night Cleveland Past Presenters Happy Hour on November 29, 2016. In my talk, I shared my love for PechaKucha Night and explained how I use Twitter to promote Cleveland and Akron activities.
Please go to my A PechaKucha Talk by Stuart O. Smith, Jr., about PechaKucha Night Cleveland blog post to see my slides and more information. I have included the video from the blog post here:

Enlarge Image
Blog Tag Cloud and Thanking Organizations I Follow on Twitter

Enlarge Image
Please go to my blog's Tag Cloud (click here) to pick a subject that interests you. There you will learn more about blog posts on that subject based on my @sos_jr tweets and retweets.
Here are the Tag Cloud keywords for some of the many organizations that I want to thank for their programs in my areas of interest that I share as @sos_jr on Twitter!
Here is a partial list of of my blog posts that relate to my use of Twitter (complete list of blogs about Twitter here) and to my ten years leading the Web Development Special Interest Group (complete list of blogs about Web Dev SIG topics here):
Please visit my sosAssociates.com/Blog web page to see all the blogs I have written over the years, and my annual Blogiversary and New Year's Day posts with a summary of each year.
A New Year Full of Possibilities

Enlarge Image
People who follow me as @sos_jr on Twitter know that I start most months with a tweet about "a new month full of possibilities." Thus, I want to end this #MyTwitterAnniversary blog post wishing you a great month, year, and life full of adventure and fun times as I start my eleventh year of sharing on Twitter! "May you reach the goals you desire for the month, & create a foundation to reach desired goals in the future!"