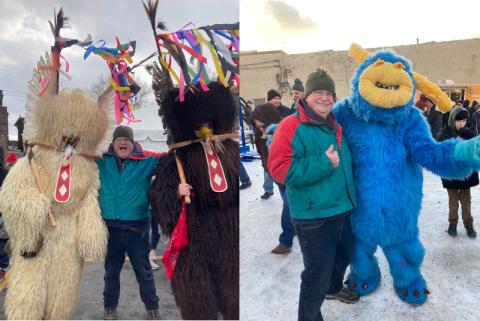 Enlarge Image
Saturday, February 26, 2022, a day of outdoor Cleveland winter fun -- Cleveland Kurentovanje and Brite Winter!!!
This year, I attended two events where I joined with other people who laughed at the Cleveland cold by attending outdoor celebrations! After years of hearing about Cleveland Kurentovanje (koo-rehn-toh-VAHN-yeh), I finally attended this "Slovenian Mardi Gras" parade and festival in the afternoon. I then continued the fun with Brite Winter, which I enjoy every year.
In this blog post, I will let the following tweets tell the story of these two Cleveland winter events.
Tweets Before Brite Winter
"critter creator" -- Be sure to read CLE WEEKEND blog post with a very interesting video about artist Jess Sheeran.
I am looking forward to seeing @SaschaPeppercor at Brite Winter. I will get my fortune told!
Tweets Before Kurentovanje
Thank you Cleveland Kurentovanje Sponsors and Partners
Saturday, February 26, 2022 - Cleveland Kurentovanje 2022 "Slovenian Mardi Gras" Parade and Festival
Cleveland Kurentovanje (koo-rehn-toh-VAHN-yeh) is a multi-day "Slovenian Mardi Gras" festival, celebrating the end of winter and the beginning of spring. Founded in 2012, with the first event held in 2013, we host a multi-day festival filled with cultural and festive events, which culminates in a day-long Parade & Festival celebration on Saturday complete with costumes, a parade, ethnic food and drink, musical and cultural performances, and Kurents — mythical creatures who are believed to chase away winter and usher in spring.

Cleveland Kurentovanje is a volunteer-run organization founded in 2013. Cleveland Kurentovanje is a program of the Slovenian Museum and Archives.
I have heard about Cleveland Kurentovanje for years, but I always seemed to have a conflict that prevented me from attending. I am so glad I finally attended in 2022.
Nicole Kusold-Matheou is one of the founders of Cleveland Kurentovanje. I know Nicole Kusold-Matheou, since we both work on the Cleveland GiveCamp Steering Committee. It was great to learn about her work to create Cleveland Kurentovanje as a great new cultural event when she presented at PechaKucha Night Cleveland - Volume 36. Learn more in my blog post:
(To learn more about how Cleveland GiveCamp volunteers build FREE tech solutions for Cleveland and Akron area nonprofits, please visit the ClevelandGiveCamp.org website. Also, please read my Cleveland GiveCamp blog posts here.)
It was good to talk to Chris Ronayne at the 10th Annual Cleveland Kurentovanje
Thank you to Cleveland Kurentovanje sponsors!
I talked to Dan Hanson, the creator of the Cleveland People website, during the Cleveland Kurentovanje parade. Be sure to see his Kurentovanje in Cleveland photos in his blog post.
Great to see this tweet by Nicole Kusold-Matheou that links to an article about this tenth year!!
Thank You Brite Winter 2022 Sponsors
Saturday, February 26, 2022 - Brite Winter 2022
MISSION
To bring joy to the Cleveland community through arts and music.
. . .
WHAT'S NEXT
Twelve years spanning three neighborhoods (and in virtual spaces), hundreds of thousands of guests, hundreds of bands and artists, and temperatures as low as 8 and as high as 66. When we ask, "what's next," we really don't know, but we know we love Cleveland - our musicians, our artists, our local businesses, our neighborhoods, and our people. We are honored to be Cleveland's music and art festival.

Over the past few years, we have changed the way we make decisions about the musicians and artists involved in Brite Winter, asking up to 50 members of the community to help us make programming decisions. We continue to reach out and try to get more individuals and more communities involved in our little winter festival. We use our voices and mission to support racial and social justice. And more than anything, we wait in wonder with a healthy dose of anxious excitement, looking forward to whatever Cleveland will deal us next.
Thank you to the Brite Winter Leadership Team and Sponsors for this, the twelfth consecutive year of thousands of people laughing at the Cleveland cold at your annual outdoor celebration!
I follow @SaschaPeppercor on Twitter, so it was great to see her creativity in person. Thank you, @SaschaPeppercor, for the good fortune!
FIRE AND ICE!!!!
Thank you to the Brite Winter Sponsors for making this Cleveland winter fun possible!!!
Fill out the survey:
Please be sure to see the videos in the Share The River blog post:
It was good to talk to Emanuel Wallace at Brite Winter, and see his photos for Cleveland Scene Magazine. You will see he captured a photo of me enjoying Brite Winter 2022 on this very cold day.
See Emanuel Wallace's slideshow (95 slides) with all his photos in:
A BIG thank you to @GenniferwithaG_, @Jive_City, and @cledocumenters for sharing my Brite Winter Twitter thread:
On this 12th anniversary, I want to thank the Brite Winter (@Britewinter) organizers for the many years of winter outdoor fun!!! I have very fond memories of attending Brite Winter when it was just a small event in 2011 (see old tweets) at Hart Crane Park, and have watched it grow into the huge event it is now! [Canalway Partners (@CanalwayCLE) has owned Hart Crane Park since 1994.]
Here are my blog posts from past Brite Winters:
Also, see our Ingenuity Cleveland Blog Posts to learn more about their creative activities in Cleveland. Ingenuity Cleveland's Ingeneers created many of the artistic displays at Brite Winter.
For more outdoor winter fun in Northeast Ohio that includes ice carving, please see our Ice Fest blog posts:
Thank you and congratulations on another successful year, Brite Winter and Cleveland Kurentovanje organizers! I look forward to attending every year.