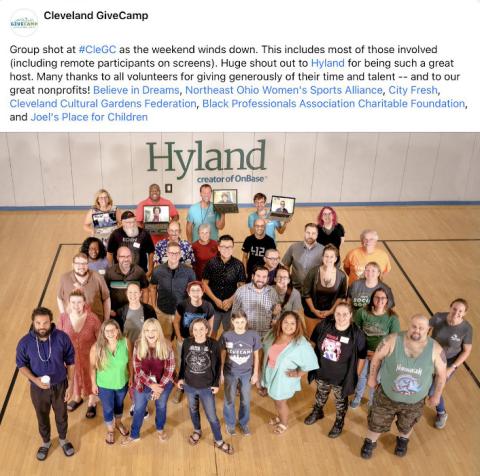 Enlarge Image
After missing 2020 and going virtual in 2021 due to COVID-19 safety considerations, at the start of 2022, the Cleveland GiveCamp Steering Committee was open to new possibilities as to what form the free tech solutions would be provided to local nonprofits.
Cleveland GiveCamp 2022 stayed with the weekend format of nonprofit teams and standup progress meetings, but new this year was:
the location -- Hyland
the month -- August instead of the traditional third Saturday in July
offering a hybrid option -- a combination of remote and in-person volunteers, which one nonprofit team utilized
In this blog post, I will:
convey what happened before and during the August 12-14, 2022, Cleveland GiveCamp Weekend
thank the volunteers and sponsors that made it possible
share information about the nonprofits served
2022 Planning and Announcements!
Mission
The Mission of Cleveland GiveCamp is to pair creative and technology talent with nonprofits in need.

Some of our past projects have included:
* Data-collection applications to keep track of members or clients
* Websites to communicate with stakeholders and constituents
* Mobile phone applications
* Mobile websites
Join us for Cleveland GiveCamp, where volunteers with technical, creative and organizational skills come together for a weekend to partner with nonprofits and help bring their digital projects to life.

Non-Profits
If you are a Northeast Ohio nonprofit with a clunky website, a broken-down volunteer database, an e-newsletter that's gone glitchy or any other tech problem that you think one of our crack tech-creative teams could help you solve in a weekend, we'd love to hear from you. Find out more.

Volunteers
If you're a designer, programmer, writer/editor or project management whiz who wants to work with great people doing meaningful work that begins and ends in one weekend, join us.

Sponsors
If you want to support our work financially or with goods in kind, we would love to feature you or your business at Cleveland GiveCamp. Everyone involved in GiveCamp is a volunteer and all donations go directly into running the event. Find out more.
While the most important activity happens over Cleveland GiveCamp Weekend, when the tech solutions are actually developed for the Nonprofit Partners, Cleveland GiveCamp is a year-round organization plannings and preparing for the weekend of service.
---
Announcing -- New Location: Hyland

Enlarge Image
This, our 12th year, will be an in-person event at Hyland. Details will be emailed to volunteers who sign up on Eventbrite.

Our volunteers are at the heart of Cleveland GiveCamp's success. Without their tireless energy and dedication, we could never pull the weekend off.

Important: Some categories of Cleveland GiveCamp tickets have "sold out" in the past, so if you plan on attending, please sign up early!
On June 9, 2022, Cleveland GiveCamp announced a new month, location, and the opening of the nonprofit application process. Thank you, Hyland, for opening your tech campus!
---
Volunteer Roles

Enlarge Image
We accept applications for the following roles:

Technical
Technical volunteers have backgrounds in software development and related technical areas. Common skill sets include WordPress, Joomla, Drupal, iOS/mobile, and database administration.

Project Management
Project managers ensure that the projects stay on task and meet their objectives in a very short window of time. This role is critical to the success of the project. Typical project management tasks include identifying project scope, setting expectations with the non-profit representative, time management, guiding team members' work, and representing the team with the organizers. Unlike other roles, Project Managers get their assignments in advance of the event and must be available to meet with the non-profit representatives and begin planning the project two to four weeks before the event takes place.

Copywriting
Copywriters write and edit content for non-profit websites and provide guidance on topics such as content strategy and tone.

Design
Design volunteers have backgrounds in areas such as UX, UI, and graphic arts. Common activities performed by these volunteers include heuristic design evaluations, page layout, information architecture, fine-tuning of styles, and creation and editing of graphics and photos.

Non-Technical
Sometimes called "runners", these volunteers help with non-technical and behind-the-scenes tasks like clearing and placing food, and running errands.
2022 Cleveland GiveCamp Steering Committee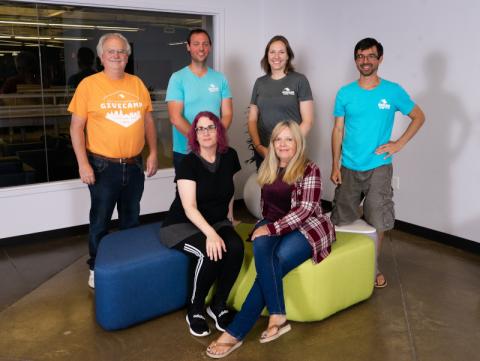 Enlarge Image
The Cleveland GiveCamp Steering Committee is the group that does all the advance planning that makes the weekend of service happen every year. I have attended every Cleveland GiveCamp since its first year in 2010, and have served on the Steering Committee starting with the planning of the 2011 event. I have been on boards of nonprofit organizations and professional organizations in the past, but my experience with how the leadership of Cleveland GiveCamp plans successful events has been unique. Each member of the committee steps forward to fill the organizational needs as they develop. The committee is an effective, active, working committee.
The photo above only shows some of the Cleveland GiveCamp Steering Committee members -- the full list of everyone that works year-round is shown below. It is an honor to continue to serve with these community leaders:
Steering Committee
Cleveland GiveCamp is run entirely by volunteers. Our steering committee plans all facets of the event and represents companies throughout Northeast Ohio. Many of these individuals have been involved with the event since its inception and continue to dedicate hundreds of hours each year to make it possible.

Margaret Attenweiler
Nicole Derr (@Nicole_Derr)
Cindi Deutschman-Ruiz
Jim Gorjup
Dan Nelson (@TheOneDanNelson)
Jonathan Knapp (@cc_jonknapp)
Nicole Kusold-Matheou (@NicoleKusold)
Suzy Peters
Ross Ritchey (@ross_ritchey)
Mark Schumann (@MarkWSchumann)
Stuart O. Smith, Jr. (@sos_jr)
Thank You, Cleveland GiveCamp 2022 Sponsors!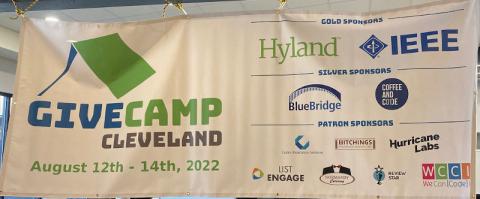 Enlarge Image
Cleveland GiveCamp could not happen without the generosity of our sponsors.

The event is run and organized entirely by unpaid volunteers. Every penny we receive goes directly into the food and supplies required to operate the event.

. . . As a result of your support, Cleveland GiveCamp volunteers provide $200,000 – 600,000 in technical support per year, all at no cost to the non-profits.

A $4,000 Dinner sponsorship provides a well-rounded and delicious hot meal for the entire crew. Your $500 Snack sponsorship supplies a much needed, late night calorie and caffeine boost to 200 volunteers and non-profit representatives. A Patron donation of $250 or more provides sticky notes, sharpies, painters tape, and other supplies necessary for planning and building the best tech projects in Cleveland.
The following Cleveland GiveCamp 2022 Sponsors made it possible for tech/design volunteers to provide FREE tech solutions to Cleveland and Akron area nonprofits:
Gold Sponsors
* Hyland Software (@hyland)
* IEEE Cleveland Section (@IEEEorg)

Silver Sponsors
* BlueBridge Networks (@BlueBridgeLLC)
* Coffee and Code (@CoffeeAndCode)

Patron Sponsors
* Cunix Insurance Services (@DaveCunix)
* Hitching Insurance Agency, Inc. (@HitchingsIns)
* Hurricane Labs (@hurricanelabs)
* ListEngage (@ListEngage)
* Nick Barendt & Robin Jump
* Normandy Catering (@NormandyCaters)
* Review Star (@ReviewStarIO)
* We Can Code It (@wecancodeit)
July 28, 2022 -- Announcing the 2022 Nonprofit Partners!
Cleveland GiveCamp is proud to announce their partners for 2022!

1. Believe in Dreams (@BIDforKids)
2. Black Professional Association Charitable Foundation
3. City Fresh
4. The Cleveland Cultural Gardens (@CultrlGardens)
5. Joel's Place for Children (@JoelsPlaceCLE)
6. The Northeast Ohio Women's Sports Alliance
The Cleveland GiveCamp Nonprofit Committee selected five website projects, and a database project for the Black Professional Association Charitable Foundation.
Before Opening of Day One Cleveland GiveCamp 2022
From: "Cleveland Givecamp"
Subject: Cleveland GiveCamp 2022 -- See you tomorrow!
Date: August 11, 2022 at 4:49:06 PM EDT

Dear Cleveland GiveCamp volunteer,

One more logistics email, then we're good to go.

Reminder, that there will not be any camping this year.
We will all need to leave Hyland by no later than 10:30 p.m. on Friday and Saturday (if you want to break earlier than that on either night, just be sure to communicate with your team).
If you have any questions, please ask!

We have invited you all to our Slack group. If you have issues joining, please respond to this email and let us know. We'll use Slack to message during the event and makes it easy to ask all of our volunteers questions if anyone needs help.

Finally, since we have volunteers joining us remotely we have some virtual info.

. . .

See you all tomorrow starting Hyland's doors open at 5pm. We start the opening ceremony at 6pm sharp!

https://clevelandgivecamp.org/event-info/schedule/

Best,

Your Cleveland GiveCamp organizers
Friday, August 12, 2022 -- Cleveland GiveCamp 2022: Day One!
Opening ceremony:
Just as the weekend officially starts, the Cleveland GiveCamp teams start work on the tech projects for the nonprofit partners!
After the first day of Cleveland GiveCamp, the night shines with a beautiful moon!
Saturday, August 13, 2022 -- Cleveland GiveCamp 2022: Day Two!
While we are able to help non-profits once a year, sometimes that's not enough. The following are resources that may be helpful to you:
On Day Two, resources that are available year-round were shared. Leading up to the Cleveland GiveCamp weekend, I was in contact with BVU, who recommended that nonprofits learn about their "Ask the Expert" program. WordCamp Kent has also been listed on the Cleveland GiveCamp website for the last couple of years as a resource to nonprofits who have WordPress websites.
To learn about WordCamp Kent and BVU, please see my blog post:
Two Twitter lists were created to make it easy to follow the 2022 Nonprofit Partners and the 2022 Sponsors:
It is great to see all the teams of volunteers working all weekend!
Hyland likes to have fun!
I was excited to learn that information I provided BVU helped two of the nonprofits to apply!
Sunday, August 14, 2022 -- Cleveland GiveCamp 2022: Day Three!
On the last day of Cleveland GiveCamp, Joel's Place for Children set up a new Twitter account -- follow @JoelsPlaceCLE to learn about their work to provide "grief support to kids and families who experience death-related grief and loss."
What fun! Preparing for closing, I picked up directional signs for Cleveland GiveCamp, and found an elf sitting outside Hyland Building #3. I wonder who put it there and how many Hyland staff have found it.
Cleveland Foundation Digital Excellence Initiative & PCs for People Ohio
Digital Excellence Initiative
Building a strong, equitable, and resilient digital community in Greater Cleveland

We [Cleveland Foundation] launched our Digital Excellence Initiative in 2017 to ensure all residents can successfully participate in the digital world and economy, and to elevate Greater Cleveland's infrastructure, talent and research prominence in digital technology and innovation.

According to a 2018 report by the National Digital Inclusion Alliance, Cleveland was ranked the fourth worst internet-connected city in the United States. Closing the digital divide support the foundation's work across all program areas, from workforce development to education to neighborhood revitalization. We work to position Greater Cleveland as a leader in digital innovation and access by investing in five areas:

Creating a more connected community . . .
Supporting digital skills development . . .
Improving digital civic engagement . . .
Elevating regional digital leadership . . .
Encouraging technology innovation for social good . . .
Electronics Recycling Center & Retail Location
Since 2018, PCs for People Ohio has been committed to serving the state through computers, internet access, digital skills training, and tech support for families and individuals in underserved communities. We also provide a valuable service to businesses through free, certified, sustainable e-recycling for computers and other retired technology.

In-Store Prices
Desktops: start at $30 (two free desktops available per day)
Laptops: start at $50
Internet: $69 for the device, $15 per month for service
The Cleveland Foundation has always been supportive of Cleveland GiveCamp by sharing materials with their staff. The goal is to have their staff members who work directly with nonprofits know of the tech projects offered at no cost by Cleveland GiveCamp volunteers, so that they can refer nonprofits that would benefit. Here is the information I created for the Cleveland Foundation staff (PDF file opens in a new window): Cleveland GiveCamp 2022 Informational Flyer
As the Cleveland GiveCamp Weekend was wrapping up, I was part of a conversation about how the tech community could better provide resources to the nonprofit sector. I suggested to the tech person who was interested that they learn about the work being done in our community by through the Cleveland Foundation Digital Excellence Initiative and PCs for People Ohio. I said that the best contact to learn more is Cleveland Foundation Chief of Digital Innovation & Chief Information Officer Leon Wilson.
To learn about some of Leon Wilson's work, please see my blog posts:
Sunday, August 14, 2022 -- Cleveland GiveCamp 2022 Closing Ceremony
Here is the video that was created by William Cohen-Kiraly to be shown at the closing ceremony as a way to thank the volunteers. The video shares the Nonprofit Partners' stories on how the Cleveland GiveCamp volunteers' work directly impacts the nonprofits.
Please share the following tweets from the Cleveland GiveCamp closing ceremony, since they show the results of the successful weekend:
2022 Craze eCool Award
One of the founders of Cleveland GiveCamp, Andy Craze, lost his battle with cancer on July 25, 2016, which was shortly before the start of Cleveland GiveCamp 2016. His partner, Jane Winik, along with Simplex-IT CEO, Bob Coppedge, created the Craze eCool Award in Andy's memory. They created a monetary award that they would give to one or more of the Cleveland GiveCamp Nonprofit Partners that they thought was doing something especially cool. 2022 was the fifth year for the Craze eCool Award.

The award also honors a member of the Cleveland tech community, Jim Evans, who passed away on May 8, 2018. Jim worked on the Cleveland GiveCamp Social Media Team, and ran the Greater Cleveland PC Users Group for many years. Jim was the person who recruited me to serve on the Board of the GreaterCleveland PC Users Group, and we became close friends. I really miss the times we would drive together to many tech meetings.
As part of the closing ceremony on Sunday, August 14, 2022, Bob Coppedge and Jane Winik gave the "Craze eCool Award" cash prize directly to:
Nonprofit Team Photos
Thank you to Kat Blatt for taking the following photo of all the volunteers, and the Nonprofit Partner team photos. Please see and share these Cleveland GiveCamp 2022 Team Portraits photos on Facebook, along with other photos, by viewing all the Cleveland GiveCamp photo albums at: https://www.facebook.com/CLEGiveCamp/photos/?ref=&tab=album
Please note the very clever way the remote volunteers were added to the large group and team photos -- see their faces on the laptops people are holding!!

Enlarge Image
Here is the photo of the "Photography/Video Team," featuring photographer Kat Blatt and videography & video editor William Cohen-Kiraly (on laptop screen):

Enlarge Image
Other GiveCamps on Twitter
I set up and maintain the Cleveland GiveCamp Twitter lists, which include the Twitter names for past Nonprofit Partners and Sponsors at: https://twitter.com/CleGiveCamp/lists
In addition to those involved with Cleveland GiveCamp, it is interesting to see what is happening all around our country by looking at the Other GiveCamps Twitter list. There you will see 44 other GiveCamps' Twitter names from all over the country. Many are no longer active, but they represent a lot of good work done in our country! Cleveland GiveCamp traditionally happens on the third weekend of July, but most other GiveCamps around the country traditionally happen in October. Visit the Other GiveCamps Twitter list to learn about those that are still active.
It is fun to see how other GiveCamps interact with Cleveland's @CleGiveCamp and what is happening elsewhere:
Related Blog Posts
In addition to the blog posts I mentioned above, I always like to end with a list of related blog posts. I have written many blog posts that relate to this one. Rather than listing them all here, it is best that you just see them all by pulling up the posts tagged with:
Thanks for reading my blog post. Planning has already started for Cleveland GiveCamp 2023! Please follow Cleveland GiveCamp on social media and visit the ClevelandGiveCamp.org website to keep up with what is happening, and to share with others:
Please use the official Cleveland GiveCamp hashtag when sharing on all social media: #CleGC