I was fortunate to be invited by Pandata (@ohpandata) to the April 11, 2019, OHTec 13th Annual Cleveland Best of Tech Awards (affectionately known by its hashtag: #NerdOscars), which is part of OHTec Tech Week (@OHTecOnline -#TechWeekNEO ). Here is information about the 2019 Best of Tech Awards and 2019 Best of Tech finalists:
Here are my @sos_jr tweets and retweets from before the event that give background to the big day:
There was a wealth of information about the Northeast Ohio tech community to be found at the many booths during the reception. For me, it was also a great reunion, since I saw many people from the tech community who I don't get to see as often as I would like.
I enjoyed talking to many people I knew, and also meeting Doug Wenger, who is the executive in residence for OHTec (@OHTecOnline). Doug Wenger, asked me to email him my list of Tech, Entrepreneur & Social Media Meetings that I used to maintain.

Enlarge Image
I also learned about the current educational programs of the Northeast Ohio Web Association (@WebCleveland) - - "...Ohio's oldest and most respected Internet Professionals Association, having its roots as the Cleveland Chapter of the Association of Internet Professionals (AIP)." Thank you to Northeast Ohio Web Association Vice President Brandon Tidd (@BrandonTidd) for giving me an official Northeast Ohio Web Association mug to thank me for promoting their meetings on Twitter. Brandon Tidd runs the @WebClevelandtwitter feed, which is a good source for not only information about the group, but also also the latest in technology developments.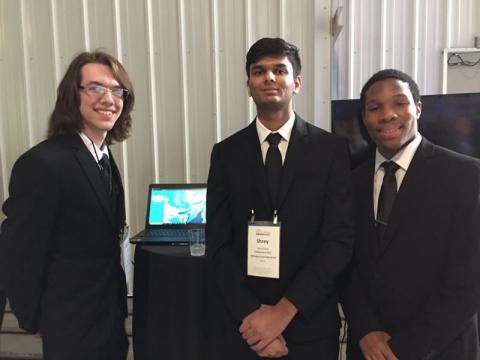 Enlarge Image

Enlarge Image
A special treat was meeting some of the students who were winners of the RITE CoolTech Challenge (@RITECoolTech - @RITE_NEO) -- Eli Carty, Shrey Patel (@onepunchnoodle), and Caleb Kremer (@Kremer_duke). As you will see in the tweets I shared after the event, I learned that they were in Excel TECC Information Technology & Programming (@Excel_TECC_ITP - @ExcelTECC). This is the same program my son, Mike, was in when he was in high school. It is good to know that the program is still going strong:
ITP provides students with direction and skills necessary to develop one's talents in a wide range of computing fields. With local and national economic and employment trends strongly pulling toward Information Technology, ITP graduates are prepared to effectively pursue their career in today's tech-based economy. . . .

ITP students work with various development and technical programs including: C# and Java programming; website development, mobile app development and game development, as well as Certification programs for PC Technician, Networking, Security, and Linux. The ITP lab is a fully networked Windows environment, featuring Intel-based PCs with dual displays, networked printing, LCD projection, and many additional peripheral resources, as well as MAC Mini OS-X development workstations.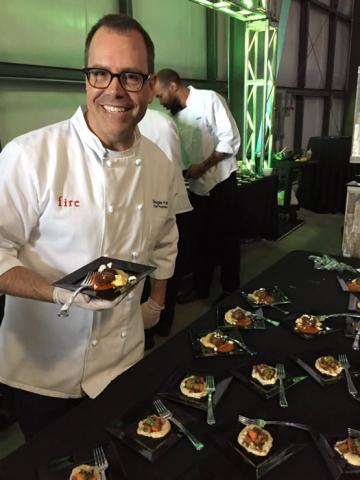 Enlarge Image
It was also great to talk to Chef Douglas Katz (@phireman) again, since it reminded me when I first met him while attending the Alex Katz Media and Influencer Exhibition Preview Night (see my blog post about the preview). For the 2019 Best of Tech Awards, I enjoyed food from Chef Douglas Katz's Fire restaurant (@FireFoodDrink), which is located at historic Shaker Square.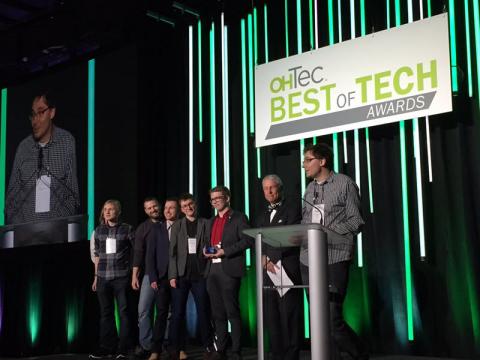 Enlarge Image
From the Greater Cleveland Partnership (GCP) (@GCPartnership) press release, 2019 Best of Tech Award Winners, here is the list of winners:
6 Northeast Ohio Organizations Take Home Honors at 13th Annual Best of Tech Awards . . .

Most Promising Start-Up

Award winner: Indago—A next-generation medical device company seeking to revolutionize the operating room via the use of smart surgical tools. . . .

Best Tech Services Company

Award winner: 121eCommerce—From quick fixes to site rescues to migrations, 121eCommerce's team of Magento-certified developers help companies get their eCommerce site up to peak performance. . . .

Tech Company of the Year—Large

Award winner: OnShift—OnShift provides intuitive software and proactive services to solve workforce challenges in healthcare. . . .

Tech Company of the Year—Small

Award winner: Vizion Solutions—Vizion works with companies of all sizes to overcome the struggle of finding and using data companies need to make important decisions. . . .

Best Technology Solution, Product or Device

Award winner: n2y, LLC—n2y has changed the way special education is taught and is proud to help teachers and families inspire moments of discovery and wonder. . . .
Read the full 2019 Best of Tech Award Winners press release for more details about the evening and links to all the finalists' websites.
I was especially excited for Indago (@IndagoHealth), since I know several people that work there.
A surprise announcement for the evening . . .
. . . special recognition was also given to the Cleveland Museum of Art, which was honored with the Best Community Collaboration & Innovation Award for its work creating a museum experience that leverages cutting-edge technology while also aligning and partnering with a number of technology companies across the region.
Congratulations to Cleveland Museum of Art (@ClevelandArt) Chief Digital Information Officer Jane Alexander (@JaneCAlexander) and her tech team for this great honor. Here is the video, Open Access + CMA, that was shared at the event:
I recommend learning more on the Open Access at the Cleveland Museum of Art (#CMAOpenAccess) web page. Thanks to Jane Alexander, I attended and wrote a blog post about the Open Access announcement event.
Here are my @sos_jr tweets and retweets with photos and videos from the celebration.
Thank You Sponsors!!!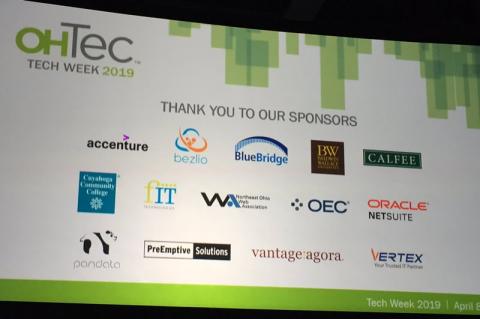 Enlarge Image
More Tweets
Here are my @sos_jr tweets and retweets that I shared after the 2019 Best of Tech Awards event:
Related Blog Posts
I have written many blog posts about technology events in northeast Ohio, but I want to highlight a few that relate to the OHTec 13th Annual Cleveland Best of Tech Awards.
Before it was called OHTec (@OHTecOnline), it was the Northeast Ohio Software Association (NEOSA) and was part of COSE: Council of Small Enterprises (@COSEsmallbiz). In 2015, it was briefly renamed "OHTech" before settling on the current OHTec name. Here is my blog post about the announcement event:
(See blog posts where NEOSA is mentioned here, and blog posts where OHTec is mentioned here.)
The Cleveland Museum of Art is a world leader in using technology to complement the public's interactions with its artwork. Here is my blog post about Open Access at the Cleveland Museum of Art, followed by my ArtLens blog posts about the Museum's ArtLens app and ArtLens Gallery:
There are many more blog posts that I have written about the Cleveland Museum of Art (read them here), and the other museums in University Circle(read them here).

Enlarge Image
I was only able to attend this sold-out OHTec 13th Annual Cleveland Best of Tech Awards event through the kindness of Pandata (@ohpandata). They were a sponsor of the event, and one of the award finalists for "Most Promising Startup."
You can learn about the current work of Pandata's Chief Data Scientist & Partner Cal Al-Dhubaib (@CAlDhubaib), Chief Operating Officer & Partner Nicole Ponstingle (@NPonstingle), and Data Scientist Hannah Arnson (@HArnson), in my blog post: "This is a Big Deal!" Open Access Artwork from Cleveland Museum of Art!
Also, I recomend viewing their video, Cleveland Museum of Art Open Access Project - Deconstructing How We Think About Art, since it does an excellent job of explaining their interactive visualization project. You can find the video and more information about the video in Pandata's blog post: Pandata Case Study: Cleveland Museum of Art – Open Access
Cal Al-Dhubaib is also mentioned in my blog posts: LaunchHouse Accelerator Expo (LHXPO) 2015 and @Flashstarts Demo Day 2015 - #FSDDay.
Also at the Pandata table with me were CEO & Founder of We Can Code IT (@WeCanCodeIT) Mel McGee (@MelKMcGee), and Centric Consulting (@centric) Market Development Executive Brad Nellis (@Brad_Nellis). I have been impressed with their good work in the Cleveland tech community for many years!
Read more about We Can Code IT and Mel McGee in my blog posts:
You can learn that Brad Nellis ". . .created the Best of Tech Awards, Tech Week, the CoolTech Challenge . . " and more in Centric Consulting's article: New Hire News: Brad Nellis Joins Centric Cleveland
I look forward to attending future Best of Tech Awards events!
---
Disclosure: I attended the OHTec 13th Annual Cleveland Best of Tech Award as a guest of Pandata. Normally, my individual ticket would have been $150. In addtion to attending the OHTec 13th Annual Cleveland Best of Tech Awards ceremony, I enjoyed food from Fire restaurant, as well as drinks and desserts.
I was approached by Pandata to attend because of my support of tech events featuring them in my sosAssociates.com/Blog posts and via my @sos_jr Twitter feed. I enjoyed the event, and wrote this blog to share my experience at the event.