Common Ground is a day of community conversation. On June 24, community members, neighbors, families, and organizations across the region will host mealtime conversations about the future of our region. United by a common question, all Common Ground conversations have the same goal: to create spaces where meaningful connections are made and purposeful actions begin.
Stories about Northeast Ohio are often about our grit and glory—our economic challenges and our regional revival—but is this the narrative on your block? In your classroom? At your kitchen table? Studies have proven that where we live, work, and play shapes our identity and determines opportunity. This summer, community members are coming together to have a conversation about place because it matters to our health, our security, and our future. We invite you to connect over a meal and conversation that's not about what others should do, but about the possibilities we have when we come together to build a stronger, safer, and more dynamic place.
After attending the inaugural Common Ground on July 30, 2017, I knew that I would want to make a point of attending future Common Ground community conversations and related events. When I learned that the Cleveland Foundation (@CleveFoundation) planned to have the 2018 Common Ground on June 24th, which was during a week I had planned to be out of town, I delayed the start of my vacation. I am glad that I stayed in Cleveland that day to attend Common Ground 2018!
To learn more about Common Ground 2018, I think it is useful to see the final Common Ground 2017 Snapshot that was created by the Cleveland Foundation. Please see my 2017 blog post:
In 2017, at more than 40 sites across Cuyahoga County, people came together to talk about our community's future. The top four concerns identified in 2017 were:
1) Education
2) Safety
3) Diversity, Racial Disparities & Social Justice
4) Job Creation & Economy.
I was very interested to see what topics people would discuss on June 24, 2018, and to see the final snapshot which will show the top concerns for this year.
My first order of business was to decide which Common Ground location(s) to attend. Last year, with over 40 sites, I picked three great locations to attend. When I first looked at the 2018 list on June 7th, there were 78 sites listed -- almost doubling the number of last year's events!! As you can see in the above official Common Ground 2018 location map (click on the upper left toggle to expand the map list key), Common Ground 2018 ended up with 105 conversation sites!
Last year, I wrote in my blog: "The one word that I would use to describe...Common Ground day was 'growth'" Congratulations to the Common Ground organizers for the grand success in engaging many more host organizations in 2018!
With so many interesting topics, I had a problem. It was great to have the problem of having to choose from so many options. In the end, I was able to take the 13+ sites that had topics that interested me, and decide on four that I would really like to attend. With the very full agendas happening at each location, I ended up only having time to visit two sites:
Here are my @sos_jr tweets and retweets from before I attended the Common Ground sites. The main reason I share these tweets here is to show the wide scope of organizations particpating, and the varied topics.
I chose to start my Common Ground day at Cosmic Bobbins (@CosmicBobbins).
Currently, Cosmic Bobbins offers custom sewing, screen printing, and embroidery. In an effort to better serve the mission, the Cosmic Bobbins Foundation, a 501(c)3 non-profit was established in November of 2015. Work through the foundation impacts the lives of local underrepresented participants including youth, refugee, and immigrant populations. We are committed to creating a global community where sustainability, upcycling and social good become a lifestyle, where people are meaningfully employed and our core essence is a spirit of hope.
I selected Cosmic Bobbins since I was intrigued by their topic, and wanted to know more about social enterprise after reading the event description:
Join us at Cosmic Bobbins in Shaker Square. We are hosting a Common Ground conversation about placemaking and how social enterprise is ripe for the Cleveland community. What is social enterprise? How can social enterprise uplift the underserved? How can social enterprise create stronger communities? We are excited to discuss ideas and explore enterprises that are thriving in our community. Enjoy some lively conversation and a conteniental breakfast! Featured beverages (coffee, tea, juice) and pastries shared are made from local social enterprise businesses. You don't want to miss this opportunity to be inspired, eat local, and make new friendships.
I also remembered that Cosmic Bobbins Foundation was one of the Cleveland GiveCamp (@CleGiveCamp) 2017 nonprofit partners. I only knew a little about their work, and wanted to learn more. (See my blog post Hello Muddah, Hello Fadduh, from Cleveland GiveCamp 2017! for information about last year's Cleveland GiveCamp.)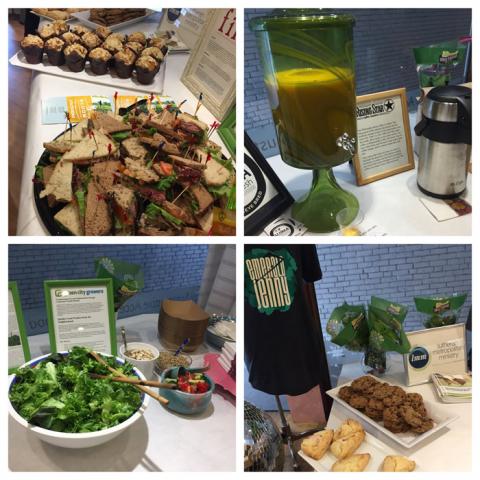 Enlarge Image
Cosmic Bobbins had a very impressive display of partner organizations' foods and information! The display look good not just because it had tasty food, but that it was presented with such care and professionalism that you felt relaxed as you joined others in discussion -- perfect for the idea of "a meal and conversation," which is at the foundation of Common Ground day.
I did not think of this until I started writing this blog post, but Cosmic Bobbins was the perfect venue for me to attend for another reason. As I mentioned above, I was interested in so many different organizations that were hosting Common Ground meals/conversations, that it was a real problem to pick just one or two. I found that by selecting Cosmic Bobbins, I ended up being exposed to the over eleven partner organizations that they featured:
The large group of people at this location were organized into smaller teams to help give a voice to each individual. The conversation seemed more structured than I remembered from the inaugural Common Ground last year. I liked the structure, since it helped the team I was on to quickly focus on the issues they were interested in addressing. This led to a sharing of email addresses so that team members could meet in the future to take action.
I shared with the group that the topic of the day -- Why Does Place Matter? -- did not click with me, since I like to think that I take my sense of place with me. I do agree that community resources to make the place where we live better is important. It was exciting to hear that everyone I met during Common Ground at Cosmic Bobbins was truly committed to work toward making our community better!
Please take a look at my @sos_jr tweets and retweets in which I and others shared the discussion at Cosmic Bobbins about social enterprise. Note that in the first tweets that the Cosmic Bobbins location "sold out," and they needed to add more space for all the people interested in contributing. This is a very positive statement about the people of Cleveland coming together to work for a better Cleveland.
The second Common Ground site I attended was at the Cleveland Office of The Trust for Public Land (@tpl_org).
What's Your

heart-pounding

community-connecting

legs-pumping

flood-protecting

fun-making

eye-popping

neighborhood-cooling

awe-inspiring

brain-recharging

soul-filling

Powerful Place?

Join members of the community, the Trust for Public Land, and our Director of Creative Placemaking, Matthew Clarke and the City of Cleveland's Department of Parks and Recreation and Office of Sustainability to discuss and creatively represent why you believe parks matter. Draw your favorite park, trail or natural place, and share what makes it special to you. We encourage families and children to attend this creative event! Snacks and beverages will be provided.
I had heard of the The Trust for Public Land from their work in creating the Cleveland Foundation Centennial Lake Link Trail in partnership with LANDstudio (@cleveLANDstudio) and the Cleveland Metroparks (@CleveMetroparks). (Learn more about the trail on the Cleveland Foundation website here and on the LANDstudio website here.)
Despite mentioning the work of The Trust for Public Land (@tpl_org) in six of my past blog posts (see blog posts via Google search here) starting in 2014, I am embarrassed that I did not know they had an office in Cleveland. Thank you, Cleveland Foundation, for Common Ground, which led me to visit The Trust for Public Land's beautiful offices with an incredible view of the Cuyahoga River.
At the Trust for Public Land, we don't just save land—we save land for people to enjoy, from neighborhood parks to national parks. We depend on the ongoing support of individuals to make sure our work carries on well into the future.

Our mission is to create parks and protect land for people, ensuring healthy, livable communities for generations to come. Every park, playground, and public space we create is an open invitation to explore, wonder, discover, and play. We're proud to say that we've been connecting communities to the outdoors—and to each other—since 1972. Today, millions of Americans live within a 10-minute walk of a park or natural area we helped create, and countless more visit every year.
I arrived a bit late, since it was hard to leave the engaging conversation at Cosmic Bobbins, and quickly joined a team to work on the discussion questions that were given us. Like the experience I had at that morning's Common Ground event, there were some amazing people here willing to work to make our community better. Some highlights include:
The program ended with the opportunity for attendees to make their ideal park out of craft supplies. Please take a look at my @sos_jr tweets and retweets about the The Trust for Public Land session, and see photos of the ideal parks that people created.
Common Ground Day and Post-Event Tweets
One thing I like about Twitter is that while I am attending one event, it gives me the opporunity to learn about other events happening at the same time. I often say that I need to have a clone of myself to make it possible to attend everything in which I am interested. You can see here that Twitter is put to great use in an event like Common Ground with 105 conversation sites!
Action Steps
At the end of the Cosmic Bobbins (@CosmicBobbins) session I attended, I was given a list of upcoming Common Ground-related follow-up events. I also want to thank Neighborhood Connections (@NeighborUpCle) for sending me a tweet with a link to information about all the post-Common Ground events.
Here are links to give attendee feedback and receive future event information:
Thank you, Cleveland Foundation (@CleveFoundation), for organizing the day. Thank you also to Cosmic Bobbins (@CosmicBobbins) and The Trust for Public Land (@tpl_org) Cleveland Office for hosting the Common Ground community conversations I attended. I look forward to reading the follow-up report and attending related future events.

Enlarge Image