Enlarge Image
Winter is about to get an upgrade because, on February 22, we're coming out to play!

A typical February evening on the West Bank of the Flats is pretty quiet. Not so during Brite Winter. The non-profit festival brings together people of all ages, incomes, and backgrounds, allowing them to discover new music and art and enjoy their community. Spanning eleven years, three locations, tens of thousands of guests, hundreds of bands and artists, and temperatures as low as 8 and as high as 69 degrees—Brite Winter has always been a festival created with the community, not just for it. As a community-funded and organized event, all of our official programming is free and open to the public and is made possible largely by the support of our attendees.

View the #Brite2020 lineup with 40+ bands and musical acts.
Winter in Cleveland -- a great time for an outdoor party in The Flats!
For the eleventh consecutive year, thanks to the Brite Winter Leadership Team and Sponsors, on Saturday, February 22, 2020, we joined tens of thousands of people laughing at the Cleveland cold by attending this annual outdoor celebration!
Here are our @sos_jr tweets and retweets with photos/videos from Brite Winter (@BriteWinter - #Brite2020), along with videos we found on YouTube. We share this to encourage you to attend future Brite Winter events, and to thank the people who make it possible. We are very lucky in Cleveland to have Brite Winter!
On the Thursday before the big Brite Winter event ( February 20, 2020), Stuart visited the Brite Winter staging area after PechaKucha Night Cleveland (@PKNCLE) at the Music Box Supper Club (@MusicBoxCLE). Please see our PechaKucha blog posts here to learn more!,
Brite Winter 2020 - Maps of Fun Activities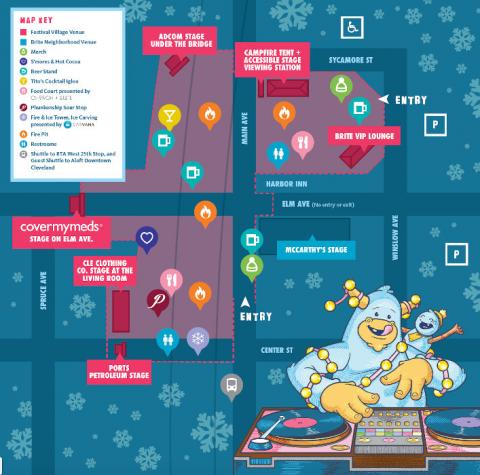 Enlarge Image
A Chance to Win tickets to the RockHall and the David Bowie Celebration at the Cleveland Agora Theatre
#ThisIsCLE Winter Fun!!!
And the Tower Wall Comes Tumbling Down!!
Thank you, Carvana!!!
Drink Local Drink Tap
Thank you Ingenuity Cleveland Ingeneers!!
The Ingenuity Cleveland Ingeneers work at Brite Winter to make creative, interactive art installations. Please see our Ingenuity Cleveland Blog Posts to learn more about their innovative work at IngenuityFest, Cleveland Mini Maker Faire, and Bal Ingénieux.
Thank You
Brite Winter Sponsors, Partners, and Organizers!!
More . . .
Give Your Feedback to Brite Winter Organizers
Be sure to view and then share the official 2020 Brite Winter Recap video on social media, so that your followers can learn about the fun which is Brite Winter!
FYI, I tagged the main Brite Winter sponsors in the following tweet. If you want to share the video and thank the sponsors, you can easily retweet it. You might also want to reply back to the tweet with a thank-you to the @Britewinter sponsors. It is always good to show your appreciation to the sponsors who make this free fun winter Cleveland event possible!
On this 11th anniversary, we want to thank the Brite Winter (@Britewinter) organizers for the many years of winter outdoor fun!!! We have very fond memories of attending our first Brite Winter when it was just a small event in 2011 (see old tweets) at Hart Crane Park, and have watched it grow into the huge event it is now! [Canalway Partners (@CanalwayCLE) has owned Hart Crane Park since 1994.]
Here are our blog posts from past Brite Winters:
Also, see our Ingenuity Cleveland Blog Posts to learn more about their creative activities in Cleveland.
For more outdoor winter fun in Northeast Ohio that includes ice carving, please see our Ice Fest blog posts:
Thank you, and congratulations on another successful year, Brite Winter organizers! We look forward to attending every year.