Click on image above to enlarge
Today, March 8, 2023, I celebrate eleven years of creating my sosAssociates.com blog!!
"The Only Thing That Is Constant Is Change -"
-- Heraclitus.
In my 2021 sosAssociates.com Blogiversary: Nine -- In the year of Social Distancing! blog post, I wrote about how the world had changed due to the COVID-19 pandemic. On March 8th of last year, as I published my blog post sosAssociates.com Blogiversary: Ten -- I can't believe this is the TENTH YEAR!!, I was fairly prepared for change -- on February 10, 2022, my dad had moved to the Cleveland area so that my sister and I could care for him. Unfortunately, as we entered 2023, my dad, Stuart O. Smith, Sr., passed away on the morning of Friday, January 6, 2023, at the age of 89.
Now, as I write my 2023 Blogiversary blog post, I am in the middle of another potentially life-changing situation, but I believe I have a good support team that will help me find a successful solution to overcome the current challenge. I hope to write a blog post later this year to document my planned success.
2022 & 2023 Blog Posts
The focus of my blog posts has evolved over these 11 years since my co-writer and wife, Julie Smith, and I started writing our blog posts on March 8, 2012. I enjoy documenting activities in which I participate, and invite you to read my blog posts that cover topics of interest to you.
Please take a moment and scroll across the images/links below, and click on them to read some of the 18 blog posts from 2022 and the two that I wrote so far in 2023.
I want to now share some of my adventures and activities from this past year, and state how I appreciate those people/organizations that enriched my life in 2022. I am also using this blog post to honor my dad, Stuart O. Smith, Sr., and express how grateful I am to have had a great deal of quality time with him this past year.
Of the 20 blog posts above that you can scroll across to see, I want to bring to your attention to the first one that I wrote this year. I am recommending viewing it, since it gives a good overview of 2022 and the first weeks of 2023. What follows are links to sections of the belated new year blog post, followed by tweets that also link to the blog post (please consider retweeting any of the tweets that you think would interest your followers).
January/February 2023 - The Blogs Not Written
Click on image above to enlarge
There were four blog posts that I started creating on my laptop about early 2023 events. Due to circumstances beyond my control, I was not able to attend any of the events except for one (and there was difficulty in attending that one). The only one I did attend was the Cleveland Lunar New Year Celebration (it was fun!) which I had planned to write about as the first section of a blog post about both the Cleveland and Akron Lunar New Year celebrations. In addition to these two Lunar New Year events, the others events that I planned to write blogs about included the Cleveland Ice Fest, 11th Annual Cleveland Kurentovanje, and 13th Brite Winter.
I share the following tweets as my way to thank the organizers for improving the quality of life in Cleveland and Akron by planning the events, and to let them know I really missed attending them in 2023! I also including tweets about my voting for North Coast Harbor museums.
If interested, here are blog tags that link to past blog posts I have written about:
In addition to the four blog posts I had started writing, I want to mention how I was invited to attend the February 24, 2023, Media & Influencer Preview of the Cleveland Museum of Art's The Tudors: Art and Majesty in Renaissance England exhibition. While I was not able to attend, we are fortunate to always be able to count on Dan Hanson to publish blog posts and video tours:
See my past Cleveland Museum of Art blog posts by clicking here.
Follow Dan on Twitter: @DanHanson
Preparing for Twitter's Uncertain Future!
Click on image above to enlarge
sosAssociates.com is an extension of my sos_jr Twitter interests -- taking it beyond the 140 280 characters. Focus areas include:

Cleveland and Akron Cultural Events, Art, and Theatre
Parks and Trails
Cleveland and Akron Tech Meetings, Social Media Events, and Entrepreneur Groups
Website Design, Technology, and the Former WebSigCleveland.org
For these past 11 years, I have had some version of the text above on my sosAssociates.com home page -- my blog posts have always been an extension of my sos_jr Twitter feed. Even before I started this blog, I was a member of the Ohio Blogging Association. I would tell the members that I was a "microblogger," with my 140-character tweets promoting tech meetings, including the Web Development Special Interest Group (WebSigCleveland.org) that I ran for 10 years.
I decided not to go into detail about how Twitter might be destroyed by its new owner -- an owner who aligns himself with people who are also working to destroy our country -- but I am getting prepared by lining up my sos_jr user name on new potential social media platforms that I heard about from others. The irony is that I would not have heard about these other social media platforms if it were not for people on Twitter I follow promoting them as an alternative to Twitter. It is interesting to see how the two social media platforms I registered with (Mastodon and Spoutible) describe themselves as contrasting with the current problems of Twitter.
I truly hope Twitter does not die, since I read interesting articles daily, and learn about fun events through the tweets of the people/organizations I follow. It is not a good sign, however, that I have felt the need to block the owner of Twitter on his own social media platform.
March 8, 2023 - Hello World - my first spout and my first Mastodon post!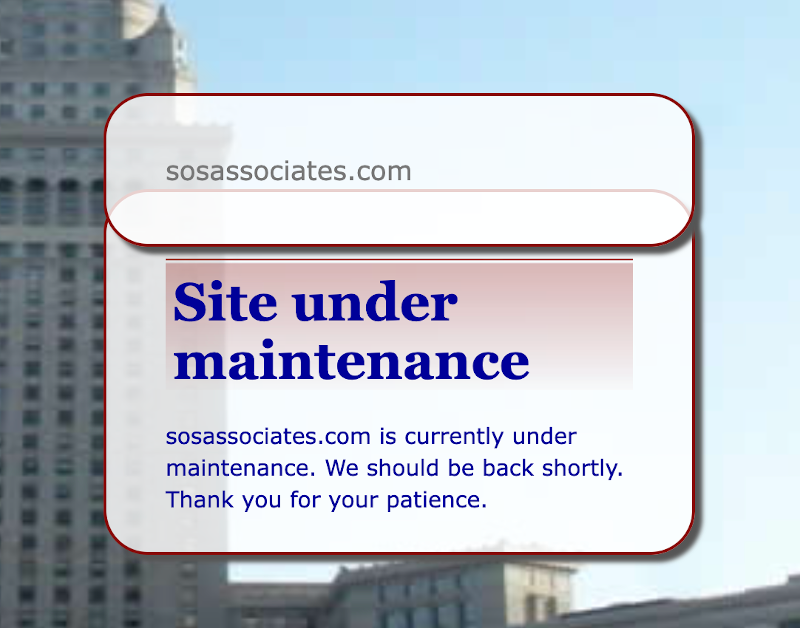 Click on image above to enlarge
Drupal 10.0.0 has been released simultaneously with Drupal 9.5.0. Drupal 9.5 has most of the changes that Drupal 10 does, but retains backwards compatibility layers added through Drupal 9.5.0's release. Update to Drupal 9.5 before updating to Drupal 10 for the smoothest upgrade path.
. . .
Both 10.0.0 and 9.5.0 include all the latest changes, and they have the same APIs and features aside from a few edge-cases. This also means modules and themes can be compatible with Drupal 9 and 10 at the same time! The key changes in 10.0.0 are:
1. Deprecated code, including entire modules and themes, has been removed.
2. Dependencies have been updated to new major versions as appropriate.
3. Platform requirements (including supported PHP and database versions, Composer requirements, and supported browsers) have been updated.
. . .
Sites using CKEditor 4 should upgrade to CKEditor 5 in Drupal 9.4 or 9.5 before updating to Drupal 10
. . .
PHP versions 8.1.0 through 8.1.5 have a bug with the PHP OPcache that may cause intermittent fatal errors at runtime for class autoloading, so PHP 8.1.6 or higher is recommended.
This is the first blog post I have written since I updated to Drupal Version 9.5.3 as I prepare for upgrading to Drupal 10. Normally, an update within a version is a very simple process, but the move to Drupal Version 9.5.3 involved much more, since it was a preparation for a true upgrade to Drupal 10.
Removing deprecated modules and upgrading from CKEditor 4 to CKEditor 5 was easy, but then I noticed problems. At first, I thought I was breaking things -- breaking your own website is a great way to learn -- but after reading more, I learned that changes that I had limited control over were affecting my website:
My hosting company does not support the PHP version 8.1.6, that I needed (they supported PHP 8.1 which caused an error). My workaround is that I changed to PHP 8.0.12, which Drupal's Status Report says does not play well with my parent theme, but upon examination, I didn't see any errors. I expect that this issue will be resolved in the future when I move to Drupal 10, which can use PHP version 8.2 (see the Drupal PHP requirements web page for details).

Click on the three images below to enlarge

The Drupal Insert Module (which I have been using the past 11 years) currently does not work with the new CKEditor 5, which is part of Drupal core and replaces CKEditor 4. I use the Drupal Insert Module with the Drupal Colorbox Module ("Colorbox is a light-weight customizable lightbox plugin for jQuery") to create slideshows. The workaround I used is that I figured out how it works and I just write the HTML by hand in my BBEdit Text Editor. I noticed while writing this blog post, that the Drupal Insert Module web page is being updated every couple of days with a developer version of this module. I am hopeful that the new version, when it is released, will work with CKEditor 5.

I have not yet found workarounds for some of the other issues created by CKEditor 5 that I discovered, so I ended up turning it off and just creating everything locally in BBEdit Text Editor before pasting the HTML and text into my blog post.
If you are interested in the process of upgrading Drupal, please see my 2020 blog post about upgrading my sosAssociates.com website to Drupal 9:
Note that on December 22, 2022, I started using the pro version of BBEdit to create HTML and text for websites. I like using BBEdit and have been using the free version since January 3, 2018, just for taking text notes and keeping myself organized. Leaving my WYSIWYG (What You See Is What You Get) web development tool that stopped working on my Macbook laptop in December 2022, to instead use BBEdit, has helped me learn more about HTML5. (Apple, Inc. has a nasty habit of killing MacBook Pro software that I like with what they call "upgrades" that I don't like.)
Related Blog Posts
As I have done in the past with my other blog posts, I will end this with links to related blog posts.
First are the blog tags that will show good annual overviews -- featuring 2022 overview:
Here are links to more blog posts and blog tags that relate to what I mentioned in this blog post. I hope you enjoy exploring!
My co-writer and wife, Julie, and I want to thank you for reading this blog post. We hope to continue to create new blog posts of interest in the year ahead. We welcome the new possibilities that each new month brings, and wish the best to all good people who read our blog or follow our activities on Twitter!
Comments
Submitted by Stuart Smith on Fri, 09/01/2023 - 09:45
Comment
In my March, 8, 2023, sosAssociates.com Blogiversary: Eleven blog post, I wrote about "Preparing for Twitter's Uncertain Future!" and about how "Twitter might be destroyed by its new owner ..." -- I like to be prepared, so I did my "'Hello World' - my first Mastodon post!" and "'Hello World' - my first spout!"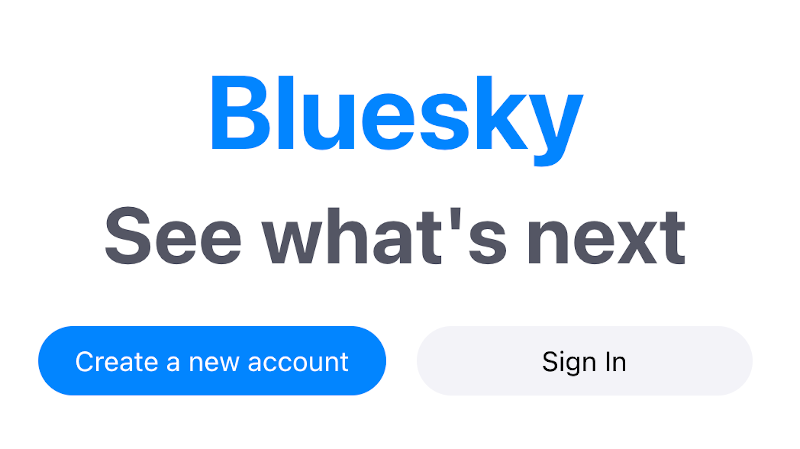 Enlarge Image
On August, 16, 2023, Tom Kunsman (@tkunsman.bsky.social) arranged to send me a Bluesky invite (since Bluesky is currently by invitation only), and I set up: https://bsky.app/profile/sosjr.bsky.social (My Bluesky name is: @sosjr.bsky.social. I was not able to get @sos_jr which is what I use on the other social media platforms, since Bluesky does not support the underscore "_".) Today (September 1, 2023), I am further prepared for the future without Twitter by doing "Hello World" - my first skeet! ["Skeet is a slang term comprised of a portmanteau of 'sky' and 'tweet' used by users of the social media app Bluesky Social as a self-referential name for their posts (similar to a tweet on Twitter)."]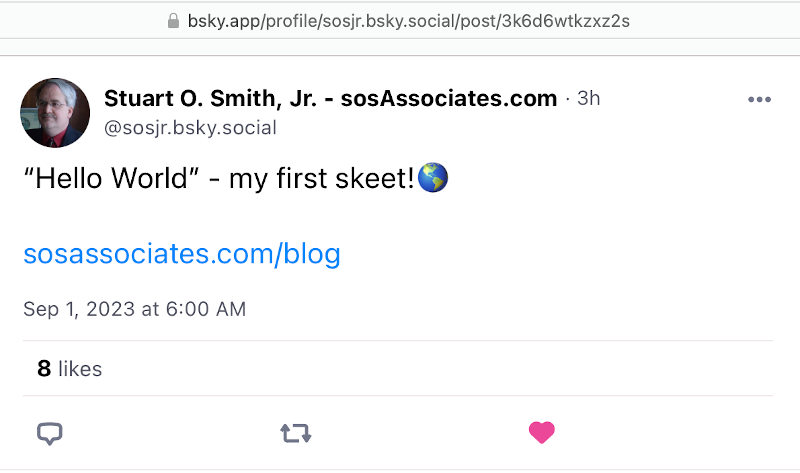 Enlarge Image
It was good that I began preparing back in early March, since on June 24, 2023, my Twitter account was made "permanently in read-only mode," and on July 23, 2023, Twitter's famous blue bird was killed by its owner to become "X." I think I should in the future write a final Twitter Anniversary blog post (see my past Twitterversary at: sosAssociates.com/blog-tags/Twitterversary) to go into more details about my situation, but for now just know that Twitter is gone.


Enlarge Image
Website
sosAssociates.com
Permalink

Submitted by Stuart Smith on Tue, 10/31/2023 - 15:18
Website
sosAssociates.com
Permalink