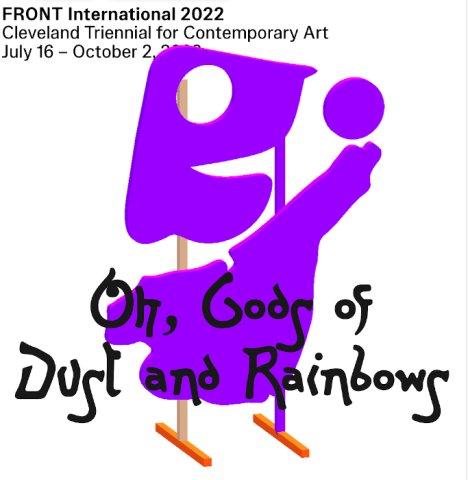 Enlarge Image
Oh, Gods of Dust and Rainbows, the second iteration of FRONT International, will run from July 16 through October 2, 2022. Building on the success of the first edition, FRONT 2022 will further the Triennial's commitment to stimulating new and sustained cultural conversations within the region.
The following blog post is from my tour of FRONT International and CAN Triennial venues in University Circle on several days in July/August 2022, and about the Friday, July 29, 2022, PechaKucha Night Cleveland event. I had planned on publishing this blog post on Friday, August 26, 2022, which is the day I went to the Akron FRONT International venues, but I got busy with some family commitments and did not have time to finish writing everything I wanted to add to the blog post. (Click here to see photos in tweets from Akron FRONT International venues.)
I have now decided to just publish this blog post "as is" (please read the tweets text to get most of the story) before FRONT International closes on October 2, 2022, with the following additions:
The presenters' bios from the Friday, July 29, 2022, PechaKucha Night Cleveland Volume 37 can be found on Facebook: https://www.facebook.com/PKNCLE
Some have the Facebook #pkncle37 hashtag

See my past blog posts with the following tags to learn more about:

In addition to enjoying the art, it was a special treat to take my dad on Wednesday, August 17, 2022, to the Artists Archives of the Western Reserve at 1834 E. 123rd Street Cleveland, since it was right next to the former Smith family business. National Copper and Smelting Company was run by my grandfather, uncle, and dad in Cleveland's Little Italy neighborhood. East 123rd Street, Cleveland, was the site before National Copper and Smelting Company moved to 6075 Cochran Rd., Solon, Ohio, when I was a young child, and moved again in 1982 to Huntsville, Alabama. (My uncle and dad sold the business after it moved to Alabama.)

We saw that the building had been recently torn down for the construction of the Woodhill Townhomes. My dad enjoyed talking to the Artists Archives staff and me about the history of Cleveland's East 123rd Street in Little Italy.

"The National Copper and Smelting Company was a manufacturer of seamless drawn copper and brass tubing in Cleveland, Ohio. After relocating, the site was used by Woodhill Supply and by the American Heart Association for the storage of rubber ducks." -- see more on the Abandoned website at: https://abandonedonline.net/location/national-copper-smelting-company/

The address for Woodhill Supply, Inc, 1862 E 123rd St, Cleveland OH 44106 (https://www.mapquest.com/us/ohio/woodhill-supply-inc-364317350), was the address of National Copper and Smelting Company when it was located across from the wall of Lake View Cemetery.

Here is a photo from Google Maps of 1862 E 123rd Street, made on September 18, 2022, which I will use to compare to future updates on Google Maps:
https://goo.gl/maps/j6RMWoNP96oVwmjM9



Enlarge Google Maps Image
From September 18, 2022

Current Google Maps:


"National Copper and Smelting (NCS) is a leader in the market for precision copper tubing. The company was founded in 1916 in Cleveland, Ohio and moved its operations to Huntsville, Alabama in 1982. In 1985, a group of investors from Birmingham, Alabama purchased the assets of the Ohio corporation." -- see more on the current National Copper and Smelting (NCS) company history web page at: http://www.nationaltube.com/ncstestpage/NCScomphis.html

From Knez Homes website references the address of the adjacent lot (the townhomes look like they will cover both lots): "1874 East 123rd Street, Cleveland, Ohio 44106 Price: $819900 Status: For Sale - Coming Soon ... Construction beginning Fall of 2022! ... The Woodhill Townhomes are a to-be-built 17-unit townhome community in one of Cleveland's most desirable east-side neighborhoods! ... Your brand new ENERGY STAR rated home will be built to qualify for the City of Cleveland's 15-year tax abatement—meaning you will not only save on taxes, but also utility bills! Live in the heart of Cleveland's favored Italian community that provides the perfect backdrop for a sophisticated, contemporary lifestyle." -- see more at: https://knez.net/homes/woodhill-townhomes-unit-16/

My dad knew Peter Lewis from high school, where they played football together, so it was very interesting for my dad to see art locations named after Peter Lewis and his ex-wife Toby Lewis. In high school, my dad was the quarterback and Peter Lewis was a guard. I remember times when my dad was visiting me in Cleveland that we would see Peter Lewis at a restaurant, for example, and the two of them would exchange greetings.

In my first career, I had the opportunity to work with Toby Lewis on a fundraising project -- read more about Toby Lewis and Toby's Plaza in the "Friday, July 29, 2022 - Lunch at CWRU's 'Toby's Plaza' in Uptown Cleveland" section of this blog post and in these two blog posts:
The following are my Twitter photos that tell the story of my visit to University Circle -- please share any tweets you find interesting by retweeting:
Friday, July 29, 2022 - University Circle
Friday, July 29, 2022 - Cleveland Museum of Art
The Cleveland Museum of Art

How can we bring the body back into the systems and spaces of art museums?

The Cleveland Museum of Art offers dynamic experiences that illuminate the power and enduring relevance of art in today's global society. A presenting partner of FRONT International, its seven artist presentations for Oh, Gods of Dust and Rainbows are spread throughout its galleries.
Friday, July 29, 2022 - Lunch at CWRU's Toby's Plaza in Uptown Cleveland
. . . So, who is Toby?

Toby is Toby Devan Lewis, a philanthropist, art collector, author and curator. She serves on the boards of the New Museum of Contemporary Art, moCa and the Cleveland Institute of Art, which has also given her an honorary doctorate. She is responsible for sourcing and managing the world's largest corporate collection of art, which is held and curated by the Progressive Corporation. She is also the ex-wife of its former CEO, Peter B. Lewis.
Toby's Plaza is a plaza, brilliantly designed by James Corner Field Operations. Toby's Plaza explores the contemporary meaning of architectural landscaping, with a focus on developing innovative approaches toward landscape architectural design and urbanism. Toby's Plaza has three distinctive, yet cohesive areas including: 21,000 sq. ft. open plaza, a 7,400 sq. ft. birch bar, and a 12,000 sq. ft. green space.

The Mission
Toby's Plaza is a unique and distinctive environment that fosters the public intersection between the arts, technology, academia and fun. The concrete pavers provide a hardscape surface that has the ability to convert to a tent structure to host private events, public exhibitions and unique installations. The birch-bar provides shaded, casual seating for lunch or small discussions. From dawn to dusk, a visitor to the plaza can have fun, relax or be awed!
During the summer of 2018, Toby's Plaza welcomed a new original art installation by Tony Tasset - Judy's Hand Pavilion - as part of the FRONT Triennial. Learn more about this installation
Friday, July 29, 2022 - moCa Cleveland
moCa

What is "contact" now?

For FRONT 2022, Cleveland-born artist Renée Green has conceived Contact, her first major exhibition in the city, which occupies all of moCa Cleveland's public spaces and radiates out into the city with workshops and film screenings.
Friday, July 29, 2022 - Michael Christoff setting up in CWRU's Toby's Plaza for PechaKucha Night Cleveland
Friday, July 29, 2022 - Remembering Tamir Rice
THE TAMIR RICE AFROCENTRIC CULTURAL CENTER
MISSION
The Tamir Rice Foundation invests in the growth and enrichment of all children through after-school programs in arts and culture by allowing them to express their truth to improve their lives as they grow into young adults.

The Tamir Rice Foundation also seeks to advocate for police reform by advocating to change laws and implement new policies for the system with community oversight for police accountability and community reform dialogue.
TAMIR'S STORY
Tamir Rice was born on June 25, 2002 in Cleveland, Ohio, the youngest of four children. Tamir loved to be with his brothers and sisters, and had a smile that would brighten any room. Tamir also loved the arts. The process of creative self-expression brought him joy.

In 2014, the murder of 12- year-old Tamir Rice at the hands of Cleveland Police stunned the Nation. To uplift Tamir's memory and service his legacy, his mother, Ms. Samaria Rice, founded the Tamir Rice Foundation in 2016. Under Ms. Rice's leadership, the foundation advocates for youth and families, with its core initiative — The Tamir Rice Afrocultural Center — serving as an enriching space to keep children safe from unjust harm.
In addition to one near moCa Cleveland, I saw a box painted in remembrance of Tamir Rice in front of Spaces Gallery after the Friday, July 15, 2022, FRONT International Director's Open House Brunch at Fred & Laura Bidwell's home -- read the details in my blog post:
Friday, July 29, 2022 - First Time Visiting the Sculpture Center & Artists Archives of the Western Reserve
The Sculpture Center

How can history matter in the present?

Founded in 1989, The Sculpture Center (TSC) is one of the only cultural institutions providing critical resources to sculptors along their journey. The Sculpture Center has offerings for people of all voices and backgrounds who imagine, create, make, advocate, communicate, and consume experiences in our communities. Using a variety of initiatives, including exhibition, commission, mentorship, conversation, and professional support, The Sculpture Center represents a belief that no matter an artist's career stage, they are vital for envisioning a better world and contributing to the communities we want to live in.
One of the great things about FRONT International in 2018, and now in 2022, is discovering NEW art venues!
Friday, July 29, 2022 - Cleveland Institute of Art
Cleveland Institute of Art

How can the moving image capture the way that conversations transform over time?

In CIA's Reinberger Gallery will be Jacolby Satterwhite's Reifying Desire Seven – Dawn. Functioning as an iteration of his commissioned project of the same name located outside Cleveland Clinic's BioRepository, Dawn will transform the gallery into an immersive virtual reality arcade. Centering on the question "What does Utopia look like to you?"—a question asked of Cleveland's Fairfax residents as part of the BioRepository project—Satterwhite uses images generated by the community to create a complex codex of signs and symbols within the work.

Also presented within Reinberger Gallery will be celebrated Cleveland artist and 1990 CIA alum Dexter Davis's ambitious The Less Dead. The exhibition will include new paintings, mixed-media collages, and sculptures inspired by the artist's lived experience and survival after a near-deadly shooting. It will be divided into three subthemes: "Ritual," "Ghost" and "Birth." The Less Dead, a term that refers to marginalized groups of society most likely to be targeted by violence, is a story of survival and restoration through art making that also serves as a call for humanity.

Fiber artist Loraine Lynn, a 2014 CIA alum, plans to create a series of vibrant textile works that invite touch. This exhibition will be installed in the Mary Ann and Jack Katzenmeyer Student Lounge and the John and Sally Schulze North Lobby, where an accompanying program with renowned Cleveland drag queen Dr. Lady J will be hosted in the fall.

Lastly, 10 new paintings by Alexandra Noel will be exhibited in the Donna and Stewart Kohl Corridor. Rooted between personal memory and collective experience, Noel's small, gem-like paintings invite viewers to engage in both close looking and thoughtful introspection. Opposing one's impulse to "scroll," each painting is an opportunity for discovery.
Friday, July 29, 2022 - PechaKucha Night Cleveland Volume 37 in CWRU's Toby's Plaza
PechaKucha Night Cleveland with Museum of Contemporary Art Cleveland moCa.

AND WE'RE BACK!!!
It is hard to believe that it has been more than two years since we've been able to gather the PechaKucha Night Cleveland Community. Over the course of the past couple of years, there were many conversations about hosting an event. Each time we thought the pandemic was taking a turn for the better, a new variant would take hold and conversations would pause. But they never stopped.

On Friday, July 29th, we are thrilled to partnering with Museum of Contemporary Art Cleveland moCa and Collective Arts Network Journal to officially relaunch with PechaKucha Night CLE Volume 37, our first event in over two years!!! Join us in the Plaza outside moCA as we focus on the theme "You Are Here" for a night under the stars!

As always, tickets are free, but required for entry, so please do not forget to register. We can't wait to see you again soon and hope you'll share this announcement with your networks in the weeks to come.
Before PechaKucha Night Cleveland Volume 37 - FRONT & CAN Triennial
Friday, July 29, 2022 - PechaKucha Night Cleveland in CWRU's Toby's Plaza
Thank you to the @PKNCLE leaders!!!
Announcing @PKNCLE Volume 38 -- Sept 23, 2022, at IngenuityFest!!
Wednesday, August 17, 2022 - Return with Dad to University Circle/UpTown Cleveland
Wednesday, August 17, 2022 - Return with Dad to Cleveland Institute of Art
Wednesday, August 17, 2022 - "Glad your dad got to see the shows and that you connected with @CanvasCle editor @AmandaKoehnCJN." - @mikebutz
Wednesday, August 17, 2022 - Return with Dad to Artists Archives of the Western Reserve
Thursday, August 18, 2022 - "We appreciate your continued support." - @moCaCleveland
Friday, August 19, 2022 - @CleInstituteArt Student Move-In Day
Wednesday, August 24, 2022 - Return with Dad and Julie to Cleveland Museum of Art
Thank you to the Cleveland Museum of Art guard who showed my dad how you can see the Frank Gehry-designed Peter B. Lewis Building from the Glass Box. My dad knew Peter Lewis from playing high school football together.