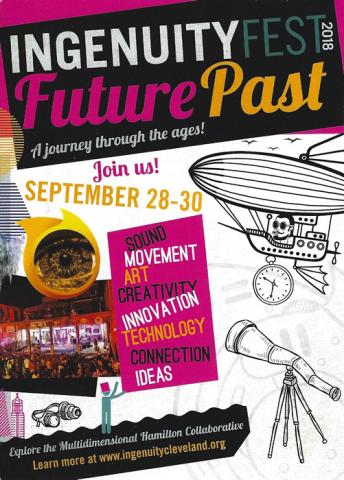 My weekend of Friday, September 28, 2018, through Sunday, September 30, 2018, was a time to learn about the creative people of Cleveland! The weekend started on Friday with an evening with creatives, which I wrote about in my blog post, PechaKucha Night Cleveland Volume 32 at Sachsenheim Hall. It continued with Ingenuity Cleveland's annual celebration of artisans, makers, and technology! This year, the theme was IngenuityFest 2018: FuturePast!
I continued my annual tradition of living the full IngenuityFest experience by attending all three days and talking to as many exhibitors as possible. This was the second year at their new, permanent location at The Hamilton Collaborative, 5401 Hamilton Avenue, Cleveland, which is now their year-round community hub.
I am proud that my sons, Kevin and Mike, had a booth at IngenuityFest for their tabletop game, perMUTATIONS, both last year and this year.
Please share the information in this blog post with your friends. I enjoy attending this event every year, and want to encourage you to invite people who have not attended.
Blog Date:
Wednesday, October 10, 2018