Enlarge Image
We were pleased when Fox 8 News Producer Rachel Inch (@rachangstep) approached us to use some of our Facebook photos for their 6:00 pm news story on #Masks4Community on Wednesday, July 8, 2020. Her request made us think about sharing the story of the great work done by the #Masks4Community leaders, partners, donors, and volunteers in one of our "Social Distancing Series" blog posts.
Here is the video that includes Stuart's photos and those of others who gave permission for them to be shared on Fox 8 News:
Please consider supporting the work of #Masks4Community and other Greater Cleveland COVID-19 Rapid Response Fund programs by giving your:
Thank you for your interest in this good work!
The Twitterverse is Talking About #Masks4Community

Enlarge Image
African-American, Latino and LGBTQ persons are experiencing the impacts of the COVID-19 pandemic at higher rates than other demographics. According to Dr. Anthony Fauci, the director of the National Institute of Allergy and Infectious Diseases, "[p]ublic health officials have known that conditions such as diabetes, hypertension, and asthma disproportionately affect African Americans. Unfortunately, when you look at the predisposing conditions that lead to a bad outcome with coronavirus, the things that get people into ICUs that require incubation that often lead to death, they are just those very comorbidities."

. . .

With your support, we will distribute 60,000 washable masks at essential community locations, including grocery stores, pharmacies, discount stores, (e.g., Family Dollar) and at food bank sites in Cleveland neighborhoods and East Cleveland. Based on the Center for Disease Control's 2018 Social Vulnerability Index, we have identified the Clark Fulton, Brooklyn-Center, Slavic Village, Hough, Central, Lee-Harvard, Central, Glenville, Union-Miles, Buckeye-Woodhill, Mount Pleasant neighborhoods for targeted distribution. Our kits will include a cloth mask and pertinent information about COVID-19, Census and vote-by-mail information.
We first learned about #Masks4Community's good work because our @sos_jr twitter account follows (and retweets) @ShanelleLSmith.
Stuart met Shanelle Smith Whigham and started following @ShanelleLSmith on Twitter as a result of the Cleveland Foundation Common Ground program. Learn more about Shanelle Smith Whigham's work as the State Director of The Trust for Public Land in our blog post:
Blog Date: July 10, 2018 - Cleveland Foundation's Common Ground 2018 - "Why Does Place Matter?"
In addition to #Masks4Community's website -- Masks4Community.com, we also learned more about the program from Steven Litt's article:
We highly recommend following @Steven_Litt on Twitter to learn about great happenings in Cleveland. We often include links to his articles in our blog posts.
Voter and Census Information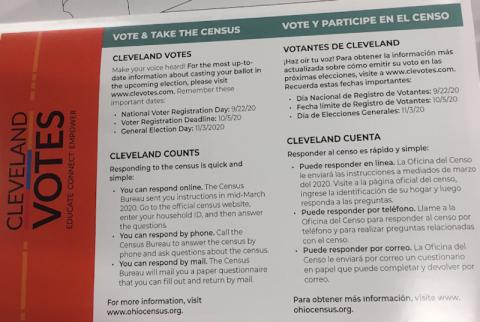 Enlarge Image
In addition to the Trust for Public Land, other members of the Masks 4 Community coalition include Cleveland VOTES, . . . "From voter education and outreach, to environmental racism, grassroots research and the digital divide, our organizations are working together to solve the structural challenges that our communities face," Erika Anthony, co-founder of Cleveland Votes said in the news release.
In addition to giving out FREE masks, #Masks4Community distributes information about voting and the census in the kits. We are BIG believers in the importance of voting, and know how the census directly impacts the way services are provided in our community. Therefore, we were excited to learn that the #Masks4Community program also supports our belief in the importance of people fulfilling their civic duty!
Back in February (in pre-coronavirus times), Stuart had breakfast with Cleveland Foundation Director of Content Marketing Jennifer L. Trivelli (@trivellij). She shared with him that one of the goals of the Cleveland Foundation for 2020 was to increase participation in the census in our community. Back in February, we certainly did not envision how everyone's lives would be changed. Now, efforts to promote the census need to be combined with addressing health concerns during a once-in-a-100-year pandemic!
While we were writing this blog post, we saw this "Apply Now for Census Outreach Grants" announcement from the Cleveland Foundation:
Great Success Right from the Start!!
We looked into volunteering, and learned of great success early on! We were not able to volunteer at first, since they had too many volunteers within the safety limits (due to coronavirus) of the space! What a great problem to have!
Check out the great #Masks4Community information pamphlet in @ShanelleLSmith's video!
Donté Gibbs explains how the #Masks4Community project is distributing kits (including a washable mask and information about COVID-19 safety, the 2020 Census, and voting) to essential community locations in Cleveland and East Cleveland neighborhoods, with a grant from the Greater #Cleveland #COVID19 Rapid Response Fund.
A coalition of Northeast Ohio philanthropic, corporate and civic partners have joined together to create the Greater Cleveland COVID-19 Rapid Response Fund to deploy resources to nonprofit organizations serving on the frontlines of the pandemic in our region.

About the Rapid Response Fund
The Greater Cleveland COVID-19 Rapid Response Fund was established on March 18, 2020, to complement the work of public health officials and expand local capacity to address all aspects of the outbreak as efficiently as possible. The Rapid Response Fund will provide grant awards on a rolling basis to nonprofit organizations in Cuyahoga, Lake and Geauga counties.
Back in March 2020, we learned from the Cleveland Foundation about the Greater Cleveland COVID-19 Rapid Response Fund (Follow announcements using the #CLEResponds hashtag.) We are glad to learn that #Masks4Community is one of the programs that benefits from our community's generosity!
#CLEResponds supports #Masks4Community:

Enlarge Image

"If you want to go quickly, go alone. If you want to go far, go together." African Proverb

Since launching the #Masks4Community initiative this May, together, we have:

. . .

Received support from the Saint Luke's Foundation, Greater Cleveland COVID-19 Rapid Response Fund (housed at the Cleveland Foundation), South Euclid United Church of Christ and several individual donors.

Accepted an in-kind donation of masks from the Greater Cleveland Habitat for Humanity

Purchased masks from local entities including Esperanza Threads, Cosmic Bobbins, Ortiz Art Draft Designs and collaborated with Cleveland Over Everything to identify quality masks for our community.

Enlarge Image
Partners:
So many supporters and partners came together to make this happen! Learn more in Shanelle Whigham's blog post:
When we learned that our volunteer work would be done at the Famicos Foundation's (@Famicos) The Madison, we had good memories of visiting this location and learning its interesting history while attending pre-events and art installations in 2018 for FRONT International (@FrontTriennial).
Back in November 2019 (in pre-coronavirus times), Stuart had a meeting with Famicos Foundation Director of Real Estate Development Khrys Shefton (@KhrysCLE) to learn more about the work of the Foundation. At the meeting, Stuart mentioned how the art programming of FRONT International brought him to The Madison. Now, here we are in 2020, back at The Madison as #Masks4Community volunteers.
Learn more in our FRONT International blog posts:
Before arriving, Stuart noted that the space we were meeting in was part of the ThirdSpace Action Lab, so he looked at their website and saw that Evelyn Burnett (@evburnett) was one of their founders. On January 14, 2020, Stuart had talked to Evelyn Burnett about her presentation at the 2021 Exhibition Title and Themes Announcement event for FRONT International (see Stuart's photos on Twitter from this FRONT International event). Stuart first met Evelyn Burnett at a Hack Cleveland | #SocialJusticeTech (@HackCleveland) weekend. Learn more about the Scope-A-Thon that Evelyn Burnett organized, please read our blog post:
It was great to be back at The Madison for this volunteer work:
Saturday, June 27, 2020 - Assembling #Masks4Community Kits and Remembering Pacific Crest Trail Anniversary

Enlarge Image
We signed up to volunteer once a week, starting with the morning shift on Saturday, June 27th. We were not only impressed by the mission of the organization, but also how clearly they spelled out that they followed safety measures for those volunteering (everyone wears masks, washes hands, practices social distancing, and the number of volunteers is limited). We only volunteered because these safety measures are in place.
Note that we are signed up for more sessions after the date of this blog post, so please watch for updates on Twitter, and share so more people learn about #Masks4Community!
We start work...
June 27th, 9,000 kits made in 8 hours!!!
Before COVID-19 canceled travel plans, June 27th was to be a special day for us, since Julie was originally going to join Stuart on this date after he completed an extended backpacking trip on the Continental Divide Trail. It was also his one-year anniversary of finishing a chunk of the Pacific Crest Trail. Stuart wore his Pacific Crest Trail shirt while volunteering at #Masks4Community to commemorate the day.
This date was also the birthday of Julie's father -- we felt that doing some volunteer work was a good way to honor his memory. It was good for us to be out of the house on this date, rather than staying home mourning our losses, and helping fight this pandemic by packaging FREE face masks for others.
During this year of loss and mourning, remember that giving through volunteering is good for you:
Thank you, Jan Carlson, for your support!
"#Masks4Community is ready!"

Enlarge Image
Mayor Jackson & County Executive Budish to Mandate Use of Masks Throughout City of Cleveland, Cuyahoga County – Update #124

Ahead of the Fourth of July holiday, Mayor Frank G. Jackson today signed an order requiring the use of masks, among other things, throughout the City of Cleveland. Click here to view the order. Cuyahoga County Executive Armond Budish announced his intent to bring before Cuyahoga County Council legislation next week mandating the use of masks in the county's public spaces.

"The spike in coronavirus cases across the City of Cleveland warrants the mandated use of masks," said Mayor Jackson. "If Clevelanders do not heed these critical warnings and prevention efforts, the effects will be disastrous to the economy and, most importantly, to individuals and families. No one is immune to this virus."
Scary times as coronavirus cases spike!!!!! Good to know that we are helping #Masks4Community be part of the solution!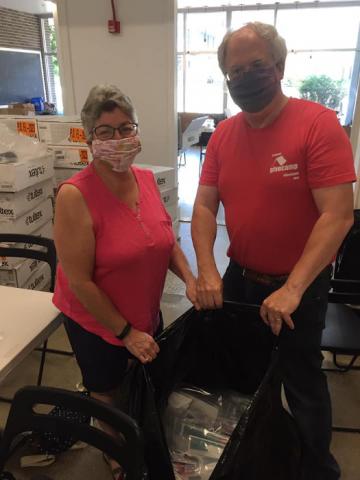 Enlarge Image
We originally had signed up for the first shift on July 11th, but that slot was filled. We figured we would skip this week, but we learned via Shanelle Smith Whigham's tweet that the Friday and Saturday afternoon slots were open.
We immediately signed up for the 12:30 pm to 2:30 pm open time slot on the afternoon of Saturday, July 11, 2020:
On July 11, 2020, we also shared on Twitter and Facebook the Fox 8 News video that is at the top of these blog post:
Many people must have seen the call for action -- the number of volunteers on Saturday afternoon was greater than the last two times we attended combined! There are a lot of good people in our community who want to come together to help!!
As we finish preparing mask kits, they head out to where they are needed! It is a great feeling to know that your volunteering immediately makes a difference.

Enlarge Image
Friday, July 17, 2020 - At Creative Mornings Cleveland, Shout-Out to #Masks4Community
Stuart attended the Friday, July 17, 2020, online Creative Mornings Cleveland, which featured Justin Bibb (see photos and information on Twitter) talking about Cleveland's future. He talked about the responsibility of each of us to do our part in making our community better, and he mentioned the volunteers at #Masks4Community as a good example. We hope that people reading this blog post will be inspired to take action to do their part in improving our community.
Growing Democracy Podcast
Episode 4: Shanelle Smith Whigham, The Trust for Public Land

In this episode Ashley and Casey talk with Shanelle Smith Whigham, the Ohio State Director for The Trust for Public Land (www.tpl.org/), a national nonprofit that looks to conserve land for public use. Ms. Whigham discusses the topics of green space and parks within the community, environmental justice, and the impact that the COVID-19 pandemic has had on the need for more public land.
While writing this blog post, Stuart listened to the Growing Democracy Podcast interview of Shanelle Smith Whigham. Listen to learn more about her work in our community with #Masks4Community, The Trust for Public Land, and more. After you listen, share with others by retweeting the following tweet which contains the embedded podcast:
Related Blog Posts
Over the years, we have written many blog posts about projects supported by the Cleveland Foundation -- click here to read.
Volunteering for #Masks4Community and being invited to attend the Cleveland Museum of Art's Reopening Media and Influencer Welcome Back are the first activities we have done with people outside of our family since the start of the pandemic. Both the of these venues took the necessary precautions to keep their participants safe.
Most of the venues that we write about in our sosAssociates.com/Blog have been closed. The following are our "Social Distancing Series" blog posts, which we write to try and capture the activities we are able to do at this time. Once the coronavirus crisis is over, it will be interesting to read these to see the contrast between these times and "normal life."
We expect to continue to practice social distancing for at least the rest of 2020, so please come back to read more and...
Stay well!