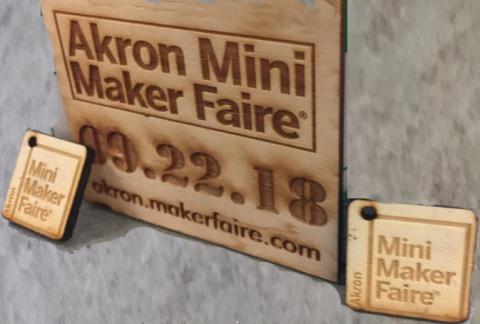 Enlarge Image
This year, the Akron Mini Maker Faire took place at the Main Library of the Akron-Summit County Public Library (@AkronLibrary) on Saturday, September 22, 2018. This was earlier in the year than it normally takes place. Stuart had planned to be out of town in September 2018, but a change in plans brought him home early, allowing us both to attend the Sixth Annual Akron Mini Maker Faire! Stuart has attended all six years.
We learned about the details of the event from the following tweets announcing all the fun activities that were being planned for the day:

Enlarge Image
Our @sos_jr tweets and retweets below show some of what we and others experienced at the Akron Mini Maker Faire. We hope they give you some insight into what these Makers do, but to learn more, you need to attend the next Akron Mini Maker Faire and talk to the Makers directly.
Here is information about some of the participating organizations, beyond what is in the tweets:
Please retweet the tweets that interest you, so more people can learn about these great Akron area Makers!
Makers & Exhibits
Here is a list of participants from the official 2018 Akron Mini Maker Faire Makers & Exhibits web page! It is so impressive to see the full list of organizations and creative individuals who participated -- such a wealth of knowledge represented!
Downtown Akron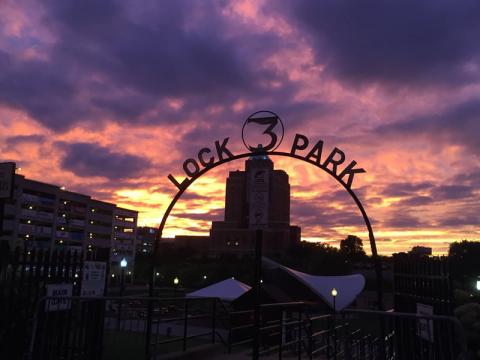 Enlarge Image
After the Akron-Summit County Public Library (@AkronLibrary) Sixth Annual Akron Mini Maker Faire, we decided to stay in downtown Akron (@DowntownAkron) for dinner, and to explore some of the new developments we had read about on Twitter at Lock 3 Akron (@Lock3Akron). In addition to seeing the "Lock Next" monster, food stand, play area, and other capital improvements "to encourage people to linger longer at the Main Street park."
We also saw the Akron Children's Museum (@AkronMuseum) location on Lock 3 Akron, which opened in 2016, and an old favorite of ours, the Akron Civic Theatre (@AkronCivic). If you have never been to the at Akron Civic Theatre, you must see this space! See some photos we took of the when attending a PechaKucha Night Akron (@PKAkron) in our blog post:
Please share any of the following @sos_jr tweets and retweets that interest you by retweeting them. Retweeting is a great way to spread the word about this fun area in Akron.
Related Blog Posts:
To learn more about tech events at the Cleveland Public Library (@Cleveland_PL), Cuyahoga County Public Library (@CuyahogaLib), and the Akron Public Library (@AkronLibrary), please see these related blog posts that we have written:
Future
It was great talking to all the makers and creative people at the 2018 Faire! I am looking forward to not only the 2019 Akron Public Library Mini Maker Faire, but also the 2018 Cleveland Public Library Cleveland Mini Maker Faire, which will return for its sixth year on Saturday, November 3, 2018! Our sons will have a booth at Cleveland's Faire this year, featuring their tabletop game, PerMUTATIONS (@PermutationGame).