After I returned from a month-long backpacking adventure, I learned that the Cleveland Foundation (@CleveFoundation) launched the new Ctrl + Alt + CLE group. Although I missed the first meeting on September 6, 2018, #CtrlAltCLE Convenes: Tech & Digital Equity, it dealt with a topic that I am very interested in, so I knew I should make it a point to attend future meetings. Fortunately, I was able to attend the second #CtrlAltCLE meeting, and a special #CtrlAltCLE blockchain training for nonprofits/government.
Both of the events I attended took place at DigitalC MidTown Tech Hive (@DigitalC_org - @MidTownTechHive), which is a "creative space to cowork, root companies, hold events, and take technology skill building classes." I first visited in April 2018, and wrote about Cleveland's "new tech-centric space" in my Front International blog post.
In this blog post, I will share:
Some of the background information from the Launch of Ctrl + Alt + CLE.

Information about the two #CtrlAltCLE meetings I attended on the topics of Digital Equity and Blockchain for Social Good.

Funding opportunities announced for Digital Equity and Blockchain for Social Good.
I am also including information about Lynda.com classes that relate to the work of #CtrlAltCLE. The classes are available FREE with your library card!
This is just the beginning of the new #CtrlAltCLE program, and I recommend you join with me in learning how Ctrl + Alt + CLE will evolve.
Ctrl + Alt + CLE is part of the Cleveland Foundation's larger Digital Excellence Initiative, which seeks to make the Cleveland area a leader in digital innovation and access by investing in five areas:
Launched in 2018, Ctrl + Alt + CLE is a collaborative effort to provide resources and opportunities for individuals and organizations to find innovative solutions to community needs through the use of data and technology.

Ctrl + Alt + CLE offers special events, access to co-working space at the DigitalC MidTown Tech Hive, hands-on data and skills training, and challenge grants. By providing these resources, Ctrl + Alt + CLE aims to convene and empower those working in our region's data, tech and civic ecosystem to improve the quality of life in our region through innovation.

On the first Thursday of each month, Ctrl + Alt + CLE hosts free events focused on various topics related to civic tech and digital inclusion. These Ctrl + Alt + CLE Convenes events are free to attend and open to the public.
The Digital Excellence Initiative web page is a good place to visit to learn more, since it is being updated as major new initiatives are announced. Also, be sure to follow #CtrlAltCLE on social media for news and updates!
If additional information is needed about the Digital Excellence Initiative, you can contact:
The first meeting I attended was a panel discussion focusing on digital equity and inclusion. I tweeted and retweeted as @sos_jr, sharing information about the meeting, and mentioning some of the partner organizations involved:
Five days after I attended the #CtrlAltCLE Convenes: Digital Equity & Inclusion meeting, the following announcement was made by the Cleveland Foundation:
Cleveland Foundation announces initial funding to reduce Cleveland's digital divide

Initiative will provide for free library internet hotspot lending programs; PCs for People also expanding to Cleveland to provide low-cost computers, support and repair services

RELEASE DATE: 10.9.2018

CLEVELAND – The Cleveland Foundation board of directors today announced $488,000 in grants that encourage digital inclusion in Cuyahoga County. The initiative will establish free library hotspot lending programs and a PCs for People location in Cleveland, while providing education, advocacy and awareness support to residents to engage with technology. Recognizing the importance of ensuring all members of the community have equitable access to the digital future, Huntington National Bank is contributing an additional $50,000 to the effort.
Read the details of all the components of this multifaceted strategy in the full press release here.
It was really exciting to read how the Cleveland Foundation was moving forward on this project so soon after learning more about this topic at the #CtrlAltCLE Convenes: Digital Equity & Inclusion panel discussion.
Also, see the following articles for more great information:
Here are the @sos_jr tweets and retweets that I shared with information about this new program:
I highly recommend watching this video from Homa Bash's article, since it gives a good overview of this new program:
Homa Bash's article also included a National Digital Inclusion Alliance - NDIA (@NetInclusion) interactive map, which I have embedded in this blog post. See more in Informing Strategic Investment in Digital Equity: Interactive Maps on the NDIA website here.
The second meeting I attended with my son, Mike, was on a especially timely topic -- blockchain:
Join us Thursday, November 1st for #CtrlAltCLE Convenes, a monthly series of gatherings at the Digital C MidTown Tech Hive presented as part of the Cleveland Foundation's Ctrl + Alt + CLE collaborative. The Nov. 1st convening will be a discussion focusing on ways nonprofits and local government agencies can use blockchain to help address issues facing their organizations and the people they serve. This convening is in support of our Blockchain for Social Good Challenge. As always, this gathering is free and open to the public.
The Cleveland Foundation's Chief of Digital Innovation & Chief Information Officer Leon Wilson (@Leon_CleveFdn) and Digital Innovation Fellow Joshua Edmonds (@JoshEdmonds216) hosted the meeting. Leon Wilson presented an excellent introduction to blockchain.
I used my @sos_jr Twitter account to share my notes during the meeting. I particularly recommend opening and viewing the videos in the tweets below to to learn some of the basics about blockchain. I want to commend Leon Wilson for how he used these videos -- he paused the videos multiple times to provide resources beyond what was in the videos, and answered questions from attendees. I highly recommend attending #CtrlAltCLE meetings, since the information shared by presenters and attendees goes way beyond what you could learn just watching these videos alone.
Cleveland Foundation Funding Announced - Blockchain for Social Good Challenge
About the Blockchain for Social Good Challenge:

The Challenge welcomes nonprofit leaders, public sector leaders, collegiate and professional innovators interested in addressing local social challenges via the use of blockchain-driven solutions.

The Challenge is open to teams of 4 individuals or less who are at least 18 years of age.

The deadline to submit a concept is Thursday, November 29, 2018.

1st Place Winner: $7,500 || 2nd Place Winner: $2,500

For more information contact: Blockchain4SG@clevefdn.org
At the Thursday, November 1, 2018, #CtrlAltCLE Convenes: Blockchain for Social Good meeting, I also learned about the Blockchain for Social Good Challenge prize money. Follow @CleveFoundation on Twitter to watch for more information to be posted on their website.
Here are the fact sheets I was given at the meetings. I also recommend reading more details in this article:
The prize winners and details about the additional support provided for the winners' projects will be announced at the Blockland Cleveland (@BlocklandCLE) Solutions Conference on December 1-4, 2018. The Cleveland Foundation's Leon Wilson will be joined by Catherine Tkachyk (@CHtkachyk), who is the chief innovation and performance officer of the Cuyahoga County Office of Innovation and Performance (@CuyahogaCounty) to present Blockchain Use & Community Centered Design at the Local Public and Social Sector Levels.
Nonprofits and government agencies who are interested should email Blockchain4SG@clevefdn.org to learn more!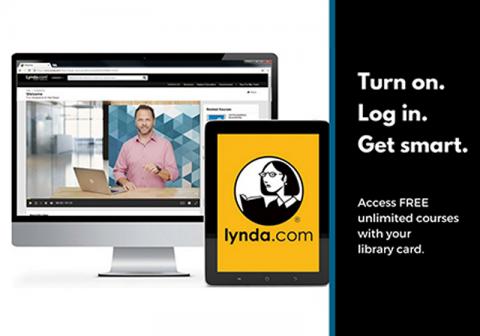 Enlarge Image
While it was not mentioned at the two #CtrlAltCLE Convenes meetings I attended, I thought it would be appropriate to mention how our local libraries offer FREE online technology and business classes through Lynda.com (@Lynda).
In my blog post My 7th Cleveland GiveCamp - Free Tech Solutions for Nonprofits in 2016, I wrote the following:
It was shared at Cleveland GiveCamp that the Lynda.com (@lynda) online learning platform for business, software, technology, and creative skills is now available for free through local libraries! This can be very useful for the nonprofits' leaders/volunteers wanting Lynda.com WordPress classes to assist them in managing their new websites.

I have been taking Lynda.com classes for years, so I think it is great that anyone with a library card can further their education through these local libraries:
On November 1, 2018, I now learned via a Euclid Public Library @EuclidLibrary tweet that Ohio Public Library Information Network - OPLIN (@OPLIN) and the Ohio Library Council (@OhioLibraryCncl) have come together to offer FREE Lynda.com (@Lynda) at all Ohio public libraries.
See the following resources:
It is clear how this library resource addresses the issues brought up at the first #CtrlAltCLE meeting I attended regarding digital equity and inclusion, but I was most interested to do a search for "blockchain" on Lynda.com. I found listed one beginner class and 13 intermediate level blockchain classes.
See the video in these tweets about how our libraries are working to address the workforce skills gap by offering FREE business and technology classes:
Here is an additional Euclid Public Library video that presents a list of creative things you can do after taking Lynda.com classes:
With my experience running the Web Development Special Interest Group - WebSIGCleveland.org for ten years, I know firsthand the value of attending tech meetups. Thank you, Leon Wilson (@Leon_CleveFdn) and Joshua Edmonds (@JoshEdmonds216), for starting Ctrl + Alt + CLE to bring Cleveland area talent together to address the issue of digital equity. It is a subject that I find very interesting.
I look forward to seeing how this group evolves to address important issues in our community at future meetings. I highly recommed you attend, and be the first to know about what is happening in the area of digital inclusion in our community!
Be sure to watch for #CtrlAltCLE announcements on social media for news, updates, and meeting information. After attending some meetings, please share with others what you learned using the #CtrlAltCLE hashtag.