10th Anniversary Cleveland GiveCamp!
The Mission of Cleveland GiveCamp is to pair creative and technology talent with nonprofits in need.
On July 19-21, 2019, Cleveland GiveCamp marked the tenth year of its tech volunteers serving nonprofits in the Cleveland and Akron areas. We (Stuart O. Smith, Jr., and Kevin F. Smith) want to share with you tweets, videos, photos, and information about Cleveland GiveCamp 2019.
Stuart has volunteered at Cleveland GiveCamp Weekend for all of its ten years, and in 2019 served on the Cleveland GiveCamp Steering Committee for his ninth year. He continues to manage both the ClevelandGiveCamp.org website and the @CleGiveCamp Twitter feed year-round, and serves on the Social Media Team during Cleveland GiveCamp Weekend.

Enlarge Image
Photos by Alex May
This was Kevin Smith's sixth year working on the Cleveland GiveCamp social media team. In addition to contributing to the @CleGiveCamp Twitter feed and posting to Facebook.com/CLEGiveCamp, he was responsible for creating the official Cleveland GiveCamp 2019 – 10th Anniversary YouTube video, which you can view at the top of this blog post.

Enlarge Image
Social Media Team (link to Facebook team photo):
Stuart O Smith Jr (@sos_jr), Laura Weichel (@LWeichel15),
Charlie Swift, Sarah Reinbolt (@sreinbolt),
Rebecca Ferlotti (@RebeccaFerlotti), Sandro Galindo (@azrael),
Michelle Kabaira (@michkublette), Kevin Frederick Smith (@kefrith),
Susie Sharp (@SusieSharp ),
Not in photo: Lisala Peery (@ItsLisalaP ), Rachel Wilson
See all Cleveland GiveCamp 2019 Team Portraits by Albert Bell (@PhotoAlBell)
The Early Years - Videos
10 years! It is hard to believe that it has been ten years! It has been exciting to see Cleveland GiveCamp grow over the years and help so many nonprofits with free websites and other tech solutions.
Here is the WEWS News 5 Cleveland (@WEWS) video published on July 19, 2010, that tells the story of the first year. You will see Stuart and his son, Mike, working on their first WordPress website for a local charity in the video.
The second year, Cleveland GiveCamp volunteers started creating videos of the weekend. Here is a video of walking through Cleveland GiveCamp 2011, created by Kevin Dutkiewicz (@athlonduke). It is great to see Cleveland GiveCamp starting out even in the first years with such a large number of volunteers. It is also interesting to see how the Burke Lakefront Airport and Lean Dog boat (@LeanDog) looked so many years ago. Over the past ten years, Lean Dog has expanded in size and made major renovations on the former Hornblower's restaurant (which closed in 2006), a converted barge docked off Burke Lakefront Airport.
Kevin has taken over the job of creating the annual, official video celebrating each year's success. Please go to the Cleveland GiveCamp YouTube Channel for more fun videos from past years, and a playlist of media coverage by WEWS News 5 Cleveland at: YouTube.com/User/ClevelandGiveCamp
10th Anniversary Logo
In recognition of this special year, Marcus Thomas LLC (@MarcusThomasCle) created a 10th Anniversary logo:

Enlarge Logo
Thank you, Marcus Thomas LLC, for this commemorative logo, which was featured on shirts, water bottles, and stickers given to the Cleveland GiveCamp volunteers to thank them for their service.
Getting Ready for the 10th Annual Cleveland GiveCamp
Here are Stuart's @sos_jr tweets and retweets that show some of the activities, promotion, and planning that took place before Cleveland GiveCamp Weekend to make it a success:
Friday, July 19, 2019 - Before Opening of Cleveland GiveCamp
Cleveland GiveCamp 2019 Nonprofits
ARTneo (@ARTneoMuseum; ig: @artneomuseum)

Bedford Heights Day Care & Nursery Center Inc

The Kids of 216 (@KidsOf216; ig: @KidsOf216)
In addition to the 18 nonprofit partners, there was a 19th team created to build a new website for ClevelandGiveCamp.org!!! Since Stuart updates the Cleveland GiveCamp website throughout the year, Albert Bell (@PhotoAlBell) placed Stuart in the front row of the team photo, as the "customer" on the project.
It was an interesting experience for Stuart to be in the role of the customer instead of the service provider. Thank you so much to the volunteers who created a new Cleveland GiveCamp website, the Tech Floaters, and others who gave input on how to improve the website to better serve nonprofits in our community.

Enlarge Image
Website Team for Cleveland GiveCamp
See all Cleveland GiveCamp 2019 Team Portraits by Albert Bell (@PhotoAlBell)

Enlarge Image
Cleveland GiveCamp Tech Floaters
See all Cleveland GiveCamp 2019 Team Portraits by Albert Bell (@PhotoAlBell)
Cleveland GiveCamp 2019 Sponsors

Enlarge Image
Cleveland GiveCamp would not be possible without the following sponsors. Their support makes it possible for the 175 volunteers and 18 nonprofits to have the resources they need to succeed during the Cleveland GiveCamp Weekend. Thank you to:
GOLD SPONSORS
SILVER SPONSORS
PATRON SPONSORS
2019 Indians Volunteer Challenge - A BIG Thank-You to the Indians and BVU!

Enlarge Image
In 2016, BVU's Director of Communications and Technology, Melanie Meyer (@MelanieAMeyer), reached out to Stuart to share information with Cleveland GiveCamp attendees about the BVU: The Center for Nonprofit Excellence (@BVUVolunteers) Indians Volunteer Challenge program. At that time, as was noted in our 2016 blog post, the Indians Volunteer Challenge was open to ALL nonprofits.
Early in 2019, Stuart was informed that the Indians Volunteer Challenge was going to be scaled back to a select few number of organizations, and the list of the chosen few had not be finalized. We have appreciated the support of the Cleveland Indians (@Indians) and Business Volunteers Unlimited (@BVUVolunteers) for the Cleveland GiveCamp volunteers these past years, and are doubly grateful that Cleveland GiveCamp was chosen for 2019. Both Kevin and Stuart have reserved their Cleveland Indians tickets -- Go Tribe!!
"Indians Volunteer Challenge - Volunteer then go Cheer!" -- See Cleveland GiveCamp and the list of other Indians 2019 Volunteer Challenge Partners on:
Stuart also wants to send a BIG thank-you shout-out to BVU's Coordinator of Community Engagement, Ann Cancelliere, (@AnnCancelliere), who worked with Stuart to be sure all the Cleveland GiveCamp volunteers received the Cleveland Indians tickets for the dates that they desired. As of the time we are writing this blog post, over 50 volunteers have recorded their volunteer hours to earn the tickets.
Stuart and Julie attended the Indians vs. Texas Rangers game on Monday, August 5, 2019. You will see a tweet that Megan (@megabyterose) also attended that night:
Cleveland GiveCamp Steering Committee 2019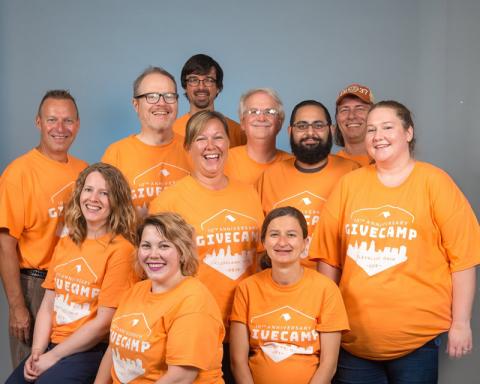 Enlarge Image
Cleveland GiveCamp Steering Committee
See all Cleveland GiveCamp 2019 Team Portraits by Albert Bell (@PhotoAlBell)
The Steering Committee works year-round to promote and plan Cleveland GiveCamp, and Stuart is proud to be part of this group of leaders:
#CleGC Day One: Friday, July 19, 2019
#CleGC Day Two: Saturday, July 20, 2019
#CleGC Day Three: Sunday, July 21, 2019
Cleveland GiveCamp Closing and Craze eCool Award 2019

Enlarge Image
2019 Cleveland GiveCamp Group Photo by Albert Bell (@PhotoAlBell)
Here are tweets from the Cleveland GiveCamp closing ceremony where the teams shared how the new websites/app will be used to future the missions of the nonprofit partners. The winners of the Craze eCool Award 2019 were also announced (more information below):
As shown in the the above tweets, here are the Craze eCool Award 2019 honorees:
One of the founders of Cleveland GiveCamp, Andy Craze, lost his battle with cancer shortly before Cleveland GiveCamp 2016. His partner, Jane Winik, along with Simplex-IT (@Simplex_IT) CEO, Bob Coppedge, created the Craze eCool Award in Andy's memory. They created a monetary award that they would give to one or more of the Cleveland GiveCamp Nonprofit Partners that they thought was doing something especially cool. 2019 was the fourth year for the Craze eCool Award.
The award also honors a member of the Cleveland tech community, Jim Evans, who passed away in 2018. Jim worked on the Cleveland GiveCamp Social Media Team, and ran the Greater Cleveland PC Users Group (@GCPCUG) for many years. Jim was a close friend of our family, and it was Jim who invited Stuart to serve on the Greater Cleveland PC Users Group board as treasurer and website designer.
Since Bob Coppedge was not able to attend the closing ceremony, he had past Cleveland GiveCamp volunteers Sarah Dutkiewicz (@sadukie - @ClevTechEvents) and Kevin Dutkiewicz (@athlonduke) present the Craze eCool Award. Kevin Dutkiewicz is the Technical Director at Simplex-IT.
Here is the GiveCamp 2019 message from Bob Coppedge video that Bob created to share his thoughts:
After Cleveland GiveCamp
What Others Say
Here are some other blog posts and articles about Cleveland GiveCamp 2019 Weekend. Please let us know if you see more. It is so great that people help promote the event, and then share their experence at the event. A BIG thank-you to Rebecca Ferlotti (@RebeccaFerlotti) who interviewed Stuart for an article for FreshWater Cleveland (@FreshWaterCLE).
Photos, nonprofits served, resources, and more -- you can read about some of the past Cleveland GiveCamp Weekends here:
2020 will be the eleventh year that Cleveland GiveCamp volunteers will provide free tech solutions to local charities. Please tell everyone you know about this opportunity for nonprofits, and have them sign up for official notifications at: ClevelandGiveCamp.org/Nonprofits Thank you!