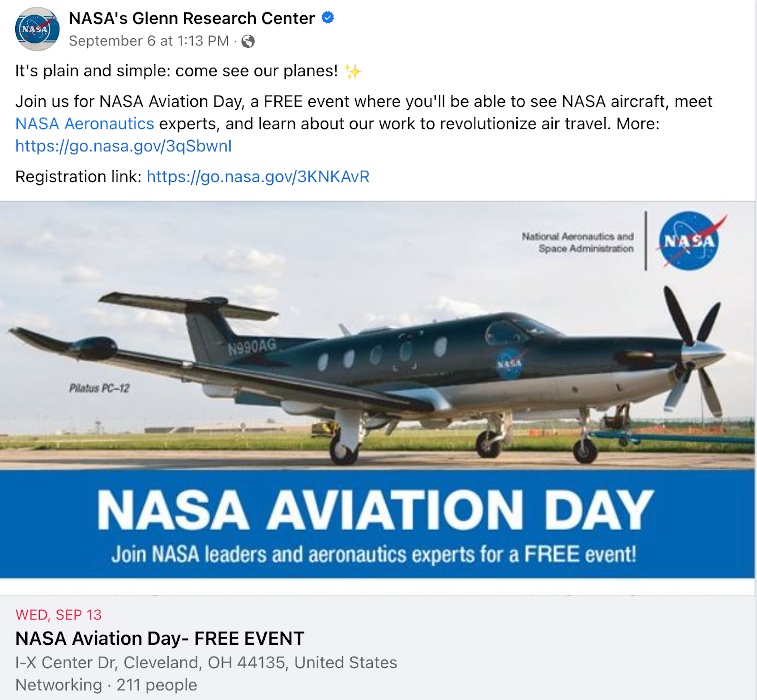 Thank you, NASA Glenn Research Center, for the NASA Aviation Day which was a free, public event that took place on Wednesday, September 13, 2023, at the Cleveland IX Center. I enjoyed talking to NASA Aeronautics staff members. They shared their knowledge about new technology developments with great passion.
I am sharing my photos, videos, and comments about the day in this blog post, since I appreciated the opportunity to learn about the latest NASA developments for the aviation industry. I also want to thank Tom Kunsman for recommending that I attend this NASA (National Aeronautics and Space Administration) event! I recommend following Tom on social media (on BlueSky), since he does an excellent job of promoting all things NASA happening in Cleveland.
I enjoyed the morning's panel discussions at NASA Aviation Day. I learned about very new technology and safety developments happening at NASA Aeronautics.
Four Transformations for Sustainability, Greater Mobility, and Economic Growth:

ULTRA-EFFICIENT AIRLINERS
FUTURE AIRSPACE AND SAFETY
HIGH SPEED COMMERCIAL FLIGHT
ADVANCED AIR MOBILITY
After the morning's NASA Aviation Day panel discussions, I toured the NASA (National Aeronautics and Space Administration) display area. People usually associate NASA with space travel, but at this event, the emphasis was on the first "A" in NASA -- Aeronautics.
I truly enjoyed talking to NASA Aeronautics staff — they have such incredible passion for what they do, and are willing to share their knowledge as I ask questions .
NASA events are always interesting. I look forward to attending more of them in the future.