Enlarge Image
A year ago, I learned about and planned on attending the grand opening of the Cleveland Foundation's new headquarters building in 2023. I had learned that the building was going to be much more than the Foundation's home for their staff to work in -- it will also be a resource for the greater community to use! A new role in the community for the Foundation -- very exciting! I looked forward to the opening and to being part of the community celebration.
Next, in May 2023, it was announced that in addition to the new beginning with a new building, there would be a change in Cleveland Foundation professional leadership -- President & CEO Ronn Richard's retirement would lead to the installation of Lillian Kuri as the new leader of the Foundation on August 1, 2023.
Finally, as I attended the Cleveland Foundation 2023 Annual Meeting and open house/tour, I learned about more new beginnings -- a second building!!
In this blog post, I will share announcements that were made before the 2023 Annual Meeting and related festivities, and then write about my experiences at the following celebrations:
I learned about another reason to celebrate in the near future:
Excitement Was Building Before the Cleveland Foundation Annual Meeting and New Headquarters Grand Opening!
Here are some of the announcements leading up to the 2023 Annual Meeting:
Open New Doors With Us
The Cleveland Foundation is excited to join residents, nonprofit partners and community leaders as part of a larger movement of equitable growth and placekeeping efforts already underway across Cleveland's MidTown and Hough neighborhoods.

After more than 100 years, it's time to move out of an office building and into our community. Our move to MidTown represents an investment in Greater Cleveland's neighborhoods and a fundamental change in the way we interact with you. Building our new home at the center of Cleveland's core will connect us with the amazing work that is planned or already underway in the area, . . .

As a community foundation, our mission is to partner with our entire community, from nonprofit organizations to individuals and families, to enhance the quality of life for everyone who calls Greater Cleveland home. Now, as we look forward to joining and building relationships with new neighbors in Cleveland's core city neighborhoods, we can't wait to continue to serve the people and organizations in Cuyahoga, Lake and Geauga counties who made us the foundation we are today, the foundation we strive to be tomorrow and the foundation we can just imagine for the next century and beyond.
Learn more about the new building and the vision for how it will interact with its neighborhood on the following Cleveland Foundation web page:
"Lillian brings a proven track record and a sense of creativity to the way she looks at the work of the foundation and its role in the community," said Constance Hill-Johnson, chairperson of the Cleveland Foundation Board of Directors. "She knows the city like the back of her hand and has an amazing ability to foster and build relationships – to really put people at ease. Furthermore, her heart is always in the right place, and we are confident in her ability to lead the foundation in service to the residents of Greater Cleveland."
. . .
Over the last several years, Kuri has also played a key role in the foundation's support for development in under-resourced neighborhoods to benefit longtime residents; economic and workforce development efforts; and environmental initiatives in historically red-lined communities. She also co-leads the foundation's impact investing strategy, which now includes a portfolio of nearly $385 million in direct and indirect investments that deliver both a financial and social return.
Read about the unanimously elected 10th president & CEO, effective Aug. 1, 2023, in the following Cleveland Foundation news release:
Cleveland Foundation Headquarters Celebration & 2023 Annual Meeting Presented by KeyBank

Opening Doors: Renewal, Reinvention & Responsibility

Join the Cleveland Foundation as we mark a year of extraordinary transitions, including the 2023 retirement of our 20-year president & CEO Ronn Richard, the recent announcement of our president & CEO-elect Lillian Kuri, and the grand opening of our new headquarters in MidTown. The Cleveland Foundation Headquarters Celebration & 2023 Annual Meeting Presented by KeyBank . . .
Thursday, July 13, 2023 - Annual Meeting Celebrating Community Service

Enlarge Image
I really enjoyed attending the 2023 Cleveland Foundation Annual Meeting which was presented by KeyBank. Attending the program gave me a better sense of the scope of the Foundation's current work, and of how the new headquarters building will impact plans for the future.
The main presentations of the Cleveland Foundation 2023 Annual Meeting were tucked in between performances by musicians and dancers who represented nonprofit arts organizations in Greater Cleveland. Opening was Damian Goggans, who is a classical guitar major at the Oberlin Conservatory of Music. He is an alumnus of the Cleveland Classical Guitar Society (CCGS) (@ClevelandGuitar), which is a 501(c)3 nonprofit organization founded on the belief that music can create positive social change. I was fortunate to talk to him and his grandmother later in the evening at the post-ceremony reception.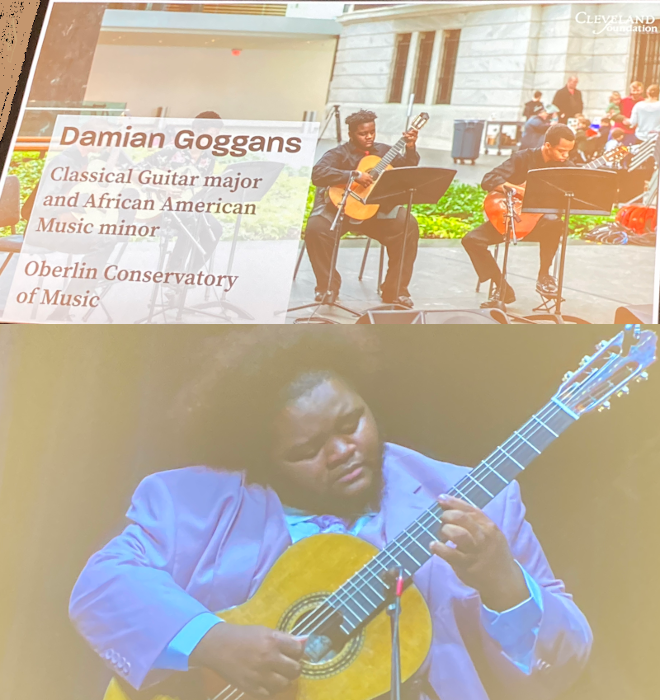 Enlarge Image
Please be sure to play the video above to hear some of Damian Goggans' performance.

Enlarge Image
Annual Meeting
Above is a video of some of the photos I took during the Cleveland Foundation 2023 Annual Meeting that show the following program highlights. I hope the photos will give you a sense of the splendor of the ceremony that honors the work of the Cleveland Foundation's service to our community.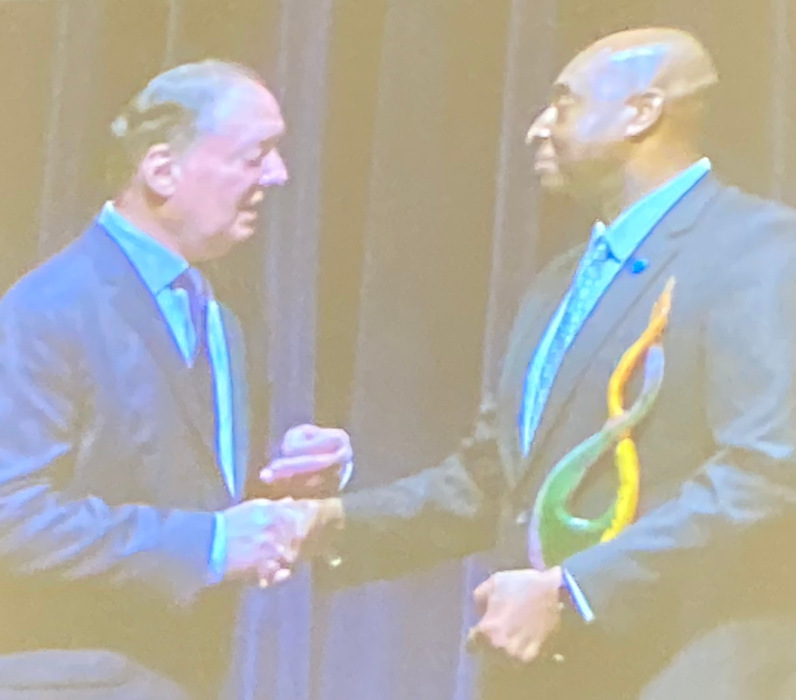 Enlarge Image
Homer Wadsworth was executive director of the Cleveland Foundation from 1974 to 1983. He was known as an innovative, visionary, and energetic leader, overseeing the foundation's work not only as a community grantmaker, but also as an educator, convener, and strategic investor. . . .

The Homer C. Wadsworth Award was established to recognize local leaders who reflect those qualities and demonstrate creativity, ingenuity, risk-taking, and good humor in a civic, volunteer, nonprofit, or public-sector role. It is presented each year at the Cleveland Foundation's annual meeting. . . .

Felton Thomas, Jr.
Executive Director & CEO, Cleveland Public Library
As Director of Cleveland Public Library, Thomas has launched initiatives aimed at addressing community needs in the areas of access to technology, education, and economic development.

Director Thomas' awards and accomplishments include being named a "Mover and Shaker" by the Library Journal and being named a White House Champion of Change for Making in 2016. Nationally, in 2015, Felton was elected as President-Elect of the Public Library Association (PLA), served as President in 2016. Felton is currently the Vice Chair of the Digital Public Library of America. He also serves as a trustee on the boards of FRONT International, University Circle Inc., Cleveland Museum of Art and United Way of Greater Cleveland.

Felton lives in Shaker Heights with his wife and has two college-aged daughters. He is an accomplished musician and has become a devoted Cleveland sports fan since his arrival on the shores of Lake Erie.
I was so excited and pleased to see Felton Thomas, Jr., receive the 2023 Homer C. Wadsworth Award, since I have always been impressed with the work of the Cleveland Public Library to bring technology and other educational opportunities to Clevelanders. I love the idea that the library is the "People's University!!"
Did you know that Cleveland Public Library was the first library in Ohio to have a MakerSpace? Learn more by reading some of my 13 blog posts that I have written about Cleveland Public Library technology resources and special events I have attended:
In addition to my library blog posts, I also know Felton Thomas, Jr., from when we were on the same working team at the October 29-31, 2019, Cleveland Rising Summit (this links to my Cleveland Rising Summit overview blog post). Our team's objective for the three-day event was to brainstorm a plan to bring Internet access to all people in Cuyahoga County.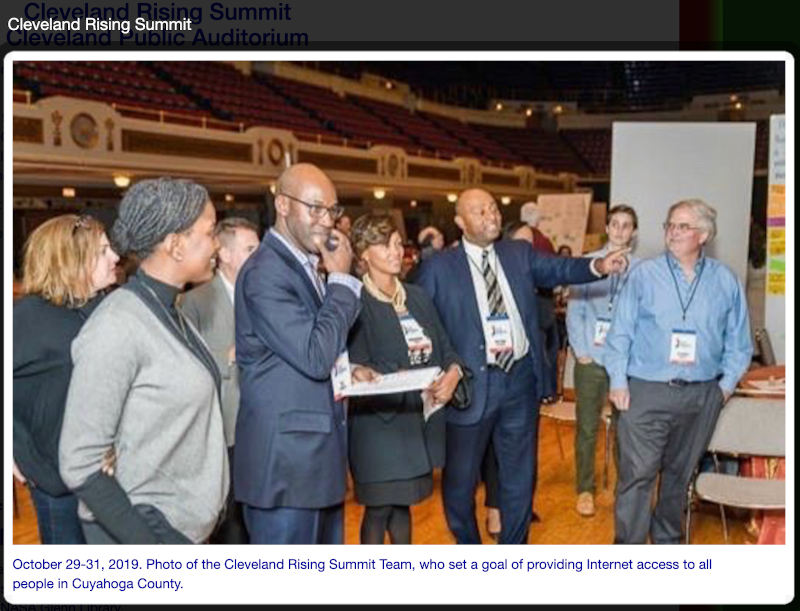 Enlarge Image
Cleveland Foundation Annual Meeting Closing Entertainment
I recommend watching the above video in full screen mode.
Annual Meeting Reception
I heard the reception after the annual meeting described as "a great nonprofit sector reunion," and I agree with that statement. With social distancing in recent years due to COVID-19 safety requirements, this was one of the first big events I have attended since 2020. (FYI, my wife and co-blogger, Julie, and I wrote 27 social distancing blog posts in 2020 and 2021, so we did stay active while staying safe.)
In addition to reconnecting with people I have not talked to in person in years, I had the opportunity to meet some new people who represented organizations that interested me. I talked to some former Cleveland Young Professional Senate members who are now leaders within their organizations, fellow MNO grads (CWRU's Master of Nonprofit Organizations degree), a leader of the Great Lakes Science Center, and #Masks4Community 2020 leaders (mask distribution program for high risk individuals supported by the Cleveland Foundation and others through the Greater COVID-19 Rapid Response Fund). New people I talked to included a volunteer I often see at #MIXatCMA (monthly 21+ parties at the Cleveland Museum of Art), and I had the opportunity to thank a leader of Cleveland Public Theatre for the good times I had there and at Station Hope. Talking to all these great people who make a BIG difference in our community makes me want to do more to promote their good work.
I am glad that I was able to congratulate Lillian A. Kuri in person on her new role at the Foundation, and thank Ronn Richard for his service to our community.
Here are tweets that I saw that shared information about the Cleveland Foundation 2023 Annual Meeting:
Friday, July 14, 2023 - Cleveland City Club Meeting: Honoring Ronn Richard's History of Service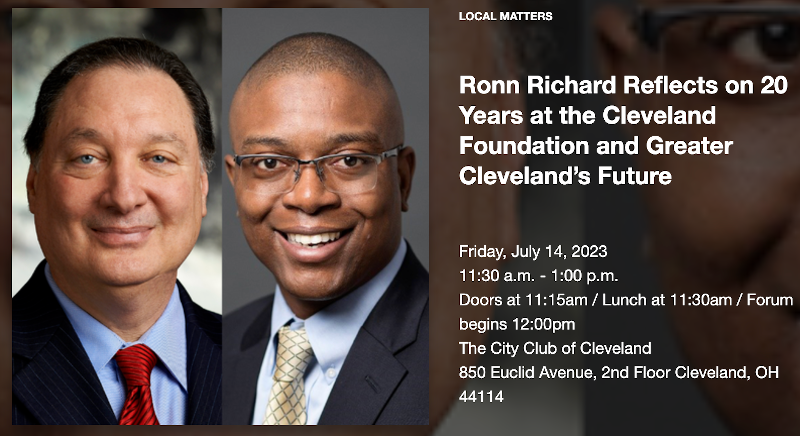 Enlarge Image
Ronn Richard Reflects on 20 Years at the Cleveland Foundation and Greater Cleveland's Future

In January 2023, Ronn Richard announced his plans to retire from his role as president and CEO of the Cleveland Foundation after 20 years at the helm of the world's first community foundation. As Mr. Richard prepares to retire at the end of July, he will join Tony Richardson, President of The George Gund Foundation, in a conversation reflecting on his tenure at the Cleveland Foundation and his hopes for the future of Greater Cleveland.

Mr. Richard came to Cleveland to lead the foundation in 2003, following a career that spanned the public, private and nonprofit sectors. During his time at the foundation, Mr. Richard doubled the organization's endowment and grew its annual grantmaking to record levels while overseeing transformative investments in public education, neighborhood development, arts and culture, advanced energy, leadership development, research and innovation, and more.

In this forum, Mr. Richard will share insights and lessons from his tenure at the Cleveland Foundation as well as his perspective on the role of community philanthropy in moving Greater Cleveland forward.
I was not able to attend The City Club meeting on July 14, 2023, celebrating Ronn Richard's 20 years of service. I am very grateful that The City Club has partnered with Ideastream Public Media, so that I was able to listen to Mr. Richard tell his story. Of all the videos I have included in the blog post, the following video is the one I recommend you be sure not to miss:

Enlarge Image
During The City Club of Cleveland's July 14, 2023, meeting a BIG announcement was made -- read all the details in:
I have written several blog posts about The City Club, which you can view here.
Preparing for the big day! #MidTownOpeningDay
Saturday, July 15, 2023 - New Headquarters Opening Dedication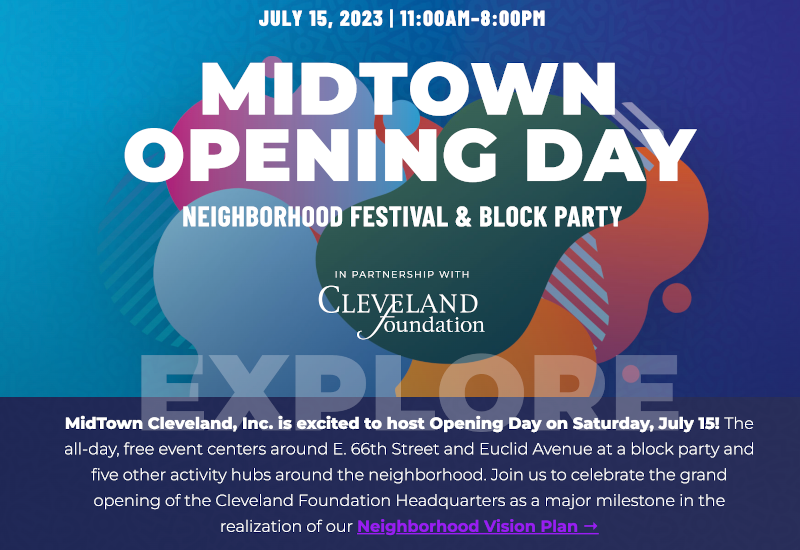 Enlarge Image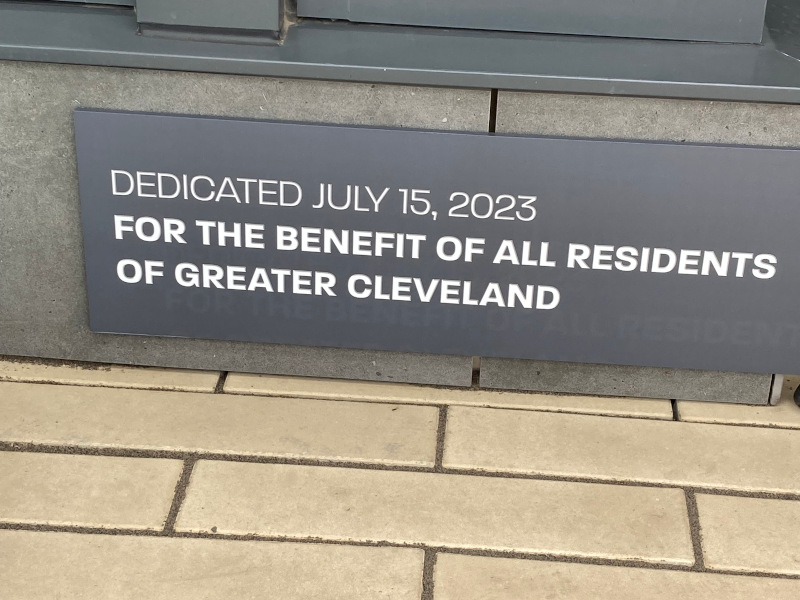 Enlarge Image
Two ways to learn more about us: Tours of the new Cleveland Foundation HQ and "What is the Cleveland Foundation?" information sessions . . .

As a part of the grand opening of the new Cleveland Foundation Headquarters, we are offering opportunities to tour and learn more about your community foundation. Reserve your ticket for a tour or info session . . .

About MidTown Opening Day
The Cleveland Foundation is thrilled to partner with MidTown Cleveland, Inc. to host MidTown Opening Day Neighborhood Festival & Block Party on Saturday, July 15! The all-day, free event centers around E. 66th Street and Euclid Avenue at a block party and five other activity hubs around the neighborhood.

Live music, free food, family fun and more! We're so excited to celebrate with our new neighbors in MidTown at MidTown Opening Day on July 15! Join us and our partners 11 a.m. - 6 p.m. for the festivities around E. 66th Street and Euclid Avenue.

Check out the full schedule for the day here: https://midtowncleveland.org/openingday/
NEIGHBORHOOD HUB 1
CLEVELAND FOUNDATION
6601 EUCLID AVENUE

11:00 – 11:45 AM
Ribbon Cutting Ceremony

12:15 – 6:00 PM
Performances on the MidTown Opening Day Main Stage
presented by KeyBank

12:30 – 4:00 PM
Building Tours
(45 min - sign up required)

12:30 – 4:00 PM
Complex Structures Exhibition: Fred & Laura Ruth Bidwell Exhibition Space

1:00 PM & 3:00 PM
"What is the Cleveland Foundation?" in the African American Philanthropy Committee Conference Room
(45 min - sign up required)
I arrived early for the Cleveland Foundation Headquarters Opening Dedication to look around before the crowds arrived. I rode my bike from the designated event parking at the Dealer Tire Garage to the new Cleveland Foundation building at 6601 Euclid Avenue. My original plan for the day was to bike ride to the other venues that were open for the MidTown Opening Day events (Children's Museum of Cleveland, MAGNET, ClevelandPublic Library Hough Branch, Leo's Casino Heritage Site, Dunham Tavern), but threatening rain made me change my plans. It ended up being a good decision to just explore the new Cleveland Foundation site, since there was so much to see and do in the new building.
As I was waiting for the ribbon cutting ceremony, I read the MidTown Opening Day Passport (2.8MB PDF File), which I have attached for you to read here. It includes the schedule for the day and a map with details about the different venues.


Click On Image To Open Passport In New Browser Window
In the MidTown Opening Day Passport, I read about the Fred & Laura Ruth Bidwell Exhibition Space in the new Cleveland Foundation building. I then saw Fred Bidwell, and thanked him for supporting art in the new buiding. Fred Bidwell is on the Board Of Directors of the Cleveland Foundation, having been appointed to the position in 2020. I know Fred and Laura Ruth Bidwell from visiting their home twice for FRONT International kick-off events. In addition to blogging about FRONT International, I have blogged about their Transformer Station project, that is in partnersnip with the Cleveland Museum of Art.
Here is a great Cleveland Foundation video about the creation of FRONT Triennial, the positive effect of Transformer Station on its neighborhood, and about the new Fred & Laura Ruth Bidwell Exhibition Space:
After reading about the new building, I was even more excited to go inside, but first the ribbon cutting! Here is a video I created from photos and videos I took of the opening ribbon cutting:
Here are a Cleveland Magazine article and tweets about the opening:
Saturday, July 15, 2023 - Exploring the New Cleveland Foundation Headquarters
A New Home for the Community's Foundation
. . .
The Vision – Creating a Welcoming Space by the Community, for the Community
Centered around a vibrant, welcoming and expanded community green space and the historic Dunham Tavern Museum, the area surrounding our new home will bring together people who live, work, learn, create, innovate and enjoy their free time in the neighborhood. . . . a welcoming destination for all Greater Clevelanders as well as a unifying link between two of the city's existing civic and cultural centers: Downtown Cleveland and University Circle. Join us.
. . .


An interactive art space showcasing the work of local artists and creators through rotating displays.
A public café serving food and beverage options that will be operated by a local, mission-driven organization or entrepreneur who is committed to social impact.

Additional spaces will be available by reservation for nonprofit or community use, including:

The Steven A. Minter Conference Center featuring multiple free meeting spaces available for nonprofits to use throughout the week.
Additional ground-floor conference rooms for meetings and gatherings.
A multipurpose room for community events, classes, performances and other activities.
Reading the description above of this new, welcoming space set the expectation high for the new building to be a place of and for the community. After going on the tour, I can say that it did not disappoint!
Thank you to Cleveland Foundation Program Director for Education Helen Williams, who led the tour group of which I was a part. She did a great job of sharing the vision of how the space will be used, not only for Foundation staff to get their work done, but also to welcome and engage the community. I can only recommend that you take a tour of the building to see for yourself.
As you watch the video below, that I created about the tour, please note the following:
The Cleveland Foundation headquarters project was made possible by generations of caring Clevelanders.
In the lobby on the north wall is a huge computer monitor that was showing interesting information about the Foundation. Some of the items shown included QR codes that took you to eight YouTube videos about Cleveland Foundation Named Space Tributes -- here is a list of the headquarters projects with links to the individual videos, followed by a YouTube playlist of all eight videos:
NOTE: The following is a Cleveland Foundation YouTube playlist. You can either watch all eight videos, or use the "next" button to go to the video(s) you want to watch:
Saturday, July 15, 2023 - Celebratory Performances for the KeyBank Dance and Arts Studio
PERFORMANCES
Experience the magic of live music & community! Join us for an unforgettable line-up of captivating performances and youth groups on the main stage and additional performances inside the KeyBank Studio.

CLEVELAND FOUNDATION HQ
KeyBank Studio for Arts & Community
12:15 - 12:30 p.m. Dancing Wheels
1:00 - 1:15 p.m. Fatima Family Center
1:25 - 1:35 p.m. North Collinwood Thundercats All Star Cheerleaders
2:30 - 3:00 p.m. Djapo Cultural Arts
3:15 - 3:45 p.m. Singing Angels
This was one of those days when I wished I could clone myself so that I could be in several places at once. While on the building tour, I missed the first three performances. It is great that there was so much happening at this opening event. I am sorry that I missed Dancing Wheels' performance -- I had met their President/Founding Artistic Director, Mary Verdi-Fletcher, when she was honored by the YWCA Great Cleveland as a Women of Achievement award recipient in 1999, and again at IngenuityFest 2015, when it took place at the Rock and Roll Hall of Fame and Museum. I am grateful for the following that was shared on Twitter by the Cleveland Foundation:
The two performances that I did attend were by groups with which I was very familiar:
Djapo Cultural Arts Institute

. . .
Djapo is a Wolof word meaning "come together." Community Dance & Drum is one of many components to Djapo Cultural Arts Institute founded by Talise A. Campbell, Artistic Director. The main focus is to bring individuals from various backgrounds together to learn about their similarities and differences through traditional dance and music.

Mission
In preserving traditional dance and music throughout Africa and the Diaspora, our goal is to educate, enrich, and motivate individuals to create positive images of family and self while incorporating valuable experiences that promote healthy lifestyles and community healing through stage performances, workshops, communal gatherings, international travel, and cultural exposure.
What a glorious way to open the Cleveland Foundation's new community dance studio -- with a Djapo Cultural Arts Institute drum and dance performance! My wife, Julie, and I have enjoyed their performances at Cleveland Public Theatre's Station Hope and at the Cleveland Museum of Art several times over the years.
Julie and I have written blog posts about Djapo Cultural Arts Institute's dancing and drum performance at Cleveland Museum of Art's #MIXatCMA and about the talk given by their Founder and Artistic Director, Talise A. Campbell, at PechaKucha Night Cleveland:
I hope the following video that I made of Djapo Cultural Arts Institute's performance at the Cleveland Foundation Grand Opening will give you a taste of what their live performance is like. Be sure to watch the video in FULL screen mode! I am sure you will agree with my wife's description of their dancing as "joyful and exuberant!"
I recommend watching the above video in full screen mode.
The Singing Angels
. . .
Since 1964, The Singing Angels have pursued the mission of encouraging, fostering, and cultivating positive youth development by engaging youth from all communities in quality music and performing arts education that teaches discipline, builds confidence, and provides a foundation for life. Founder Bill Boehm believed in the power of music to bring people together to do amazing things, and his vision continues today.

The Singing Angels consists of three performing choruses that do dozens of concerts each year locally, nationally, and internationally, entertaining audiences in venues from nursing homes to audiences with popes and presidents.
It was great to see The Singing Angels perform at the Cleveland Foundation Headquarters Grand Opening! Since 1964, they have been goodwill ambassadors for Cleveland around the world. Their singing is a great way to open the Cleveland Foundation's new community dance studio and performance space!
My Grandfather, Curtis Lee Smith, was a very active board member of The Singing Angels (I think in the 1970s or earlier). My wife, Julie, and I remember them singing at my grandfather's 90th birthday celebration. Another family connection is that my son, Kevin, has a good friend who used to be a member when she was younger. After their performance, I talked to one of the current board members of The Singing Angels, and they remember my grandfather from when they were a youth member. If you search for "Singing Angels" in my past blog posts, you will see their performances mentioned a several times.
Here is my video of The Singing Angels' performance:
It is great that KeyBank supported this new studio for arts and community in the neighborhood!
During the tour of the Cleveland Foundation's new headquarters, Program Director for Education Helen Williams pointed to the lot next door, and told us of the new MidTown Collaboration Center. There was already a groundbreaking in May 2023, and construction is happening now. I had not heard of this new building, and I was excited to learn from her about the new organizations that would be occupying it! It looks like another new building celebration will need to be planned soon!! I look forward to seeing the new space and learning more about the services that will be provided.

Enlarge Image
In addition to what I learned from Helen Williams on the tour, I learned the following on the Foundation's website:
MidTown Collaboration Center
. . .
Positioned to bridge Cleveland's thriving downtown business center with its University Circle academic hub, the project is halfway between two of Cleveland's most important nodes of activity. It aims to bring together multiple sectors, companies and disciplines under one roof and is a new model for a "both and" approach to economic development that centers around community. The 95,000-square-foot project builds upon the momentum of the adjacent Cleveland Foundation headquarters and aims to be both regionally significant and locally transformative.

A catalytic center of activity

At the corner of E. 66th Street and Euclid Avenue, the project is located in the heart of the Health-Tech Corridor – Cleveland's prime location for biomedical, healthcare and technology companies . . .

Pathways to opportunity and economic prosperity

This building will house approximately 200 direct full-time jobs. Multiple anchor institutions are bringing new innovative programs that will create jobs, focus on community and position this district as the place in the region to collaborate. . . .

Building tenants include:

JumpStart Headquarters
CWRU's Center for Population Health Research
UH's new Diabetes Research and Wellness Center
CIA's new Interactive Media Lab
Hyland Software Training Center
Innovation Hall and music venue
ECDI – SBA Lending Center and Women's Business Center
Black Frog Brewery (Cleveland's only Black-owned brewery)
Pearl's Kitchen restaurant

I look forward to learning more as the ClevelandFoundation.org/MidTown web page is updated, and I hope to attend the MidTown Collaboration Center opening when it occurs. There is a slideshow on the web page that I found interesting, especially if you zoom in to see more details. It is good to zoom in to see who attended the project's May 2023 groundbreaking ceremony, and to look closely at the maps and floor plans. I recommend you go to the web page yourself and zoom in to take a look, but for future reference for when the slideshow is removed, I included a video of what I viewed here:
I recommend watching the above video in full screen mode.
When Helen Williams mentioned that one of the places in the new building will be a Hyland Software Training Center, it brought great memories of the evening tech Meetups and all-day tech conferences that I attended at Hyland's Westlake, Ohio, location. It will be exciting to have this additional resource of a Hyland Software Training Center now in Cleveland.
In addition to the tech meetings at Hyland, it is important that I mention that Hyland Software hosted Cleveland GiveCamp in 2022 and 2023 -- thank you, Hyland!! Cleveland GiveCamp is a GREAT resource for FREE websites and other tech solutions for Cleveland and Akron area nonprofits -- please ask all nonprofit leaders to share knowledge of this great resource with their peers. I also want to take this opportunity to thank the Cleveland Foundation staff I worked with over the years who learned about Cleveland GiveCamp so that this information could be passed on to local nonprofits.
If you want to learn more about how tech professionals can volunteer, or how nonprofits can apply to get a new website or other tech solution, please go to the website below and read my blog posts:
Related Blog Posts
I always like ending my blog posts with links to related blog posts, but there are so many that relate to this one, that I decided to just suggest these blog subject tags. I am very fortunate to be able to attend so many great venues and activities that are supported by the Cleveland Foundation and other organizations I mention in these blog posts:
I am always grateful for all that is happening in our community, and I plan to continue writing in this blog about my experiences as I continue to explore and enjoy local events and venues.