I have been writing blog posts about Ingenuity Cleveland's IngenuityFest since 2012, and attending long before that. IngenuityFest is the perfect marriage of my interests in arts and technology.
Cleveland Technology + Art = IngenuityFest Weekend 2015!
I went to all three days, October 2-4, of IngenuityFest 2015. I am sharing my photos and tweets from the weekend in this blog post as my way of thanking all the presenters. I made a point of talking to many artists in their installations, and local tech leaders at their booths. I can't include everyone I spoke to, but will mention a few in this post.
I have also included my tweets from the inaugural Hingetown Hoedown, which took place Saturday night. It was incredible to see so many people attend this first-time event!
Pre-IngenuityFest 2015
For this 11th year of IngenuityFest, Ingenuity Cleveland (@ IngenuityFest) had the theme of transitions. Here is the information from the IngenuityCleveland.com website:
INGENUITY CLEVELAND PRESENTS THE 2015
INGENUITYFEST
TRANSITIONS

THE 2015 A NEW FESTIVAL FOR A CHANGING CITY

THEME

OUR 2015 FESTIVAL THEME IS "TRANSITIONS," SIGNIFYING THE CLOSING OF A DECADE AND OUR EMERGENCE IN A NEW ROLE FOR A CHANGING CITY. THROUGH A STRATEGIC PLANNING PROCESS, WE'VE BECOME A YEAR-ROUND ORGANIZATION COMMITTED TO DEEPENING OUR TIES TO THE ARTISTIC, INNOVATIVE, AND SERVICE COMMUNITY IN CLEVELAND. WE'RE NOT ONLY DEDICATED TO SHOWCASING THE VERY BEST, BUT TO HELPING IT GROW AND THRIVE ACROSS SECTORS, FROM EDUCATION TO INDUSTRY TO ARTS AND ENTERTAINMENT.
Ingenuity Cleveland became a year-round program, more than just their annual IngenuityFest weekend event, a few years ago. It will be interesting to see how they plan to move from showcasing Cleveland's arts and innovation to assisting in their growth.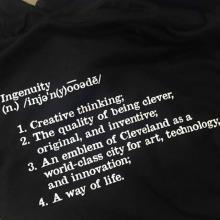 Enlarge Ingenuity 2015 T-shirt Design Image
Review the IngenuityFest 2015 Program to get an overview of the planned actvities for the weekend, and the list of sponsors.

Open
IngenuityFest 2015 Program
in a new window
Here are my @sos_jr tweets and retweets which show some of the pre-event promotion, videos, and articles.
IngenuityFest Day 1: Friday night! - October 2, 2015
Friday night highlights:
Be sure to watch the video of St. Edward High School's (@wearesteds) t-shirt shooting robot! Learn more on their website at: robotics.sehs.net

You must see photos and video of Tim Willis' monster trucks and robots. I'm impressed with his work.

I met Tim at the Ingenuityfest 2014 and admired his robots. It was great to see him back in 2015 with even more trucks and robots! (See video and photos of Tim in my Cleveland Technology + Art = Ingenuityfest Weekend 2014! blog post.)

It was great that IngenuityFest had more art installations than last year. The shipping containers offered many intimate settings for talking to the artists while seeing their work.

I've seen North Coast Harbor (@NCoastHarbor) at night before (see photos in my #IceFestCLE blog post), so I knew how great the waterfront looks lit up at night. The museums also look great at night on Cleveland's north coast!

The Software Guild (@SoftwareGuild) "is an intensive, fast-paced apprenticeship program where you learn to be a software developer. In this full-time, 12-week course, you will learn either .NET/C# or Java and acquire the skills needed for entry-level developer positions."

It was so good to see The Software Guild booth at IngenuityFest 2015, and catch up on their recent growth. Years ago, Eric Wise (@eswise), president of The Software Guild, came to my WebSigCleveland.org free web training meeting and told the attendees of his idea for a coding "Guild." His vision was a guild where skilled coding craftsmen would train and mentor apprentices. Years later, Eric had a successful program. Now, in 2015, this company founded in Akron had begun a nationwide expansion.
Here are my photos and videos from Friday night:
If your device does not support Flickr.com photos/videos,
please view them here.
Here are my @sos_jr Friday night IngenuityFest 2015 tweets and retweets. Please share any photos and videos that you find interesting by retweeting.
IngenuityFest Day 2 - Saturday, October 3, 2015
Saturday highlights:
Dancing Wheels (@DancingWheels) kicked off day 2 with a parade and performance.

I had seen their performances at an IngenuityFest in the past, and at the 2015 Cleveland World Festival (@CLEOneWorldFest), so it was good to see them perform in the Rock and Roll Hall of Fame and Museum (@Rock_Hall) at IngenuityFest 2015.

I had met Dancing Wheels founder, Mary Verdi-Fletcher, when she was honored by the YWCA Great Cleveland (@YWCACleveland) as a Women of Achievement recipient. I learned at this event that this is a special year for Dancing Wheels -- celebrating 35 years! After their performance, I reintroduced myself to Mary and congratulated her on Dancing Wheels' 35 years.

#Cleveland #dancing at @rock_hall with @DancingWheels for @Ingenuityfest. #Ingenuityfest #ThisIsCLE pic.twitter.com/gNt3RsasLi— Stuart O. Smith, Jr. (@sos_jr) October 3, 2015

I was very impressed with the Cleveland Game Developers (@CleGameDevs) display in the Rock and Roll Hall of Fame and Museum (@Rock_Hall). Great talking to leaders Jarryd Huntley (@JarrydHuntley) and Matt Perrin (@MattPerrin). They are a very active group year-round, so go to a Cleveland Game Developers meeting to learn more.

At The Makers' Alliance @MakersAlliance) booth, it was great that IngenuityFest 2015 visitors were able to build and take home their own electronic device. If you want more information, I suggest going to their weekly meetings.

I had first seen the Hathaway Brown (@HathawayBrown) Fighting Unicorns (@FRC2399) robot at the September 19, 2015, Akron Mini Maker Faire (read my blog post for details). I was pleased to see them in action again at the IngenuityFest 2015.

On Saturday, I ate my lunch with them at their booth to give me time to learn more about their robots. I learned that they build a new robot each year, since the competition challenge varies. If you get a chance to see the Fighting Unicorns at a local tech event, I highly recommend you take some time to listen to what they have to share. They are a very knowledgeable and talented group of people.
There was so much happening at IngenuityFest 2015. I hope you enjoy these videos and photos of the day.
If your device does not support Flickr.com photos/videos,
please view them here.
My Saturday @sos_jr IngenuityFest 2015 tweets and retweets:
Saturday night, I decided to take a break from IngenuityFest 2015 and see the inaugural Hingetown Hoedown (@HingetownHoedwn)! I was not sure what to expect, since it was the first time for this event, and it was raining. When I got there, I was truly "blown away." The place was absolutely packed!
I'm at @hingetown near @TransformerStat for concert. Large crowd for @HingetownHoedwn in #hingetown. pic.twitter.com/zMOsUL4hU9

— Stuart O. Smith, Jr. (@sos_jr) October 4, 2015
During the rain, people made use of pop-up tents to enjoy the music and great food from local food trucks. Once the rain stopped, people were dancing in the street. The area in front of the stage was filled with people enjoying the music.
#Cleveland #hoedown! In @hingetown near @TransformerStat for @HingetownHoedwn. #hingetown #ThisIsCLE pic.twitter.com/OUixogcLX3

— Stuart O. Smith, Jr. (@sos_jr) October 4, 2015
Congrats @hingetown @TransformerStat 4 @HingetownHoedwn #Cleveland #hoedown! Very successful! #ThisIsCLE #HingeTown pic.twitter.com/JTZ2aIMujd

— Stuart O. Smith, Jr. (@sos_jr) October 4, 2015
Here is the official description of the first Hingetown Hoedown event:
Our vision is to provide the public with a free, family-friendly (and animal-friendly) music festival transplanted from the Appalachian backwoods and dropped smack dab in the middle of a Cleveland intersection. Born from a love of stringband music, and built on the rising tide of outstanding local businesses and generous individuals, the Hingetown Hoedown brings sweet folk, bluegrass & newgrass sounds to the blossoming Hingetown neighborhood in Ohio City. Going beyond creating a great music festival, it is our mission to promote sustainability, showcase local start-ups and businesses, and strengthen the bonds of our community.

With eight amazing main stage bands and four daring Picnic Table Stage bands, craft beer, local food trucks, a variety of vendors, fun family activities, and over 1500 attendees (in the pouring rain, no less), the first Hingetown Hoedown was a roaring success. We're looking forward to year two in the Fall of 2016, and we'd love for you to be a part of it!
Congratulations to the Hingetown Hoedown organizers for such a successful event!
I see on their website HingetownHoedown.com that there will be a second annual hoedown in Fall 2016. I recommend you sign up on the website for more informaton and follow @Hingetown's @HingetownHoedwn on Twitter -- yes, I was very impressed by this event. Based on what I saw, it is already is a must-attend event in Cleveland.
My @sos_jr Hingetown Hoedown tweets and retweets:
IngenuityFest Day 2: Late Night - Saturday, October 3, 2015
After the Hingetown Hoedown, I returned to IngenuityFest 2015 for some late-night exploring. Due to the rain, there were only a few people enjoying the band.
Here are my photos of IngenuityFest after dark:
If your device does not support Flickr.com photos/videos,
please view them here.
Here are my @sos_jr late-night Saturday IngenuityFest 2015 tweets and retweets:
IngenuityFest Day 3 - Sunday, October 4, 2015
On Day 3, the weather cleared and the crowds increased.
Sunday highlights:
If your device does not support Flickr.com photos/videos,
please view them here.
Post-IngenuityFest 2015 Tweets/Retweets
You can also learn more about Ingenuity Cleveland (@ IngenuityFest) by reading my blog posts about the following events that I attended: