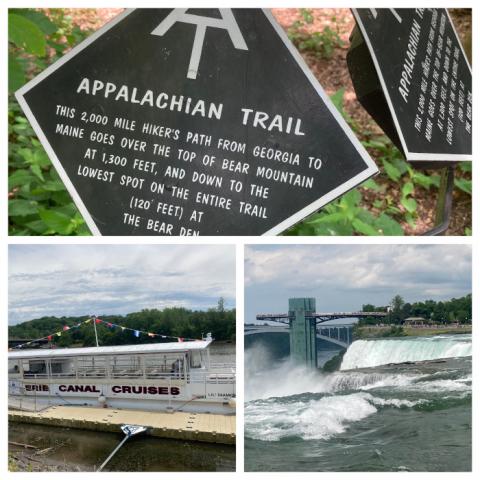 Enlarge Image
The two blog posts we are publishing today were delayed due to some family issues that we have been dealing with recently, but we still wanted to share them to celebrate the good times we had traveling. In addition to reading this blog post about after Stuart's backpacking adventure, we hope you read about the fun we had before dropping Stuart off for his month-and-a-half-long Appalachian Trail adventure in:
The big significance of both of these blog posts is that they are about the first time we have been in restaurants and out in the world since we had to limit in-person social interaction during the COVID-19 pandemic. (See our Social Distancing series of blog posts for 2020/2021 to learn about some of the activities we were able to participate in during the worldwide coronavirus outbreak.)
This blog post focuses on the interesting places we visited together along the route of the Appalachian Trail after Stuart's backpacking adventure, and then visiting water-related locations in New York state on our way home. After many years of hearing from Stuart about the places we visited along the Appalachian Trail, it was really fun for Julie to finally see them! This blog post consists of our @sos_jr tweets and retweets with photos and videos from our trip. Please share any photos and videos that you find interesting by retweeting them.
Tuesday, June 15, 2021 - Last Day on Appalachian Trail
Overseeing the management and conservation of the Appalachian National Scenic Trail since 1925.

The mission of the Appalachian Trail Conservancy is to protect, manage, and advocate for the Appalachian National Scenic Trail.
"Remote for detachment, narrow for chosen company, winding for leisure, lonely for contemplation, the Appalachian Trail beckons not merely north and south, but upward to the body, mind, and soul of man"
[Harold Allen, 1936]
May 2, 2021 - Day #1: The start of Stuart's month-and-a-half-long adventure:
June 15, 2021 - Day #45: The end of Stuart's month-and-a-half-long adventure:
Tuesday, June 15, 2021 - Rainbow
The rainbow, a natural phenomenon noted for its design and its place in the sky, has been a favorite component of art and religion throughout history.
Exploring Appalachian Trail Highlights
While Stuart was backpacking on the Appalachian Trail, he wrote down places he wanted to show Julie after his hike. It is his way of involving her in his multi-year journey north up the trail.
Many of the best locations are not accessible due to difficult terrain or the number of miles from trailheads, so the following are just a few of the places we had the ability and time to visit:
Wednesday, June 16, 2021 - Dalton, Massachusetts
Connecting Town and Trail

Each year thousands of hikers enter Dalton, where the A.T. bisects the town. Local residents and business owners contribute to making the hiker experience in Dalton a memorable one. Showers, access to computers, post office services, laundry facilities, restaurants, and other services are conveniently located.
We first went farther north, beyond where Stuart hiked this year. We visited the trail town of Dalton, Massachusetts, where we met longtime "Trail Angel," Tom Levardi. ("Trail Angel" is a term of endearment given to people who have provided "Trail Magic" in the form of direct kindness and generosity to hikers.) When we visited him, he told us how he has supported Appalachian Trail backpackers for 42 years, and has had some famous A.T. backpackers stay at his house, including:
Ryan "Guthook" Linn, the maker of the map app that Stuart uses annually on the Appalachian Trail, and used in 2019 on the California desert section of the Pacific Crest Trail, and in 2020 on Ohio's Buckeye Trail (read more about the Guthook Guides app in our Buckeye Trail "Little Loop" blog post). For the history of the app's name, read Why is our app called Guthook?

David "Awol" Miller, who is the author of the very popular A.T. Guide, a.k.a. "The Awol Guide"

Earl V. "The Crazy One" Shaffer stayed at Tom Levardi's house during his famous 50th anniversary thru-hike in 1998. You can learn more about Earl being the first Appalachian Trail thru-hiker by visiting the Appalachian Trail Museum in Pennsylvania near to where Earl grew up (we are members of the museum), and on the Earl Shaffer Foundation website.

In 1948, after 4 months of walking more than 2,000 miles from Mount Oglethorpe in Georgia to Mount Katahdin in Maine, Earl became the first person to ever thru-hike the Appalachian Trail.
Wednesday, June 16, 2021 - Mount Greylock State Reservation, Massachusetts
At 3,491 feet, Mount Greylock is the highest point in Massachusetts. From its peak on a clear day, you can see as far as 90 miles away. No matter when you visit, there's plenty to do and see.

Auto Roads to the summit of Mt. Greylock are open for the spring/summer/fall season May 22 – Oct. 31, 2021
BASCOM LODGE IS A RUSTIC ARTS AND CRAFTS MOUNTAIN LODGE BUILT DURING THE HEIGHT OF THE GREAT DEPRESSION BY VOLUNTEERS FROM THE CIVILIAN CONSERVATION CORPS. . . . BASCOM WAS DESIGNED IN AN ARCHITECTURAL STYLE THAT WOULD LATER BECOME AN INSPIRATION FOR MANY OF AMERICA'S NATIONAL PARKS BUILDINGS. CONSTRUCTED FROM LOCAL STONE QUARRIED FROM THE MOUNTAIN AND OLD-GROWTH RED SPRUCE TIMBERS . . . THE LODGE, AS WE SEE IT TODAY, OPENED ITS DOORS IN 1937. . . . ORIGINALLY DESIGNED TO PROVIDE HEARTY SOULS IN SEARCH OF ADVENTURE AND SPIRITUAL RENEWAL WITH A PLACE TO REST AND TAKE SHELTER FROM THE ELEMENTS . . .
After leaving Dalton, Massachusetts, we drove to Mt. Greylock -- the highest point in Massachusetts. We enjoyed the gorgeous views and the crisp, cool temperatures at the summit--ten degrees lower than at the base of the mountain!
We were extremely fortunate that two women long-distance backpackers that Stuart had met on the trail came in while we were having lunch at beautiful Bascom Lodge on the summit of Mt. Greylock. By meeting with them, Julie was able to hear directly about their adventure. One of the absolute best things about the Appalachian Trail is meeting adventurers of all ages attempting to backpack the entire 2,190+ miles of trail. These women had already backpacked this summer from Harpers Ferry, West Virgina, to Mt. Greylock. Their goal is to reach the northern terminus of the Appalachian Trail at Mount Katahdin, Maine, and then flip back south to complete their journey by hiking from Harpers Ferry to the southern terminus at Springer Mountain, Georgia. Stuart was glad to see them again after hiking together in some difficult sections of trail, and to be able to wish them all the best on their journey north.
We have been to Mount Greylock several times during past Appalachian Long Distance Hikers Association - ALDHA Gathering weekends. Please read more about our 2019 visit in our blog post:
Thursday, June 17, 2021 - Salisbury, Connecticut
We drove through Salisbury, Connecticut, so Stuart could show Julie the location of Vanessa Breton's home, where backpackers can stay overnight and also do their laundry. This home hostel is near Salisbury General Store, where hikers can resupply. Using the Appalachian Trail Guthook map app on your smartphone, you will learn that their are currently two homes in Salisbury where backpackers can stay overnight. Vanessa's home is the only place that Stuart stayed overnight indoors during his 44 nights on the Appalachian Trail -- he slept in his tent 43 nights!
Thursday, June 17, 2021 - Falls Village, Connecticut
When Stuart was backpacking through a beautiful park on the Housatonic River in Falls Village, Connecticut, he met one of the community volunteers who supports the park. Thus, Stuart was able to tell Julie some of what he learned about the history of the park, and how an Olympic kayaker has set up a whitewater slalom course on the river. Julie enjoyed the peaceful path through the park -- a scenic loop created by combining a section of the Appalachian Trail along the river with a blue-blazed trail through the woods.
Thursday, June 17, 2021 - Great Falls (Housatonic River), near Falls Village, Connecticut
Great Falls is a waterfall formed along the Housatonic River at Falls Village in the town of Canaan amidst Connecticut's Litchfield Hills. Great Falls is the highest volume waterfall in the state, though a great deal of its potential water volume is diverted immediately upstream during most of the year for hydro-electric power generation.
Awesome was the word used to describe these falls by my six year old son and they truly are Awesome! The Housatonic River, the second largest river in Connecticut, flows over a 60 foot ledge. It is one of the largest volume waterfalls I have ever seen. Standing next to it you can feel the power and danger of falling water.
The Appalachian Trail goes right by this incredible falls, which is larger than you would expect due to the flatter terrain downstream from it. In addition to accessing the falls from downstream by hiking the northbound Appalachian Trail route, they can also easily be reached by the Great Falls View Parking area at the top of the falls. Since you are able to get very close to the falls, you can really feel its power. It is a feeling that the written word can't capture -- you must see it in person!
Thursday, June 17, 2021 - Cornwall Bridge, Connecticut
80 Years & Counting

The Cornwall Package Store, in the scenic Northwest Corner of Connecticut, is a confluence for town-folk, campers, fishermen hunters, truckers and weekenders alike. . . . It is featured in Appalachian Trail guides as a stopping place for through-hikers to trade messages, have a big can of beer, and experience a little "trail magic."
On June 17th, we stopped in Cornwall Bridge, Connecticut, so Julie could see where Stuart stopped to resupply and where he experienced trail magic at the Cornwall Package Store. We also enjoyed lunch on the front porch of the Cornwall Country Market.
Stuart drove Julie up a dirt road into the woods to show her where, on June 6, 2021, he left the Appalachian Trail to follow a blue-blazed route one mile into town. The blue blazes first led to the Cornwall Package Store, where Stuart was rewarded with a free beer for being a long-distance hiker. He also found his entry in the store's journal from when they gave him a free beer as an Appalachian Trail thru-hiker many years ago. While writing this blog, Stuart found a 1978 trail map of the area, and confirmed that the current, blue-blazed route into town used to be the Appalachian Trail when it went through town.
Here are some photos from when Stuart hiked into Cornwall Bridge eleven days before the two of us drove here for lunch: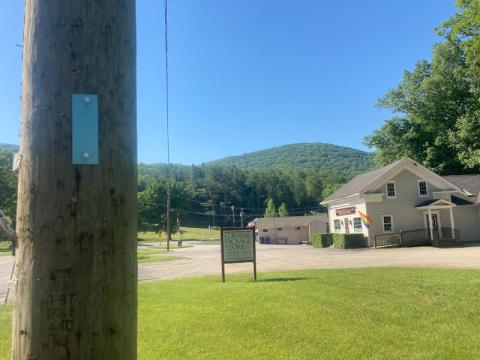 Enlarge Image

Enlarge Image

Enlarge Image

Enlarge Image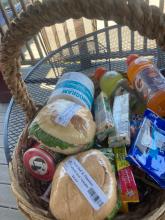 Enlarge Image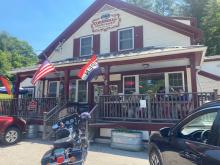 Enlarge Image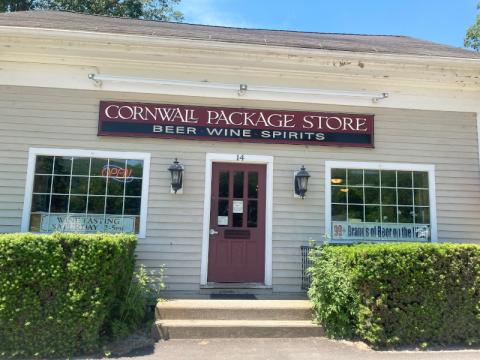 Enlarge Image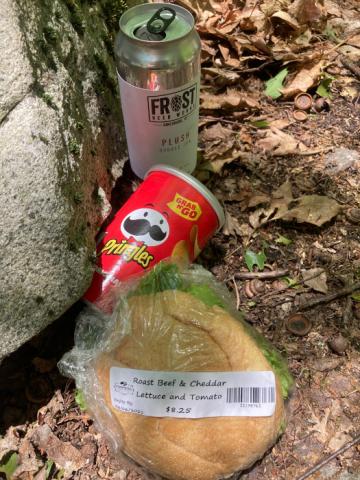 Enlarge Image
Thursday, June 17, 2021 - Kent, Connecticut
Trail Maps
The Kent Conservation Commission works with DEEP, the Kent Land Trust and other partners to make available many hiking trails to residents and visitors.
. . . links to hand-drawn maps to over a dozen trails available for download. We hope you will explore the many natural areas of our community.
Stuart did not need to stop to resupply at Kent, Connecticut, while backpacking, but he talked to many backpackers that recommended visiting this New England town. We decided to enjoy an ice cream treat at the Kent Coffee & Chocolate Company, and walk around the area. We saw that there are several art studios in town. The Kent Welcome Center normally has showers for hikers, but they were not working on the day we visited. This is a beautiful New England town near the Appalachian Trail.

Enlarge Image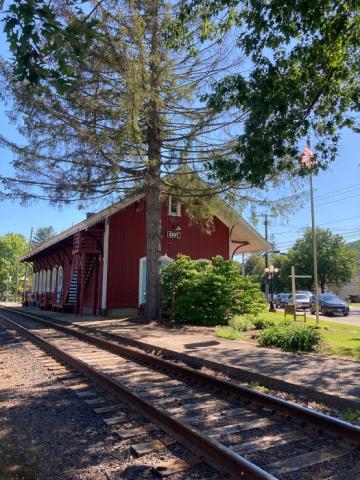 Enlarge Image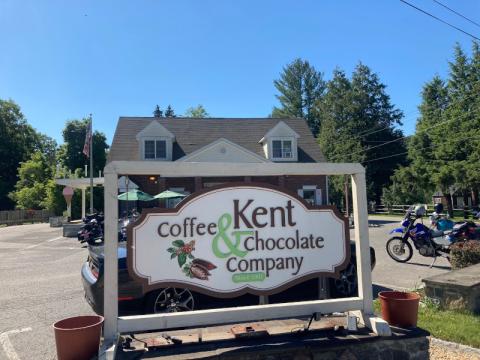 Enlarge Image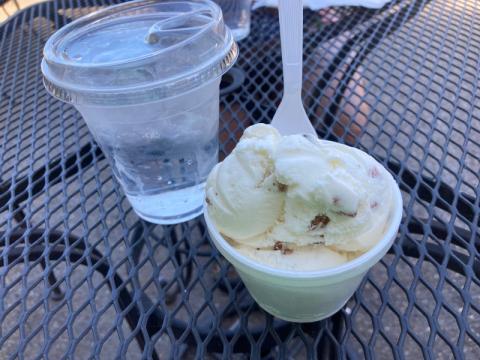 Enlarge Image
Friday, June 18, 2021 - Bear Mountain State Park, New York
Latitude 41.31294
Longitude -73.98895

Bear Mountain State Park is situated in rugged mountains rising from the west bank of the Hudson River. The park features a large play field, shaded picnic groves, lake and river fishing access, a swimming pool, Trailside Museums and Zoo, hiking, biking and cross-country ski trails. An outdoor rink is open to ice skaters from late October through mid-March.
Bear Mountain
The Perkins Memorial Drive is a scenic road to the summit of Bear Mountain. At the summit, the 40 feet (12 m) Perkins Memorial Tower provides a view of four states and the skyline of Manhattan, 40 miles (64 km) to the south. The road and tower were built by the Civilian Conservation Corps between 1932 and 1934. It is named after George Wallbridge Perkins, the first president of the Palisades Interstate Park Commission.
We loved the strikingly beautiful views from the top of Bear Mountain! The summit was covered in flowering mountain laurel -- a crowning touch!
Bear Mountain State Park
Trailside Museums and Zoo
Trailside Museums and Zoo invites you for a pleasant walk. You will learn about local ecology and history. You will see native wildlife close up in exhibits as you walk through the forest and see native gardens. You will take in spectacular vistas created by geologic forces over millions of years. On your journey, look about on the ground, in the trees, on the rocks, in the ponds and flying through the forest. You may see native wildlife thriving at Trailside.

Trailside Museums and Zoo is a self-guided nature trail. Little signs serve as naturalist guides. Larger signs interpret ecological and historical stories. You will walk on a paved section of the Appalachian Trail, a footpath from Georgia to Maine. There's a statue of the early American poet Walt Whitman and a commemorative plaque to Stephen Mather, instrumental in the founding National Park Service and its first director. In small stone museums, you will learn more about wildlife, geology and history.
The Trailside Museums and Zoo are located at Bear Mountain State Park. There are four museums at Trailside-all built of native granite:
The Herpetology House is home to a variety of native turtles, snakes, frogs, toads, salamanders and skinks as well as many species of fish.

The Nature Study Museum houses specimens originally collected by the Museum of Natural History to educate people about animal identification.

Geology Museum introduces visitors to the geologic formations of the Hudson Highlands and industries that have tapped natural resources.

The History Museum provides an introduction to human occupation of the region from the earliest Native American settlers to European and their descendants who made the area their home. The History Museum houses a collection of Daniel Carter Beard (1850-1941). Beard was an illustrator, author, social reformer and youth leader. He was an illustrator for authors, including Mark Twain and Ernest Crosby. Beard founded the Sons of Daniel Boone in 1905, and subsequently merged it with the Boy Scouts of America in 1910.
Julie is now able to say she saw a bear, a rattlesnake, a beaver, and a bobcat while walking on the Appalachian Trail, since the Trail goes through the zoo at Bear Mountain State Park. Stuart actually saw all these animals in the wild on this backpacking trip! It is a beautiful place to view animals that are found along the natural areas of the Trail.
We have visited the highest point (6,643 ft) on the Appalachian Trail on Clingmans Dome in the Great Smoky Mountains National Park several times. Now, Julie can say she has also visited the lowest point (124 ft) on the Appalachian Trail, near the bear den in the Bear Mountain Zoo.
Included in the zoo are four Trailside Museums. Stuart enjoyed seeing the exhibition about Daniel Carter Beard, since he missed seeing it when he was backpacking through here on May 26, 2021. Stuart wrote in his journal from his 1983 Appalachian Trail thru-hike about enjoying the Dan Beard exhibit, and after finishing this, his longest hike ever, he was hired by the Boy Scouts of America as the District Executive for the Dan Beard District in Lake County, Ohio.
Bear Mountain Merry-Go-Round
The Merry-Go-Round at Bear Mountain State Park features hand painted scenes of the park an 42 hand carved seats of native animals including black bear, wild turkey, deer, raccoon, skunk, Canada goose, fox, swan, bobcat, rabbit and more. For general information and booking birthday parties at the Merry-Go-Round, please contact Guest Services at the Bear Mountain Inn at 845-786-2731.
Julie and our son, Kevin F. Smith, are on the Board of Euclid Beach Park Now, and Julie works as a ride attendant at the restored Euclid Beach Park Grand Carousel at the Cleveland History Center, so of course, we had to see the Bear Mountain Merry-Go-Round. Unfortunately, it was only open on weekends. We peeked through the windows to get some photos.
Friday, June 18, 2021 - Dessert!
New York Water Destinations
After touring locations along the Appalachian Trail, we spent the weekend traveling through the state of New York, where we visited the Erie Canal and Niagara Falls.
Saturday, June 19, 2021 - Erie Canal Sightseeing Cruise
We welcome you to beautiful Mohawk Valley and Erie Canal Cruises. Erie Canal Cruises tour boat Lil' Diamond II is docked at Gems Along the Mohawk, the Official Mohawk Valley Visitor Center. . . .

We invite you to join us on our USGC Certified vessel for a fun and historically fascinating cruise, back to a time when the canal was just a vision and the barges were pulled by mules and horses. Travel thru a hundred-year-old lock, relax and enjoy – you'll be glad you did.
We had known about Erie Canal Cruises for a few years, and always wanted to take its sightseeing tour on the canal. It was a good decision that we stopped on our way heading home. We enjoyed it immensely. In addition to the ride on the canal and through Lock 18 at Jacksonburg, New York, there is also a very interesting history presentation during the ride.
The owner of Erie Canal Cruises, USCG Captain Jerry Gertz, was also riding on board the Lil' Diamond II tour boat, so afterwards we were able to thank him for the enjoyable canal tour. He later showed us their rare buoy boat, and told us about its history. It was very interesting to learn that the canal used to be so busy that it had boats traveling 24/7, and thus had to light kerosene lanterns on the buoys for nighttime travel. The buoy boats were used to maintain the buoys' lanterns. We always enjoy talking to experts in their field, like Captain Gertz, when we visit museums or historical locations.
We are glad that Tom Kunsman was pleased to learn about Erie Canal Cruises from us. He then told us about the horse-drawn canal boat ride at Roscoe Village on the Ohio and Erie Canal. We will need to go to Roscoe Village some day!
One of the great things about sharing on social media like Twitter is that others learn about fun things to do. Not only do people learn from us, but we often attend events and visit new locations after seeing what others share on Twitter.
Sunday, June 20, 2021 - Niagara Falls State Park, New York
Yours to Explore, Niagara Falls State Park

Open 365 days a year, Niagara Falls State Park has awe-inspiring scenery! It also features thrilling attractions, interactive exhibits, miles of hiking trails, and delectable dining options in a family-friendly environment. It's an adventure-packed experience! No passport is needed to experience an unforgettable and breathtaking Niagara Falls vacation.
Over the years, we have gone to both the American and Canadian sides of Niagara Falls, but this was the first time we explored New York's Niagara Falls State Park completely on foot. It is amazing how we keep finding new areas to explore, even after visiting so many times.
The following blog post has information about our 2019 visit to the Niagara Falls:
We just can't get enough of these falls!!!
Get on board for an electric experience

You've never felt the power of Niagara Falls like this before. Join us on our all-new, fully electric boats to truly experience the rush from the 600,000 gallons of water falling per second. Come feel it for yourself.
Great way to spend Father's Day -- The Maid Of The Mist is now electric!
Sunday, June 20, 2021 - Evening in the City of Niagara Falls
Sunday, June 20, 2021 - Niagara Falls Evening Walk on Three Sisters Islands
The Three Sisters Islands (actually four islands exist) are located approximately 500 yards east of the Horseshoe Falls along the southeast side of Goat Island. . .
Accessible from Goat Island, the Three Sisters Islands are located just beyond the Canada/U.S. border in Niagara Falls, New York. The islands are named after Celinda, Angelina, and Asenath Whitney (all three of whom are buried in Oakwood Cemetery in Niagara Falls, NY), daughters of General Parkhurst Whitney of Niagara Falls, New York. . . .

Before European settlers arrived in North America, Iroquois shamans made sacrifices of food and gifts on the islands and communed with He-No (Mighty Thunderer), the spirit who dwells in the mist-enshrouded cave at the base of the falls. Modern day psychics believe any one can hear the voices of the spirits if they listen carefully while visiting the Three Sisters Islands. Each island supports a variety of microhabitats and has its own floristic character. The Three Sisters Islands are connected by bridges, allowing pedestrians to walk to all three for grand views of the raging rapids in the Niagara River right before its descent over the Horseshoe Falls.
A great way to end the day is to take a walk on Three Sisters Islands. We have done this in the past and highly recommend it!
Sunday, June 20, 2021 - Niagara Power Station Intake
These towers hold the equipment that adjusts how much water flows over Niagara Falls. Beneath the towers are the valves that open and close the intake pipes which divert water from this point, a few miles upstream of the falls, through massive underground pipelines to the New York Power Authority's hydroelectric project, 4.5 miles downstream. While it is rarely done, the infrastructure exists to virtually turn off the flow over the falls. A 1950 treaty with Canada (located on the other side of the falls) requires that at least half the normal flow over the falls is maintained, at least during the daytime of the tourist season, but at night and during the winter months, the flow may be reduced to a quarter. For over a century, Niagara Falls has been the focus of grand ideas about power production and industrial utopias. This electrical generation system, comprised of the intake pipes, two turbine stations, and a massive forebay and water storage reservoir downstream, was the largest hydropower facility in the country when it went on line in 1961. It was a project of New York's master builder, Robert Moses, who was head of the New York Power Authority. The forebay bears his name.
As we left Niagara Falls, we stopped to look at the intake towers along the Niagara River. While there was information about area fishing at the location, we were disappointed that New York Power Authority did not have a display here explaining the purpose of the towers. A quick Internet search while writing this blog post rewarded us with the above information from The Center for Land Use Interpretation website and their online map. Both the historic and current uses of the river are fascinating. (Stuart is always interested in water systems that support the infrastructure of cities -- see our "Water Treatment" blog posts about water systems in Cleveland and Akron.)
Monday, June 21, 2021 - Home
We arrived back home on Monday. After our fun journey, it was good to be back home. We now look forward to attending local activities in the Cleveland and Akron areas.
Related Blog Posts
We always like to end our blog post with a list of related blog posts, so you can learn more about places we enjoyed exploring. Here are our "Travel" blog posts:
You may want to see our many blog posts about the topic of "Hike" to learn about both local and national areas to hike.
Traveling to and from the Appalachian Trail were our first trips we have taken since the COVID-19 pandemic impacted our lives. Please read our "Social Distancing" blog posts to learn about the activities we have participated in since March 2020.
Thank you for reading our blog posts! See more at: sosAssociates.com/Blog