This morning, Sunday, July 19, 2020, for some reason I woke at 5:00 am -- I now assume that it is because my body is trained to wake up early on the third weekend of July. This is because, for the last ten years, the third weekend of July has been Cleveland GiveCamp Weekend. Little sleep and a lot of work on behalf of local nonprofits is the norm for the over 200 volunteers that provide FREE tech solutions annually at Cleveland GiveCamp.
Since I was awake, I decided to put together this blog post to honor those that give their talent every year, and to acknowledge and mourn the loss of normality in 2020 during this coronavirus crisis. I thank many people in this blog post, but please remember that they represent a much larger number of people who work on behalf of Cleveland GiveCamp to make it possible to serve our community's nonprofits with FREE tech! I created the video at the top of this blog post on Saturday, July 18th, to share on social media -- it helped me remember ten years of success at: "Cleveland GiveCamp – geeks in the home of rock and roll coding for charity."
Cleveland GiveCamp 2020 Planning Started in 2019
a very impressive group of #volunteers who are committed to finding tech solutions for #Cleveland & #Akron area #nonprofits.
Talking GiveCamp at #StartUpXmas2019 Holiday Party
New Year's Eve Thank-You to Rebecca Ferlotti and Tech Volunteers
I have a tradition of using Twitter to thank many people and organizations at the end of the year. See my blog post:
As we ended 2019, I sent out a thank-you to Rebecca Ferlotti for featuring the 10th Annual Cleveland GiveCamp in Fresh Water Cleveland:
I was honored that she interviewed me for her article about this special anniversary year:
Quite a few volunteers who attended the first Cleveland GiveCamp have attended all ten years of its existence in the city. Stuart O. Smith, Jr. and his son, Michael, attended Cleveland GiveCamp back in 2010 because they thought it sounded interesting. When they arrived, they "found out that Cleveland GiveCamp organizers at the time had so many volunteers that instead of just being on the LeanDog boat, which was actually a smaller facility at the time, they had to call the city of Cleveland and [get] permission to use the [Burke Lakefront] Airport," Smith says. After that first year, Smith joined the Cleveland GiveCamp steering committee and now donates his time year-round.

. . .

Smith points to the strong nonprofit sector in Cleveland as one of the main reasons Cleveland GiveCamp is so sustainable. Moving forward, he says one of their main goals is to attract nonprofits who do not know Cleveland GiveCamp exists, including some with no Internet presence. The steering committee continues to urge nonprofits to tell other founders to spread the word as this yearly event grows. "You take [Cleveland's] strong technology community, marry it with the volunteerism history of this community, and GiveCamp was born gloriously with the largest turnout for a first-time GiveCamp in the nation," says Smith. "From looking at what other GiveCamps have shared on social media and their websites, we believe we continue to be the largest GiveCamp."

With Cleveland GiveCamp's tenth anniversary in the books, the organization is looking forward to many more years helping nonprofits in Cleveland. "We have the greatest volunteers and greatest donors that make it possible," Smith says.
In addition to Rebecca Ferlotti, I tweeted out a thank-you to the great Cleveland tech community members who support Cleveland GiveCamp:
January -- New Year. Everything was Going Smoothly
The cancellation due to the COVID-19 crisis hurts even more when you know that in early 2020, everything was looking to be a good year for Cleveland GiveCamp. It is sad!

Thank You, Summit Artspace, for Your Support of Cleveland GiveCamp
In 2019, Sandro Galindo started picking up some of the year-round volunteer work I did for Cleveland GiveCamp while I was out of town on a multi-month backpacking trip on the Pacific Crest Trail.
We met in January 2020 so that I could thank him for his good work, and to discuss plans for 2020, since I was planning a backpacking trip on the Continental Divide Trail. I appreciate his good work!
Thank You, Spike Radway
Spike Radway always supports Cleveland GiveCamp by promoting it to CDPUG ("A Non-profit Organization Dedicated to Education & Professional Development for Digital Publishers") members. Over the years, thanks to Spike's good work, Cleveland GiveCamp has had CDPUG designers share their expertise in the website and graphic design work at Cleveland GiveCamp Weekend.
At the PechaKucha Night Cleveland event in February 2020, Spike introduced me to a person that helped promote Cleveland GiveCamp to more nonprofits. I also approached the person to become a financial sponsor for Cleveland GiveCamp 2020.
Learn more about PechaKucha Night Cleveland in my blog post(s):
Thank You, Amy Neumann and Susie Sharp
Learn more about Amy Neumann and her work with technology for nonprofits from my blog post. She was the keynote speaker at:
Danita Harris Featured Past Cleveland GiveCamp Nonprofit Partner, Domestic Violence & Child Advocacy Center, on WEWS News
Great Message From Northwest Arkansas GiveCamp!
When you look at the number of nonprofits we serve each year, we hope you are seeing more than a number by each year. We hope you see the hundreds, if not thousands, of people that each nonprofit is able to serve better because the technology tools they received from #givecampnwa.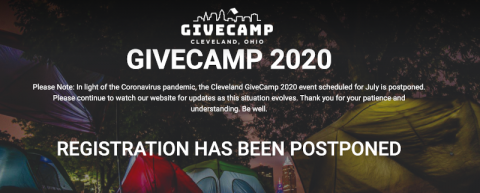 Enlarge Image
Please Note: In light of the Coronavirus pandemic, the Cleveland GiveCamp 2020 event scheduled for July is postponed. Please continue to watch our website for updates as this situation evolves. Thank you for your patience and understanding. Be well.

REGISTRATION HAS BEEN POSTPONED
The sad news is announced to the public.
Since 2010, 42,000 volunteers have performed over 325,000 hours of service as part of the Indians Volunteer Challenge; that amounts to the equivalent of $7.5 million worth of service to local nonprofits!*

Due to the COVID-19 outbreak and postponement of Major League Baseball, the Indians Volunteer Challenge is on hold this year. Business Volunteers Unlimited and The Cleveland Indians want to thank you for your volunteer service and hope to reinstate the program in 2021.
BVU and the Cleveland Indians have been great supporters of Cleveland GiveCamp for many years by giving game tickets to volunteers who worked during Cleveland GiveCamp Weekend. Their support is appreciated.
WordCamp Kent 2020 Provided Useful Education for Cleveland GiveCamp
June 30, 2020 by megabyterose

. . .

A couple of folks have written about their experience with WordCamp Kent being online for the first time, along with so many other Camps this year that will need to do the same. We wanted to highlight a couple of those here in case anyone missed them.

WordCamp Kent 2020 Online & Beyond by Stuart O. Smith, Jr.
At Cleveland GiveCamp, most of the website projects are built using WordPress. Thus, I highly recommend attending WordCamp Kent to learn the latest about WordPress.
Long-time Cleveland GiveCamp volunteer, Megan Rose (megabyterose), is one of the leaders of the Northeast Ohio WordPress Meetup and WordCamp Kent -- see her WHAT'S NEXT? blog post, which included a link to my blog post:
Blast From The Past!
I am grateful for Dave Swersky's "Blast From The Past" -- it is important to remember the past as a way of thinking of better times in the future!
July 17-19, 2020 -- The Cleveland GiveCamp Weekend That Wasn't
Everything in this section was shared during what was to be the 2020 Cleveland GiveCamp Weekend. It is great to see people talking about the future as they look forward to 2021.
I am thinking about Cleveland GiveCamp this weekend as I write this blog post. First, I shared a video I created to help in the mourning process -- thinking of past years by looking at ten years of t-shirts:
Kevin Smith's video -- remembering 10th anniversary, and thinking ahead to 2021!
Facebook memory:
Woke Up Early Thinking of Cleveland GiveCamp
Since I was up this morning earlier than usual, I decided to spend the morning writing this blog post. It is my way of thanking the many people who helped further the Cleveland GiveCamp mission:
Mission


The Mission of Cleveland GiveCamp is to pair creative and technology talent with nonprofits in need.
Related Blog Posts
Photos, nonprofits served, resources, and more -- you can read about some of the past Cleveland GiveCamp Weekends here:
Now, instead of 2020, we will need to wait until to 2021 for the eleventh year that Cleveland GiveCamp volunteers will provide free tech solutions to local charities. Please tell everyone you know about this opportunity for nonprofits, and have them sign up for official notifications at: ClevelandGiveCamp.org/Nonprofits Thank you!
The following are our "Social Distancing Series" blog posts, which we write to try and capture the activities we are able to do at this time. Once the coronavirus crisis is over, it will be interesting to read these to see the contrast between these times and "normal life."
We expect to continue to practice social distancing for at least the rest of 2020, so please come back to read more and...
Stay well!