Enlarge Image
What is Cleveland GiveCamp?
GiveCamp is a weekend-long event where software developers, designers, database administrators, project managers and creative professionals donate their time to create software and web-based applications for non-profit organizations.

The event is run and organized entirely by volunteers. Our finances our managed by our fiscal sponsor, IEEE Cleveland Chapter, which is a 501c3 non-profit organization. Every penny we receive goes directly into the supplies required to operate the event.

. . . there are many opportunities to network with professionals from around the region. Overall, it's a great opportunity for people to work together, develop new friendships, and do something important for the community. There are a variety of projects completed during GiveCamp weekend. The only limitation is that the project should be scoped to be able to be completed in a weekend. All source code must be turned over to the nonprofits at the end of the weekend (developers cannot ask for payment) and the nonprofits are responsible for maintaining the code moving forward.

Mission
The Mission of Cleveland GiveCamp is to pair creative and technology talent with nonprofits in need.
With Cleveland GiveCamp 2020 being canceled due to the COVID-19 pandemic (see my blog post: Missing Cleveland GiveCamp in 2020), it was known from the very beginning of planning for the eleventh Cleveland GiveCamp in 2021 that flexibility would be needed.
Two decisions were made early on to ensure a safe event in this time of a once-in-a-century pandemic:
First, to move the Cleveland GiveCamp 2021 Weekend from the third weekend in July to the fall. This would allow extra time for volunteers to get the coronavirus vaccination and to have time to learn from others working in office settings what safety procedures would be needed.

Second, to plan simultaneously both an in-person event and a virtual event, so as to be prepared for changes in the environment.
Cleveland GiveCamp 2021 Weekend took place September 10-12, 2021.
Leadership Planning Meetings
Planning meetings for the 2021 weekend event started in October 2020.
Year-End Thanks
Year-Round Interest in Cleveland GiveCamp
Missing Cleveland GiveCamp's Traditional July Event
I was on a 45-day backpacking trip, which started on May 2, 2021 (see before and after backpacking adventure blog posts), but when I returned I found things going well and it was expected that Cleveland GiveCamp 2021 would be an in-person event.
I thought of Cleveland GiveCamp as the calendar passed the third weekend of July. For ten years (2010 through 2019), Cleveland GiveCamp has been held as a summer event in July. With the cancellation in 2020, I was glad that the event would still be happening this year, although not until September 2021.
Behind-The-Scenes Work and Volunteer Registration
August 20, 2021, The BIG Announcement -- Going Virtual!
Subject: Cleveland GiveCamp 2021 is now virtual
Date: August 20, 2021 at 11:04:51 AM EDT

We love seeing everyone each year, but unfortunately this doesn't feel like it's the right time to come back in-person for a 3 day, close contact event. At our organizer meeting last night we made the decision to go virtual for this year's event.
Three weeks before Cleveland GiveCamp Weekend, the announcement was made -- "Cleveland #GiveCamp 2021 is now virtual." The event was still on, but all the logistics were adjusted for the safety of all.
Preparing for a Virtual Event by Adding Zoom Video Conferencing and Wonder.me

Enlarge Image
Subject: Cleveland GiveCamp is tomorrow!
Date: September 9, 2021 at 2:47:36 PM EDT

Hey everyone, last message before tomorrow's event. We sent everyone a calendar invite with connection info, but just in case, we're all joining on Zoom around 5:45pm to high five before things kick off at 6pm SHARP!

. . . You should also have received access to our Cleveland GiveCamp Slack, our group communication platform of choice during the event. You can join from your phone, browser, or desktop once you get your account setup. If you are having issues joining Slack or Zoom please let us know . . .

At the kickoff tomorrow, you'll receive your team assignments and next step information so hold tight just a bit longer.

See you soon!
Wonder is a virtual space where people can meet and talk.

. . . Guests can see who is speaking to whom. They move their avatars around with their mouse. To join a conversation, they move closer. To leave it, they move away. Simple as that.

. . . As host, you can share content with all guests, or just those in a certain area. Broadcast your video, your screen, or any other media.

. . . Setting up an event is like preparing a physical venue - with a magic wand: Set up areas, define content or topics and define how guests can interact.
The Cleveland GiveCamp Steering Committee uses Trello year round to manage the tasks that need to be completed, and every year over the Cleveland GiveCamp Weekend, Slack is used for team management. With the 2021 weekend being virtual, Zoom video conferencing and Wonder.me were added to the Cleveland GiveCamp tool set.
Virtual Cleveland GiveCamp Weekend!
Friday Evening through Sunday Afternoon, September 10-12, 2021
Friday, September 10, 2021
Introducing the Cleveland GiveCamp Leadership Team
Steering Committee
Cleveland GiveCamp is run entirely by volunteers. Our steering committee plans all facets of the event and represents companies throughout Northeast Ohio. Many of these individuals have been involved with the event since its inception and continue to dedicate hundreds of hours each year to make it possible.
The online weekend started by introducing the team that meets year round to make Cleveland GiveCamp possible. I have been on boards of professional organizations in the past, but nothing compares with how the Cleveland GiveCamp Steering Committee functions. It is truly unique in how it functions, and has continued to provide excellent services to the Cleveland GiveCamp nonprofit partners for eleven years.
2021 Cleveland GiveCamp Nonprofit Partners!
My charity got selected. What now?
Congratulations! We fondly look forward to working with your organization. . . .
There were three nonprofit partners in 2021:
Roberto Clemente Park Block Club - During the closing ceremony, I learned that this was their first website. It is great that they now have an online presence to serve their community!
Thank You, Cleveland GiveCamp Sponsors!!!
Cleveland GiveCamp could not happen without the generosity of our sponsors.

The event is run and organized entirely by unpaid volunteers. Every penny we receive goes directly into the food and supplies required to operate the event.

Our funds are held by our fiscal sponsor, The Cleveland Section of the Institute of Electrical and Electronics Engineers (IEEE), which is a tax-exempt organization, under IRS section 501(c)(3), and is eligible to receive charitable contributions that are deductible for U.S. income tax purposes.

As a result of your support, Cleveland GiveCamp volunteers provide $200,000 – 600,000 in technical support per year, all at no cost to the non-profits.

A $4000 Dinner sponsorship provides a well-rounded and delicious hot meal for the entire crew. Your $250 Snack sponsorship supplies a much needed, late night calorie and caffeine boost to 250 volunteers and non-profit representatives. A Patron donation of $150 or more provides sticky notes, sharpies, painters tape, and other supplies necessary for planning and building the best tech projects in Cleveland.
To repeat, "Cleveland GiveCamp could not happen without the generosity of our sponsors." We are fortunate in the Cleveland and Akron areas to have great sponsors that have made it possible for Cleveland GiveCamp to give FREE tech to local nonprofits for eleven years.
Gold Sponsors
Silver Sponsors
Patron Sponsors
Saturday, September 11, 2021
Sunday, September 12, 2021 - Cleveland GiveCamp Closing Ceremony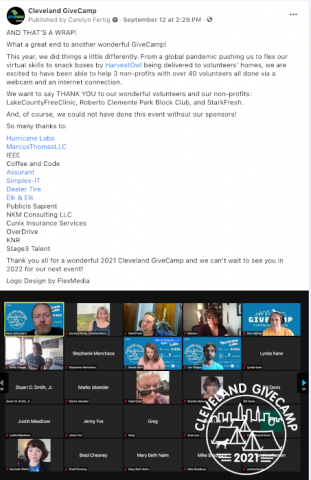 Enlarge Image
It was great that I was able to see the closing ceremony!!!
I had expected to miss the Cleveland GiveCamp 2021 closing ceremony, since I was traveling north on Sunday. I was lucky in that I checked the Cleveland GiveCamp Slack Channel while stopping for lunch in Savannah, Georgia, and discovered that the ceremony had just started! I was excited, and enjoyed lunch outdoors near the Savannah River while watching on my iPhone the video stream about the great success of this year's volunteers!
After Cleveland GiveCamp
The StarkFresh "BRAND NEW Website is finally here!" -- The following tweet by @StarkFreshOH is what it is all about!!
Wednesday, September 15, 2021 - Arrived Home to a Cleveland GiveCamp Kudo Box

Enlarge Image
Thank you to Brittney Iskander and her food team, who arranged for food boxes filled with treats to be delivered to the homes of the Cleveland GiveCamp volunteers. My son, Kevin F. Smith, volunteers each year, developing an official Cleveland GiveCamp video (see YouTube videos at: YouTube.com/user/ClevelandGiveCamp), so when the food team dropped off his box, they left an extra box for me to enjoy. Yummy!
Related Blog Posts
Photos, nonprofits served, resources, and more -- you can read about some of the past Cleveland GiveCamp Weekends here:
2021 is the eleventh year that Cleveland GiveCamp volunteers provided free tech solutions to local charities. Please tell everyone you know about this opportunity for nonprofits, and have them sign up for official notifications at: ClevelandGiveCamp.org/Nonprofits Thank you!
Comments
Submitted by Stuart Smith on Sat, 09/25/2021 - 09:50
Website
sosAssociates.com
Permalink