Enlarge Image
We started the first part of our 2020 Trail Challenge journey on Friday, June 12, 2020, at Rocky River Reservation. With the completion of the first ten trails on Wednesday, June 24, 2020, at the Whipp's Ledges in Hinckley Reservation, we picked up our 2020 Trail Challenge sticker prizes on Tuesday, September 8, 2020, at the East 55th Street Marina. Please learn more in our first 2020 Trail Challenge blog post about the first 10 trails with videos, park information, and the photos that we shared on Twitter:
When we wrote about completing the first level of the Cleveland Metroparks 2020 Trail Challenge presented by Cigna to earn our 2020 Trail Challenge stickers, we were already working on the next ten trails for the final challenge. We are creating our Trail Challenge blog posts for these three reasons:
With COVID-19 closing venues we normally frequent, and having to cancel the backpacking trips that Stuart had planned on the Continental Divide Trail and Appalachian Trail, we have been exploring many parks in Northeast Ohio and along the route of the Buckeye Trail. We are happy to share with you our experiences on the second level of the trail challenge to earn our 2020 Trail Challenge mug, starting on Thursday, June 25, 2020, in North Chagrin Reservation and completing it on Tuesday, September 29, 2020, at West Creek Reservation.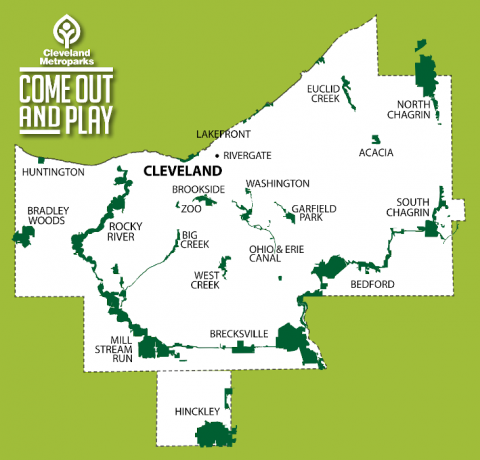 Enlarge Image
You can learn more about the Cleveland Metroparks Trail Challenge 2020 at: ClevelandMetroparks.com/TrailChallenge
Download the 35-trail 2020 Trail Challenge PDF File (2.8MB) by clicking here.

Enlarge Image

Complete at least 10 of the 35 trails listed. Choose how you want to complete your activity. You can hike, bike, rollerblade, paddle, run, or walk any of the trails in any chosen activity. When you complete the trail, you can check off your form to receive your award.

View the 2020 Trail Challenge routes.

Explore new trails, move to better health and discover the wonders of nature. All mileage is round trip and approximate.

PARTICIPATION
Travel 10 or 20 of the 35 trails by any legal means from March 1, 2020 - December 31, 2020 to receive this year's trail challenge sticker and prizes.

Complete at least 10 trails and earn a 2020 Trail Challenge sticker

Complete at least 20 trails and earn a 2020 Trail Challenge mug (limit to first 250 to complete the challenge)

PRIZE REDEMPTION
Beginning June 1st, bring an electronic or printed copy of your 10 or 20 completed trails to one of the following locations (please call ahead as hours are subject to change):

Merwin's Wharf 12 - 4 p.m. Thursday - Sunday 216-664-5696

Hinckley Lake Boathouse 12 - 4 p.m. 7 days a week 330-278-2160
(Note that when we picked up our first prize on Tuesday, September 8, 2020, we went to the East 55th Street Marina. With the cooler weather, the park has moved the second pick-up location to Merwin's Wharf.)
3.25 miles: Nature Center
Start at the Nature Center. Ride north on the APT to Strawberry Picnic Area looking for birds and other wildlife as you enjoy the newly enhanced Strawberry Pond area.
North Chagrin Reservation is home to many attractions, including . . . Buttermilk Falls and North Chagrin Nature Center. North Chagrin Nature Center and North Chagrin Reservation tell the story of wetlands, woodlands and wildlife.

Since the 1920s, North Chagrin Reservation has been a special combination of outdoor recreation areas and wildlife sanctuaries. North Chagrin trails and picnic areas feature woodlands and wetlands as important characteristics of this large reservation. Located in Mayfield Village, Willoughby Hills and Gates Mills, the reservation includes a nature center and nature education building. Sanctuary Marsh and Sunset Pond are both popular areas to observe waterfowl . . .
Centered between Sunset Pond and Sanctuary Marsh, North Chagrin Nature Center is the educational hub of North Chagrin Reservation. The center features a variety of native live-animal exhibits, a children's play area, multiple wildlife viewing areas, and a Nature Shop. North Chagrin Nature Center also specializes in naturalist-led programs. Contact the nature center at 440.473.3370 for more information.
This wildlife pond has been a favorite of visitors for many decades. This historic pond was a popular ice skating and fishing site for many generations. Today the pond has been deepened and enlarged with two fishing platforms to further the tradition of family fishing and observing aquatic wildlife. The nearby Depression era Strawberry Shelterhouse and Picnic Area affords visitors a full day of park enjoyment. A trailhead is located nearby to access multiple trails that lead to varying habitats and spectacular views in every season.
Julie has many memories of visiting this section of the park, hiking and bike riding with her family when she was growing up. We often hike the North Chagrin Reservation trails.
Be sure to see our Cleveland Metroparks Trail Challenge 2020: Part One (First Ten) blog post, where we include historical information about the first Trailside Museum in the park system. Also, see the Facebook video tour of the North Chagrin Reservation's Sylvan Trail in our blog post about the April 18, 2020, Opening Day for Trails with Cleveland Metroparks CEO Brian Zimmerman.
Trail #12) Tuesday, August 18, 2020 - Kayak Rocky River from Emerald Necklace Marina to Lake Erie
1.8 miles: Paddling
Launch from Rocky River Marina and paddle towards Lake Erie paying special attention to boat traffic, folks fishing, and others out enjoying the water. Once the river turns into the openness of Lake Erie turn around.
Located in the heart of the scenic Rocky River Reservation, Emerald Necklace Marina is a full-service recreational boating facility approximately 5,000 feet south of Lake Erie.

Cleveland Metroparks has been operating Emerald Necklace Marina since 2016.
41° North Kayak Adventures Rentals

TANDEM (2 PERSON) KAYAKS
$25 / first hour + $5 each additional 30 mins

Our super stable tandem kayaks are perfect for beginner paddlers and a great platform for enjoying our Great Lake. Tandems also make a great choice for safely paddling with kids.

COVID-19 UPDATE: Tandem rentals are limited to members of the same household only

The 41° North Yak Shack is located in the Cleveland Metroparks Rocky River Reservation in Lakewood, Ohio. Our center offers paddlers direct access to the Rocky River and Lake Erie. From our center, it is an approximately 1-mile paddle down the placid Rocky River to Lake Erie. As long as waves are under 2 feet and winds under 10 knots, you are free to head out onto Lake Erie.

Use the map below for directions to the Yak Shack.
After doing our first Trail Challenge in Rocky River Reservation back on Friday, June 12, 2020, we stopped at the Emerald Necklace Marina and talked to the staff at 41° North Kayak Adventures to learn about their kayak rentals. We had kayaked on Hinckley Lake while on the park's Trail Challenge in 2017 and 2020, but this would be our first time on the Rocky River, so we wanted to see what the river was like. After seeing the area, we were excited to make our reservation to kayak the river on Tuesday, August 18, 2020.
On Friday, June 12, 2020, while at 41° North Kayak Adventures, we met The Cleveland Outpost Gear Exchange co-founder, Josh "Gadget" Scott, who thru-hiked the Appalachian Trail in 2016. He told us that The Cleveland Outpost Gear Exchange is a new Cleveland company with a unique way of providing adventure gear -- emphasizing sustainability by giving used outdoor gear a second life. Read more about the gear exchange in our blog post about our first trail challenge in the Rocky River Reservation.
When we arrived for kayaking on August 18, 2020, we learned that the woman who went over the river map and nautical rules for the Rocky River with us was Hannah Kelling, who along with Josh "Gadget" Scott, co-founded The Cleveland Outpost Gear Exchange. After our kayaking trip, we talked to Josh Scott as he took our photo in the kayak (see photo at the top of this blog post). It was great to meet people who are helping others experience adventures that they themselves have experienced. Learn more in their Introducing: The Cleveland Outpost video:
We had a great time traveling on the Rocky River, and seeing all the yachts docked along the river. It was good that we chose to go on a Tuesday, since we shared the river with only a few people on stand-up paddleboards and kayaks.
Emerald Necklace Marina Concessions is open at the walk-up window for Honey Hut ice cream, drinks, bar and food.
After our enjoyable kayak trip on the river, it was fun to stop for an ice cream treat at the Emerald Necklace Cafe.
Access to adventure: Lakewood couple launches store with secondhand outdoor retail, nature workshops
STEPHANIE VERMILLION | MONDAY, OCTOBER 12, 2020

From the Cuyahoga Valley National Park to the Lake Erie, Northeast Ohio is bursting at the seams with outdoor adventures. But partaking in the North Coast's outdoor scene isn't always easy. Kayaking, surfing, climbing, and backpacking require skills and gear—both of which typically come with a high price tag.

But Lakewood residents Josh Scott and Hannah Kelling are poised to change that with their recent launch of The Cleveland Outpost, a Rocky River-based shop selling used and new gear with the ethos "adventure for all."
While we were writing this blog post, we saw Jen "Authentically CLE" (formerly "Why CLE") tweet of FreshWater Cleveland's article about Josh Scott's and Hannah Kelling's recent launch of The Cleveland Outpost. This also led us to an October 12, 2020, article and video by Cleveland 19 News. Be sure to learn more about The Cleveland Outpost by reading both these articles.
0.6 miles: Porter Creek
Start at the parking lot on the south side of Lake Road, and follow the APT to the Porter Creek Trail on your left. Follow along the Porter Creek Trail before joining the connector trail that follows the road back to the parking area.
We had already hiked in this area of Huntington Reservation and visited the BAYarts Arts Campus on Wednesday, April 29, 2020, and we were glad to be back on Tuesday, August 18, 2020, since this is a beautiful area. See photos of our April visit in our @sos_jr tweets and retweets in our fifth Social Distancing 2020 blog post:
Campus
BAYarts is in the Huntington Reservation in Cleveland Metroparks, located in Bay Village near the border of Cuyahoga and Lorain Counties. The BAYarts campus includes the John Huntington House, the Irene Lawrence Fuller House, The Station House leased by Vento Trattoria and a historic caboose. Until 1927 when the land was purchased by the Cleveland Metroparks Department, the Huntington Reservation was the summer estate of John Huntington, inventor, industrialist and key founder of the Cleveland Art Museum. BAYarts campus is within walking distance of Lake Erie Nature & Science Center, a frequent collaborator, and Huntington Beach. Nearly one million visitors enjoy the Lake Erie shore and the beauty of its natural areas and park settings annually. You can see a read about the BAYarts campus on Cleveland.com, in their Cool Spaces series.
Before starting our hike on the Porter Creek Trail, we visiting the BAYarts Arts Campus. A beautiful place to visit. They have artwork and interesting creative treasures to discover on the property, and incredible blooming flowers.
Take in Cleveland's beautiful lakefront at Huntington Reservation. Go for a hike, swim, kayak or fish!

Huntington Reservation is located in Bay Village on the shores of Lake Erie. Picnic areas high above the beach offer visitors opportunities to enjoy the striking and ever-changing lake views. The reservation is also home to two Cleveland Metroparks affiliates: Lake Erie Nature & Science Center, and BAYarts.
Walking the Porter Creek Trail:
Though it looks like a lighthouse, this tower was actually a water-pumping structure that served to irrigate the vineyards of John Huntington's 100 acre estate. A brick pump-house is located below the tower, which is speculated to have been run on steam power.

The Huntington Water Tower, a well-known landmark, was used to store water pumped from the lake below to irrigate John Huntington's orchard and vineyard.

John Huntington built the water tower to house a large storage tank so he could pump water from Lake Erie and store it in the tank to provide water for his property. He wanted it to look pleasing so he designed it to look like a lighthouse. It was never used as a lighthouse but Mr. Huntington did install stairs that led to the top so he could watch the lake for his freighters hauling stone in and out of the Cleveland harbor.
After walking the Porter Creek Trail, we continued farther to visit Huntington Beach:
Watch the video by Cleveland Metroparks Outdoor Recreation Manager Rachel Nagle to learn how to stay found while on the Trail Challenge.
Number of Challenge Trails Increased to 35!
When the Trail Challenge was announced in May 2020, there were 25 trails listed. We learned that the number was later increased to 35.
Since the number of possible trails was increased from 25 to 35, we may even do more than the 20 trails required to earn the 2020 Trail Challenge commemorative mug. Be sure to visit our sosAssociates.com Trial Challenge Blogs web page in the future to see how many trails we end up doing!!
Trail #14) Thursday, September 3, 2020 - Acacia Reservation
1.85 miles: Clubhouse
Start at the Acacia Reservation parking lot off Cedar Road. Walk, hike, bike, or handcycle the paved loop making sure to stay right at each turn. Enjoy the old golf cart paths as you imagine what this multi-year natural restoration project will look like in 100 years.
Acacia Reservation, a 155-acre green space oasis, is located in the City of Lyndhurst. The west branch of Euclid Creek flows northwest through Acacia Reservation to join the main creek branch in Euclid Creek Reservation. A 1.7-mile paved loop trail is located in the Reservation, and the building at the main entrance is currently available to rent for programming and events.
It is great that the Cleveland Metroparks and their partner organizations were able to save this suburban green space. The former Acacia Club Golf Course is now public land which will revert back to a natural woodland area through the Cleveland Metroparks' stewardship of the property. Many new trees have already been planted.
We also wrote about two other visits in summer 2020 to Acacia Reservation while social distancing in parks:
Seeing Acacia Reservation as a new public green space made Stuart think of the time he attended the Cleveland Foundation's 2018 Common Ground at The Trust for Public Land's offices in Cleveland. He learned more about their goal of having a park or natural area within a 10-minute walk of all Americans. We have noticed that in recent years, the Cleveland Metroparks have expanded park areas. Thanks to the work of the Cleveland Metroparks, we are moving in the right direction toward having more parks closer to where more people live.
Learn more about both the Cleveland Foundation's 2018 Common Ground and The Trust for Public Land in our blog post:

Enlarge Image
Many new facilities at East 55th Street Marina are open to the public. Included are a 1,200-foot fishing platform and a Valvtect Marine Certified fuel dock. Our 352 seasonal wet slips are accessible only by secure gated entry. Cleveland Metroparks has been operating the East 55th Street Marina since 2013. **We monitor VHF Channel 7**
As we were heading to do a Trail Challenge at Edgewater Park, we stopped at the East 55th Street Marina to pick up our 2020 Trail Challenge Stickers.
On a typical year, we would normally just pick up our Trail Challenge prizes at any Cleveland Metroparks Nature Center, but due to the 2020 coronavirus crisis, the pick-up locations have been limited to just two locations. Because of the limited locations, we delayed picking up our stickers until we were in the area. We also saw the 2020 Trail Challenge Mug that we will earn after completing 20 trails.
1.5 miles: Edgewater
Start at Edgewater Park in the lower parking area and make your way up to the Cleveland script sign by moving up the hill behind the Beach House. Enjoy the breathtaking overlook of the city. Stop in for a drink or some ice cream on your way back.
The 147 acre Edgewater Park is the westernmost park in Cleveland Metroparks Lakefront Reservation. Edgewater Park features 9000 feet of shoreline, dog and swim beaches, boat ramps, fishing pier, picnic areas and grills and a rentable pavilion.
Edgewater Beach, located in lower Edgewater Park, has something from everyone. Make a day of it and rent a cabana along the shoreline or join a pick-up game of beach volleyball. Stroll along the beach while enjoying a delicious scoop of Honey Hut ice cream from Eats and Treats concession stand. Experience panoramic views of downtown Cleveland from the shore and experience a breath-taking sunset. Edgewater Beach is accessible from both the lower section of Edgewater Park as well as the Upper section. The 2400 foot beach features 1000 feet of swimming access. The westernmost portion of the beach is dog friendly. The beach also provides kayaking access.
We enjoyed a late lunch at the picnic tables near Edgewater Beach, with great views of Lake Erie and Downtown Cleveland, before going on a walk on the Edgewater Park All Purpose Trail. Construction has started on what looks like will be a very large playground area, so share this information with families with children and tell them to check it out next year. Historic structures and signage can be seen as you make your way to the Cleveland Script Sign with a great overlook of the city!
Tuesday, September 8, 2020 - Explore Wendy Park, Lakefront Reservation - Monarch Butterflies and New Bike Path
One of Ohio's top birding sites, Wendy Park's 22 acres of green space on the edge of downtown Cleveland makes it a vital haven for wildlife.

Boasting a remarkable 260 species of birds recorded on site, birders, photographers and nature lovers are drawn to this dynamic landscape. Wendy Park offers crucial habitat for nesting and migratory animals–including extraordinary monarch butterflies in the fall. Wendy Park features a natural surface kayak launch.
After our Trail Challenge walk at Edgewater Beach, we knew we would need to go the neighboring park -- Wendy Park -- since we had seen many Tweets from earlier in the day sharing photos/videos of the monarch butterfly migration:
In the afternoon, it was already 87°, so we only saw a few of the monarch butterflies. We think they might have moved on with the warmer weather.
Learn more about the monarch butterflies in this Cleveland Metroparks Facebook video:
Re-Connecting Cleveland TIGER Grant Project

The first two TIGER projects, the Cleveland Lakefront Bikeway Connector and Canal Basin Park Connector, are complete and open for use. Construction is underway on the Red Line Greenway, Wendy Park Bridge, and Whiskey Island Connector estimated completion by Spring 2021.
The Whiskey Island Connector links the Wendy Park Bridge to Edgewater Park and the Cleveland Lakefront Bikeway.
While exploring Wendy Park, we were VERY EXCITED to see some of the recent construction on the Whiskey Island Connector project!!
We highly recommend visiting the park to watch this fantastic project develop, and learn about the progress on the Cleveland Metroparks Re-Connecting Cleveland TIGER Grant Project and Whiskey Island Connector web pages.
2017 Shields & 2020 Stickers
Once the site of the famous Euclid Beach Amusement Park, Euclid Beach Park now features a 650' beach with shaded picnic areas, a scenic observation pier and a reservable pavilion. Though it closed in 1969, signs of the amusement park including the shuffleboard area, remnants of the beachside fountain and concrete footers of the Flying Turns roller coaster are still visible.
Villa Angela is a quiet woodlot named for the Catholic School once located on the site. The beach is a favorite location for swimming, bird and monarch butterfly observation.
Before walking the Trail Challenge starting at the Euclid Creek Reservation's Welsh Woods Picnic Area, we decided to have a picnic lunch on the north end of the reservation on Lake Erie at Euclid Beach Park. After lunch, we walked in the woods that are south of Villa Angela Beach. Our son, Kevin, joined us for this Friday in the park, since he is interested in the history of this area. Kevin showed us where he has found remains of the Villa Angela Academy when he explored the area on his own.
We mention visiting Euclid Beach in our blog posts several times, since it is a special place to our family. Julie and Kevin have been members of Euclid Beach Park Now for years, and were asked to join their Board of Directors in January 2019. Kevin has one of the most extensive collections of Euclid Beach Park memorabilia in the area. Before COVID-19 closed everything, Julie used to volunteer at the Western Reserve Historical Society - Cleveland History Center (@CleStartsHere) as a Euclid Beach Park Grand Carousel ride attendant.
Learn more about Euclid Beach Park Now and the history of the park in our blog post:
See photos from when we visited Euclid Beach Park on June 29, 2020, while social distancing in the park:
Trail #16) Friday, September 11, 2020 - Squirrel Run Trail and Glenridge Loop Trail, Euclid Creek Reservation
2.6 miles: Welsh Woods Picnic Area
Start at Welsh Woods Picnic Area and cross the road to get on the Squirrel Run Trail. It will soon intersect with the Glenridge Loop. Follow the Glendridge Loop for 1.2 miles until it meets back up with Squirrel Run Trail. Head south (right) and follow this beautiful trail back to Welsh Woods Picnic Area.
Euclid Creek is a popular urban oasis for picnicking, fitness, and other recreational opportunities in a natural setting.
Stuart had hiked the Glenridge Loop Trail for the 2017 Trail Challenge in light snow on December 23rd, but this was the first time Julie and our son, Kevin, had hiked this area. It was a hot day, and the route included one very steep hill, so it was truly a challenge!
Trail #17) Friday, September 18, 2020 - Iron Springs Loop Trail, Garfield Park Reservation
1.2 miles: Iron Springs Loop
Head out from near Garfield Park Center and hike over the bridge to get on the Iron Springs Loop. You'll want to take your time on this trail as you enjoy gorgeous, intricate stonework nearly 100 years old. Stick to the Iron Springs Loop trail and you'll end up back where you started!
Garfield Park Reservation is located in Garfield Heights. The reservation features picnic areas, a wetland, and trails. The history of Garfield Park dates back almost a century. In 1894, the city of Cleveland purchased three farms, a half mile south of the city limits as a site for a new south side park. It was officially opened in 1895, as Newburg Park, and soon thereafter re-named Garfield Park. Much of the beautiful stonework still evident in the reservation today dates from the 1930s New Deal Era projects. Garfield Park was leased to Cleveland Metroparks in 1986. The old lake beds have been reclaimed by nature and are managed as green space for wildlife. The rich deep woodlands support a host of songbirds throughout the year. For educational programming at Garfield Park Center, please call CanalWay Center at 216-206-1000.
The signature piece of Garfield Park Reservation days gone by. The current stone structure replaced a wooden bridge back in the 1930s when the Works Progress Administration (WPA) workers built this bridge that stands watch over Wolf Creek as it flows into Mill Creek. The current wetland area was once home to the Boating Pond where visitors in the early days of Garfield Park could rent rowboats.
We enjoyed being back at Garfield Park Reservation, having visited the park for the first time while on the 2017 Trail Challenge. Seeing the Old Boating Pond Bridge again reminded us of what we had learned about the park's history.
We saw ten deer while on our walk, and met some girls with their father who said they had counted 20 deer in the park. Be sure to look at the park map before starting the Iron Springs Loop Trail, since both now and in 2017, we noted that some key turns in the trail are not correctly marked or have no trail markers.
8.0 miles: Shadow Lake
Starting at Shadow Lake, head right (North) out from the parking lot and enjoy the APT as you progress slightly uphill most of the way until you turn around before you cross Route 91/SOM Center Rd. Enjoy the relaxing ride back if you chose to bike!
Hike the Buckeye Trail . . .The reservation is located in Bentleyville, Solon and Moreland Hills, and also features an Arboretum, Polo Field and many interesting trails to explore.
Whether you are looking for a scenic picnic location, or you've brought your pole and would like a great place to fish (fishing license required by law), you'll enjoy Shadow Lake. Check the Cleveland Metroparks fishing report for information on ice fishing her in the winter months. Located between both Solon and Richmond Roads, this 4 acre lake is stocked by our NR dept and is a great fisherman's destination during any season.
The weather forecast called for a sunny and warm weekend, and the Cleveland Metroparks tweeted out a photo recommending a bike ride for the Trail Challenge. We decided we had to take the challenge for our 18th trail for 2020.
The weather was warm, but a strong breeze cooled us off as we rode our bikes from Shadow Lake. For Stuart, it was interesting to bike the all-purpose trail along this route, since he had hiked 6.8 miles of the Buckeye Trail along this park corridor on Sunday, January 12, 2020, from South Chagrin Reservation's arboretum to Bedford Reservation. Shadow Lake is a beautiful location, both in winter, when Stuart hiked here, and now on this late-summer-like day as the leaves begin to turn to fall colors.
After our bike ride, we did an extra hike on the Shadow Lake Trail. As we walked around the lake, it was great to see people fishing, and families enjoying the park. One family was painting pumpkins for Halloween decorations. It was a very pleasant place to visit on this sunny day.
As we walked the Buckeye Trail section of the loop trail around the lake, Stuart remembered the last time he was here, in January 2020. He was carrying a weighted backpack for one of several winter hikes as he prepared for a first-time multi-month adventure on the Continental Divide Trail in the spring. Stuart had mixed emotions today, since he was sad that his big adventure was canceled due to COVID-19, but at the same time, he has enjoyed hiking sections of the Buckeye Trail Little Loop in 2020 (watch for future blog post), and will backpack a small section of the Appalachian Trail for a week in October.
Thank, Cat Russell, for this tweet sharing our #SomethingBeautiful photos:
2.1 miles: APT
Jump on the APT anywhere in the park but head towards Blue Bird Point Overlook. Start here and move yourself 3 laps around the television towers as you enjoy wildlife and listen to the many birds in this varied upland terrain. Each lap is only 0.7 miles, so do three laps to complete this trail challenge!
1.75 miles: Gorge Loop Trail
Start at the Watershed Stewardship Center. Take the paved All-Purpose Trail (APT) from Monarch Bluff Picnic Area and stay right at any junction until you cross a bridge to ride up the Gateway Trail. Turn right onto the natural surface Gorge Loop Trail and make sure to stay alert for all trail users on this shared use mountain bike trail. Please visit the clevelandmetroparks.com or Twitter (@CMPmtb) to confirm the trail is open.
Tucked away between Seven Hills and Parma, West Creek Reservation's wide open spaces and forested ravines appeal to nature lovers.

While neighborhoods surrounding most of the nine-mile West Creek are densely developed, this 326-acre reservation preserves a valley of rocky gorges, forest-draped hillsides, floodplains and babbling brooks.

The West Creek watershed has influenced settlement and development patterns for two centuries. Remnants of abandoned quarries and the comfortable homes of quarry owners can still be found in the watershed today, which drains the cities of Parma, Seven Hills, Brooklyn Heights, Independence and portions of North Royalton and Broadview Heights before emptying into the Cuyahoga River.

West Creek Reservation invites the cyclist, hiker, picnicker and birdwatcher to a varied upland and wetland landscape. Nesting birds include red-tailed hawks, wood ducks and screech owls, and migratory species such as American redstart, indigo bunting, Lincoln's sparrow and great crested flycatcher can be found there as well.

Perhaps the most exciting aspect of West Creek Reservation is the discovery of new urban watershed stewardship techniques. The developed and restored natural areas of the reservation are a living laboratory supplying data and demonstrating real-world solutions for stormwater and pollution control.
Cooler weather and autumn's cloudy skies greeted us as we biked to Bluebird Point Overlook to start our last two trails of the 20 trails required for the 2020 Trail Challenge.
When we have visited West Creek Reservation in the past, we have always been impressed by the West Creek Conservancy's amazing work to save this green space:
History of West Creek Conservancy
Formerly West Creek Preservation Committee

In the mid 1990's, the last remaining large undeveloped area in Parma, a 300-acre natural area near the headwaters of West Creek, was slated to become another shopping center and the City of Parma's second golf course. Because West Creek flows through densely populated and developed suburbs of Cleveland, it had suffered severe degradation of both water quality and natural beauty over the years. Yet even under constant threat of development, significant natural areas had endured as a natural refuge from the urban hustle and bustle.

. . .

West Creek Conservancy completed its first land purchase and became a landowner in 2001. As an urban land trust, West Creek Conservancy has protected over 150 parcels covering more than 700 acres of open space. Over its first ten years, the organization leveraged over $25,000,000 in funding for conservation, restoration, and trail projects.
WEST CREEK SHARED USE MOUNTAIN BIKE TRAILS
Gorge Loop Trail, West Creek Reservation - If you're looking for an entirely new trail, the Gorge Loop Trail is West Creek Reservation's newest addition, providing a new natural surface trail for mountain bikers, runners and hikers. The trail was built entirely by hand and opened in fall 2019. The trail is a highlight on the 2020 Trail Challenge.
In addition to bike riding the park's all-purpose trail, we hiked the Gorge Loop Trail which is one of several mountain bike trails (click here to see trail maps) in the park. Walking on the Gorge Loop Trail, it looked like it was a new trail, and while writing this blog post, we confirmed that it opened a year-ago and "is a highlight on the 2020 Trail Challenge."
Here is a video we found that shows this mountain bike trail:
Be sure to see the CAMBA - Cleveland Area Mountain Bike Association (@CAMBA_CLE) website for a list of mountain bike trails in our area.

Enlarge Image
On October 17, 2020, Stuart picked up our prizes -- 2020 Trail Challenge mugs and a Cigna swag packets -- at Merwin's Wharf. We want to thank Cigna for sponsoring the Trail Challenge again this year. Since we had such a good time, both exploring parks we had never visited and returning to old favorites, we have already done some additional trails beyond the required 20 trails. Please visit our blog again later this year to see our additional Beyond the Cleveland Metroparks Trail Challenge 2020 blog post.
Related Blog Posts
We always like to list related blog posts so you can learn more about a place we visit or an event we attend. We have written many blog posts that relate to our experience hiking and biking on the 2020 Trail Challenge trails. See the following blog subject links:
Most of the venues that we write about in our sosAssociates.com/Blog are currently closed. The following are our "Social Distancing Series" blog posts, which we write to try and capture the activities we are able to do at this time. You can see that we have visited a lot of parks, and are very grateful for the several northeast Ohio park systems that we have been visiting during this time. Once the coronavirus crisis is over, it will be interesting to read these to see the contrast between these times and "normal life."
We expect to continue to practice social distancing for the next several months, so please come back to read more and...
Stay well!