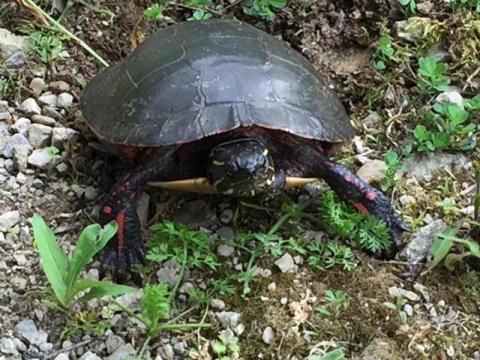 Enlarge Image
After writing three social distancing blog posts about visiting our local parks during the coronavirus crisis, we really did not plan to write anymore blog posts on this subject. However, we have been having such a great time exploring parks that we had not visited before, and revisiting old favorites, that we decided to gather tweets from park visits in June 2020, to create this blog post.
This blog post accomplishes two things that are important to us.
First, writing this post is our way to refresh our memory of the time we spent together. Time together in the peaceful environment of a park is a healthy way to be grounded, both as a couple and for each of us individually, during these stressful times in our country.

Secondly, it is our way to thank the park systems for their service to our Northeast Ohio community. Visiting parks (if you also practice social distancing and sanitizing your hands) is one of the very few safe activities you can do during this COVID-19 pandemic.
Please note that we have attended many more parks in June 2020 than those included in this blog post. Beyond what we include here, Stuart has been doing section hikes on the Buckeye Trail "Little Loop" (the Buckeye Trail Little Loop is over 250 miles long in Northeast Ohio), and we have done eleven additional hikes as part of the Cleveland Metroparks Trail Challenge 2020. We plan to write blog posts about these trail activities when we complete them.
We hope you enjoy seeing the photos and videos in our @sos_jr tweets and retweets, and that they encourage you to explore our local parks yourself!
Gully Brook Park protects a valley, stream, wetland and forest. Its unique natural features, ravines and wild places are intertwined with local history. Today, visitors can enjoy more than a mile of improved trails and the chance to reconnect with nature. Explore Gully Brook and listen for the songs of winter wrens or chickadees. Watch for the footprints of raccoons, the flash of a dragonfly or enjoy the beauty of a young forest ever-changing.
VISIT YEAR-ROUND FOR
SCENIC VIEWS ALONG FORMER TRAIN TRACKS
This 562-acre park features the Chagrin River, the old Interurban Railroad Junction, and one of Geauga County's nesting colonies of Great Blue Heron. Two trails total 1.4 miles. Children can have fun in a play area here.
We had never seen so many turtles! They were out looking for places to lay their eggs.
We mentioned above that we are doing the Cleveland Metroparks Trail Challenge 2020. On June 3rd, we learned that the Geauga Park District has a Geauga Gems Trekking Series. We also know that the Summit Metroparks has a trail challenge program.
PARK HISTORY
Colonel Hendrick Paine, nephew of Edward Paine, founder of Painesville, moved his family from Parkman, Ohio, in 1818 to this little valley. It became known as "Paine's Hollow." Paine built a log cabin on the terrace on the north side of the valley.

With the planning and financial help of his son's (Elazer A. Paine) father-in-law, Samuel Phelps, Paine carried out the industrial development of Paine's Hollow. He first built a sawmill. In the years that followed, many other industries came to the Hollow. By 1840, valley businesses included an iron forge and furnace, a tannery, a shoemaker, a blacksmith shop and a wagon maker. An ashery was built to produce lye for soap and potash production. The area also included several houses and a school for local children.

By 1850, surrounding forests had been felled and prosperity began to decline. With the lumber supply gone and new technological advances, water power was no longer needed. The area fell to ruin and many of the settlers moved to neighboring cities. In 1974, the area was named Paine Falls and was dedicated as a park by Lake Metroparks.
In the following tweet, we recommend John Pana's Cleveland.com articles and videos -- learn more in the "Enjoying Parks Safely During the Coronavirus Crisis" section of our blog post entitled: Social Distancing: Visiting More Parks and Park Campsite Information.
PARK HISTORY
Charles Lyman bought several acres at the point of land above the intersection of the Grand River and Paine Creek in 1901. In the years before World War I, he used the area as a military camp for high school boys. More than 150 youngsters attended Lyman's Camp Wissolohican during its seven-year period of existence. Lyman began carving the names of campers into a Totem Stone, which can be seen along the trail near the point. Later, the point became a Finnish camp, Kaleva Lodge. During this time, a stone hut was built and used as a sauna, intact until the 1970s, when the park system dismantled it. The property was purchased from John Phelps in 1964. A plaque was erected here, in honor of James and Edna Phelps, his parents. (In 1802, part of the property had been deeded to his ancestors by the Connecticut Land Company.)

The Whittlesey Culture
Listed on the National Register of Historic Places by the National Park Service, Indian Point has one of the earliest architectural works in this part of Ohio.

A tribe from the Whittlesey Culture lived here; a Whittlesey structure was built on the 100-foot ridge between Paine Creek and the Grand River. Two parallel mounds of their earthworks can be seen.

The Whittelsey were an early people who lived from 900 AD to 1650 AD in stockade villages on high bluffs overlooking rivers and lakes. Because they didn't have contact with Europeans, the name of their tribe is unknown. The culture is named after the archaeologist who discovered the tribe.
We were happy to explore this park for the first time! Beautiful trail combined with interesting history made for an enjoyable visit.
Just as we saw when we were at The Rookery in the Geauga Park District, we were happy to see a turtle looking for a place to lay its eggs while on the Little Pond Loop Trail. Early June must be the right season to see turtles laying eggs!
Wander, cross-country ski or snowshoe through nearly six miles of trails surrounded by mature beech, maple, oak, tulip and hemlock trees. One of the best scenic overlooks in Lake County is found along Lucky Stone Loop Trail. Hiking in this beautiful forested park will take the park visitor to spectacular Sharon Conglomerate ledges, from which Lake Erie and the the Cleveland skyline are visible on a clear day.

Part of the Buckeye Trail, a continuous hiking trail throughout Ohio, passes through Chapin Forest Reservation. Blue paint blazes on some trees mark the Buckeye Trail.

PARK HISTORY
To protect this beautiful setting from development, Frederic H. Chapin purchased the property in 1949 and donated it to the State of Ohio. Under a lease agreement with the Ohio Department of Natural Resources Division of Forestry, Lake Metroparks manages Chapin Forest Reservation. The ledges, or rocky outcroppings of Sharon Conglomerate, were formed approximately 300 million years ago, long before glaciers slid across northern Ohio. Visitors may explore the restricted ledges area on guided hikes only, which are offered regularly throughout the year.

Sandstone from Quarry Pond and the adjacent streambed were part of a stone quarry that operated during the 1800s. Berea sandstone from this site supplied the foundations for many local buildings including the Kirtland Temple, which was completed in 1836.
If you have a problem with the GPS while visiting a park, take a look at this article: How to fix iPhone GPS issues. We use the GPS information from the Guthook Buckeye Trail App when visiting local parks. Stuart has used Guthook Guides apps for backpacking on the Appalachian Trail and the Pacific Crest Trail, and recommends using it as he has found it very helpful while hiking/biking in Ohio -- especially while on the Buckeye Trail Little Loop.
When William J. Gordon died in 1892, he donated the land that became known as Gordon Park to the City of Cleveland under the condition that it would forever remain a free, public park. . . .

. . . some 122 acres of land along the shoreline near the spot where the Doan Brook enters Lake Erie. Gordon Park opened to the public in 1893 and quickly became a recreational destination for Clevelanders living on the east side.

In the decades after World War II, however, Gordon Park began to decline. Water pollution affected all of the city's lakefront parks and Gordon Park was no exception. Swimming in particular became increasingly unsafe. Moreover, the late-1960s construction of a straighter route for I-90 (an upgrade of the Memorial Shoreway that the Works Progress Administration had built from East 9th Street to Gordon Park in the late 1930s) literally split the park in two, separating its lakefront areas from those further inland. Meanwhile, Doan Brook was culverted, and the area directly to the east of the park (Dike 14) became a dredge disposal site.
The Cleveland Plain Dealer announced the grand re-opening of the Gordon Park Cleveland Aquarium in its September 5, 1954 edition, citing it as the "most public institution of its kind." The unique aspect of the Aquarium's development in Gordon Park was the "brick by brick, fish by fish, and drop by drop" building of the facility by the Cleveland Aquarium Society, Cleveland Museum of Natural History (CMNH), as well as volunteer "sportsmen, amateur marine biologists, teachers, housewives, and youngsters." . . .

. . . By 1985, structural problems due to salt water corrosion emerged at the Gordon Park facility. Collapsed ceiling panels forced its closure in June, 1985 and further negotiations removed the Aquarium's contents and program from CMNH oversight at Gordon Park to the Cleveland Metroparks Zoo in 1986 with continued hope of a new facility at the Inner Harbor. Discussions among Aquarium supporters remained active through 2009, when developer Jeff Jacobs announced a project partnering with external developers and consultants to locate an Aquarium in the downtown flats.
We briefly stopped at the City of Cleveland's Gordon Park before going to the Cleveland Lakefront Nature Preserve, since our son, Kevin, had heard that the old Cleveland Aquarium building was still there. Kevin is very knowledgeable about, and interested in, Cleveland history. It was intriguing to see what remains of the old building, and wonder if more could be done with this property.
On Tuesday, February 9, 2016, Stuart had attended a discussion about potential future plans for Cleveland's lakefront and riverfront. With the demolition of the FirstEnergy Lake Shore Power Plant in 2017, it will be interesting to see if there is an impact on the future of the City of Cleveland's Gordon Park. Read more about this 2016 Waterfront Panel in our blog post:
Be sure to see the articles about Gordon Park and the Cleveland Aquarium that I link to in the following tweets. Also note the online Twitter discussion that took place while we were writing this blog post. It includes new information about the Cleveland Lakefront.
A unique urban wildlife haven on Lake Erie
The original shoreline at the site was part of the land William Gordon willed to the City of Cleveland in 1896 for use as a public park (now Gordon Park). In 1962, two old freighters were sunk offshore to create a breakwall to protect the park's beach. During this time it was not uncommon for solid waste to be dumped along the lakeshore. The waste eventually formed an approximately 10-acre area between the sunken freighters and the shoreline. The Preserve's land mass began taking shape in the late 1970's as the U.S. Army Corps of Engineers (USACE) disposed of sediment dredged from the Cuyahoga River in a walled-off area that juts out from the Lake Erie shoreline. The USACE placed sediment in a confined disposal facility (CDF) called Dike 14 from 1979-1999 as part of its program to dredge the Cuyahoga River. THe USACE designed the contours of Dike 14 to encompass the entire area. Over the years, layers of sediment - essentially sand, soil and clay - were placed within the walls of Dike 14, After the USACE stopped using Dike 14 as a CDF nature took hold, and with very little human intervention, the peninsula became filled with plants, trees and shrubs that attracted diverse species of birds and other wildlife. - now known as the Cleveland Lakefront Nature Preserve (CLNP).
We have visited the Cleveland Lakefront Nature Preserve at all different times of the year, and it has a different feel during each season. Our first time here was in wintry weather, which contrasted greatly with this warm, summer day. We also saw others enjoying a walk in this park while we were there. This was the first time our son, Kevin, had visited.
ABOUT CHEERS
We are creating a community-focused resiliency plan for the eastern Cleveland lakeshore that will Embrace the Lake as an asset for future generations. The year-long study will focus on leveraging nature-based solutions to improve the environment, reconnect communities to the lake, enhance public health and wellness, bolster the economy, and improve aquatic and terrestrial habitats. We will be working with partners, stakeholders, and the community to identify priorities and interventions to improve resilience in the study area and adjoining neighborhoods. Preliminary technical design will explore project feasibility and advance select project components towards implementation.
While we were writing this blog post, we learned of a meeting about future developments for Cleveland's lakefront, including Gordon Park and Cleveland Lakefront Nature Preserve. Stuart attended the June 30, 2020, CHEERS (Cleveland Harbor Eastern Embayment Resilience Study) meeting, and recommends that if you want to learn more or give feedback to the organizations making plans for the future of our lakefront, go to: ClevelandMetroparks.com/Cheers
During the June 30, 2020, CHEERS (Cleveland Harbor Eastern Embayment Resilience Study) meeting, the topic of tying the the lakefront to the existing larger trail network was discussed. In addition to our February 24, 2016, blog post Cleveland Waterfront Panel: Is Development Paying Off?, which we mention above, the following blog posts contain information about regional trail resources that could tie into the new lakefront work of CHEERS:
Since the 1920s, North Chagrin Reservation has been a special combination of outdoor recreation areas and wildlife sanctuaries. North Chagrin trails and picnic areas feature woodlands and wetlands as important characteristics of this large reservation. Located in Mayfield Village, Willoughby Hills and Gates Mills, the reservation includes a nature center and nature education building. Sanctuary Marsh and Sunset Pond are both popular areas to observe waterfowl, and Squire's Castle is an interesting historical site.
After a day of visiting parks, we decided to end our day with a picnic dinner. It is always important to leave the park better than you found it, but during the COVID-19 crisis, it is extra important to pack out what you bring in.
137% Increase in Usage Reported by Cleveland Metroparks
Located in the heart of the scenic Rocky River Reservation, Emerald Necklace Marina is a full-service recreational boating facility approximately 5,000 feet south of Lake Erie.

Cleveland Metroparks has been operating Emerald Necklace Marina since 2016.
After doing our first @CleveMetroparks #TrailChallenge activity for 2020 -- a 10-mile morning bike ride starting at the Rocky River Reservation Nature Center -- we visited the Emerald Necklace Marina. This was our first time visiting this marina. (Watch for our future blog post about the Cleveland Metroparks Trail Challenge 2020.)
In addition to visiting the Trail Challenge presented by Cigna web page, you can learn about the Challenge in our blog post from the first year of this fun program:
We hope to return again to the Emerald Necklace Marina later this summer, when we do the Trail Challenge of kayaking on the Rocky River!
The 147 acre Edgewater Park is the westernmost park in Cleveland Metroparks Lakefront Reservation. Edgewater Park features 9000 feet of shoreline, dog and swim beaches, boat ramps, fishing pier, picnic areas and grills and a rentable pavilion.
Sunset dinner on a beach in Cleveland! A perfect end to our day of outdoor social distancing!
Once the site of the famous Euclid Beach Amusement Park, Euclid Beach Park now features a 650' beach with shaded picnic areas, a scenic observation pier and a reservable pavilion. Though it closed in 1969, signs of the amusement park including the shuffleboard area, remnants of the beachside fountain and concrete footers of the Flying Turns roller coaster are still visible.
The new pier is 315-feet long and 16 to 24 feet wide, extending 150 feet over Lake Erie. The newest park amenity was designed to improve accessibility and offers guests clear views of the downtown skyline and historic Euclid Beach shoreline that can be enjoyed from permanent benches and Adirondack chairs. The pier features three custom archways that pay homage to the historic park and former Euclid Beach Amusement Park. Silhouettes by local artist Brinsley Tyrrell are incorporated in the ironwork and feature images of dancers, carousel horses, steamships, the Thriller Car, Rocket Ship Car, Laughing Sal, and more.
Visiting the Cleveland Metroparks Euclid Beach Park for a sunset was the perfect place for our last park visit of June 2020!!
To learn more about the park, and the history of the Euclid Beach amusement park, please read our Euclid Beach blog posts:
Blog Date: May 20, 2020 - Social Distancing: Visiting More Parks and Park Campsite Information
See the section about our May 2, 2020, visit to the Euclid Beach on the 110th birthday of the Euclid Beach Park Grand Carousel. Julie and our son, Kevin F. Smith, are on the Board of Euclid Beach Park Now, and Julie is a ride attendant at the restored Euclid Beach Park Grand Carousel at the Cleveland History Center.

Blog Date: October 21, 2019 - Celebrating 50 Years of Fond Memories of Euclid Beach Park
2019 was a VERY special Year for Euclid Beach Park!
* For the amusement park, it represented 50 years of memories.
* For our family, it represented a new role for Julie and for our son, Kevin.
* For the Cleveland Metroparks, it represented fulfillment of a plan to honor Cleveland's history while better serving Cleveland's Collinwood community.
Our park walks, Stuart's hikes on the Buckeye Trail, and online events are filling the void caused by so many activities being canceled. Most of the venues that we write our sosAssociates.com/Blog posts about are currently closed. Our "Social Distancing" blog posts capture some of our current activities. Once the coronavirus crisis is over, it will be interesting to read these to see the contrast between these times and "normal life."
If you are interested in reading related blog posts, please see:
Stay well!