Enlarge Image
As we wrote in our other Social Distancing blog posts about exploring our local parks, we continue to be fortunate to have had no illness or death in our family.
We are writing this blog post to:
First, encourage ourselves to learn about and explore parks that we have not visited before, or further explore past favorites.

Secondly, capture some of what we learn to share with others now, and to use in future years to remind us of how fortunate we are to have so many great park systems in our area.
We are both sad about activities we love being canceled for 2020, but we want to acknowledge all that we have gained in terms of time together learning about local parks and about each other.
We start this blog post with information about how to be safe in the parks during this coronavirus crisis. We also want to note that we added at the end of the blog post information about camping opportunities in our local park systems. Please share what you find useful by retweeting the tweets in this blog post, and sharing a link to this post. Thank you!
Enjoying Parks Safely During the Coronavirus Crisis
10 ways to keep yourself (and others) safe while visiting parks during the coronavirus pandemic

Updated Apr 20, 2020; Posted Apr 17, 2020
By John Pana, cleveland.com

. . .

Northeast Ohioans have a huge park system to use, and area parks are trying to get the word out to visitors to follow certain guidelines to prevent spread of the coronavirus. These guidelines, if followed, could prevent the parks from needing to make further closures or restrictions due to overcrowding or other unsafe conditions.

The video above lists 10 tips based on CDC guidance as well as local park recommendations for staying safe on your next visit. Below are links to COVID-19 updates from Cleveland-area park systems.
We highly recommend watching the video in John Pana's Cleveland.com article, and then using the article as a starting point for learning what facilities are closed in parks. Through his article, you will not only learn what is currently open or closed, but since he lists the all the local park systems, you may learn about a new park to visit. The day you go to a park, we recommend visiting the park's coronavirus update web page for the most current information. Please share his video with others by sending it to others, or by retweeting its link from one of the following tweets. Safety is important.
We learned about John Pana's safety video by following @JohnPanaCLE on Twitter -- if you are interesting in hiking, biking, and other fun outdoor activities in our community, be sure to follow @JohnPanaCLE for more videos. After seeing the following tweets, we learned about more outdoor fun ideas!
Also, please note that some parks are encouraging people to follow their trails in a certain direction:
On May 13, 2020, we followed the Summit Metro Parks directional signs that we learned about via these tweets.
CHAGRIN RIVER PARK
The Chagrin River runs through this park located in the communities of Eastlake & Willoughby.

Most of the park's natural areas are made up of dense shrubs with pockets of mature forest bordering wetland areas. Look for great blue herons, kingfishers, bank swallows and sandpipers near the river. Two wetland areas support frogs, salamanders and a variety of songbirds. The seasonal wetland near the picnic shelter serves as a haven for great blue heron and ducks, such as mallards and blue-winged teal. Park land on the east and west bank of the Chagrin River are linked by a pedestrian bridge. Access is provided to more than 2.83 miles of trails.

Anglers will enjoy fishing along the banks of the Chagrin River. An Ohio fishing license is required to fish in the Chagrin River.

PARK HISTORY
The site is named the Reeve Village site for the property's owner, Dr. George N. Reeve. People living here between 1250 and 1500 AD have been named the Whittlesey Culture after the archaeologist Charles Whittlesey, who found evidence of earthworks along the Chagrin River just downstream from this park. During several excavations, a variety of artifacts including clay vessels, bird bone beads, projectile points, scrapers and a large number of smoking or ceremonial pipes were found. These can now be seen at the Indian Museum of Lake County.
Acacia Reservation, a 155-acre green space oasis, is located in the City of Lyndhurst. The west branch of Euclid Creek flows northwest through Acacia Reservation to join the main creek branch in Euclid Creek Reservation. A 1.7-mile paved loop trail is located in the Reservation, and the building at the main entrance is currently available to rent for programming and events.
VALLEYS & SCENIC HILLSIDES CREATE
NATURAL HOLLOWS TO EXPLORE

This 131-acre park provides access to Cleveland Metroparks' South Chagrin Reservation bridle trail. Four trails total 2.8 miles. Features opening in 2019 include a reservable lodge with a back garage door that opens to a unique tiered patio with a fire pit, as well as a nearby Nature-themed/based playground with hillside slides and agility ropes.
Take in Cleveland's beautiful lakefront at Huntington Reservation. Go for a hike, swim, kayak or fish!

Huntington Reservation is located in Bay Village on the shores of Lake Erie. Picnic areas high above the beach offer visitors opportunities to enjoy the striking and ever-changing lake views. The reservation is also home to two Cleveland Metroparks affiliates: Lake Erie Nature & Science Center, and BAYarts.

Huntington Reservation, acquired by Cleveland Metroparks in 1925, has been and continues to serve as the lakefront home to an extensive variety of Ohio wildlife, the site of refuge and relaxation, philanthropic ventures, educational endeavors, and host to the local arts scene.

Huntington Reservation offers many recreational and educational opportunities. Three miles of nature trails pass through a variety of habitats ranging from forest, creek, and meadow. Educational programming is provided by Rocky River Nature Center staff and Lake Erie Nature and Science Center.
While walking on the arts campus of BAYarts, we recognized a mural in the style of one of our favorites, Rust Belt Monsters. We have often enjoyed @RustBeltMonster's live art presentations at events like Brite Winter, NEO Cycle, and Ingenuityfest Weekend. Please see what we have written that has been tagged as Rust Belt Monster blog posts to learn more about their creative artwork.
Thank you, @BayArts_Ohio, for the shout-out!
SOMETHING FOR EVERYONE
GAMES, GET-TOGETHERS & EXERCISE

This 73-acre park was maintained for horticultural purposes for much of the 20th century. Four trails total 1.64 miles. Recreation areas include horseshoe pits, a bocce court and tetherball.
@CVNPNPS Twitter Survey
What is your favorite activity @CVNPNPS?
Survey says -- Hiking in CVNP! We agree!
Thanks for the shout-out @CVNPNPS!!
Mentor Marsh, one of the largest natural marshes remaining along the Lake Erie shoreline, became Ohio's first state nature preserve in 1971. The marsh is an important breeding and nursery area for several fish that live in Lake Erie. Mentor Marsh and the adjacent Headlands Dunes State Nature Preserve are among the best places in the state to witness spring migrations of songbirds. Great numbers of waterfowl also stop at the marsh during seasonal migrations, such as blue-winged teal, American wigeon, gadwall, American black duck, Northern shoveler and hooded merganser.
We hiked on the Zimmerman Trail in the Mentor Marsh Nature Preserve. This trail is part of Ohio's Buckeye Trail near its northern terminus in Headlands Beach State Park.
The history of the rehabilitation of this marsh is very interesting -- learn more on the Cleveland Museum of Natural History web page about the Mentor Marsh.
We were excited to see a bald eagle nest, and as well as several pre-adult eagles flying overhead! To learn more about the eagles and Mentor Marsh, be sure to see our blog post:
WETLANDS & WOODLANDS
FEATURING LOTS OF LUSH PRAIRIE HABITAT

This 298-acre park features a 100-acre prairie and trails through the woodlands. Two trails total 3.5 miles. All ages can have fun playing tetherball here.
The Buckeye Trail. . .

For nearly 1444 miles, the Buckeye Trail winds around Ohio, reaching into every corner of the state. From a beachhead on Lake Erie near Cleveland, to a hilltop overlooking the Ohio River in Cincinnati, a hiker can experience a little of all that Ohio has to offer.

First envisioned in the late 1950's as a trail from the Ohio River to Lake Erie, the Buckeye Trail evolved into a large loop, branching both north and east from Cincinnati. The separate legs rejoin in the Cuyahoga Valley National Park near Cleveland, and complete the trip to the lake. Because it is a loop, it is also in essence, endless. You may start a hike at any point and hike as long as you want without ever reaching an end!

The Buckeye Trail Association . . .

The Buckeye Trail Association is a large, strong body of volunteers who maintain and promote the trail. Though the entire route is marked, the Buckeye Trail continues to change and improve. The BTA looks for ways to move road sections off the roads, and to upgrade those off-road sections to high quality trail.
If you do a search for "Buckeye Trail" in my sosAssociates.com blog posts (by clicking here), you will see that I mention this trail often. (While writing this blog post, I created a Buckeye Trail blog tag.) With The Buckeye Trail reaching all corners of the state, Ohio has the longest trail within any one state -- many people don't know this fact about Ohio!
I have been doing sections of the The Buckeye Trail's "Little Loop," and plan to eventually complete this over-250-Mile loop in northeast Ohio.
The remoteness of this [Buckeye Trail Akron] section is quite amazing. The Akron Section is one of two sections that contain very large proportions of off road trail. And only 4% is recorded on sidewalk. The other extreme section is Loveland. Both sections include urban centers.

In the Akron Section, the Buckeye Trail (BT) passes through the Cuyahoga Valley National Park, including several units of both Cleveland Metroparks and Metroparks Serving Summit County.
On Thursday, May 7, 2020, starting in the Akron section of the Buckeye Trail, I first hiked to the Cleveland Metroparks Ottawa Overlook Backcountry Sites. Here is the original PDF file of the map of the Ottawa Overlook Backcountry campsites. The campsite permit is free, but be sure to read the backcountry campsite regulations and learn the Leave No Trace Principles.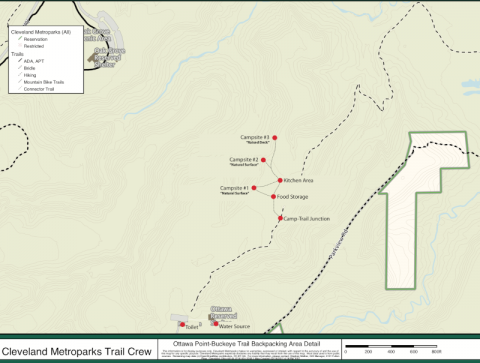 Enlarge Image
Are you interested in learning more information about campsites in our local parks? Be sure to see the section we added at the end of this blog post: "Park Campsites."
CONSERVE. CONNECT. INSPIRE.

THE NATURE CENTER

Our story is one that is rich with history. A small but mighty Nature Center, we were founded in 1966 to prevent a highway from destroying this treasured green space. Since, we've worked to educate the next generation of 'Freeway Fighters' about the environment and provide a free space for people to deepen their connection to nature.

OUR MISSION

The Nature Center at Shaker Lakes conserves a natural area, connects people with nature and inspires environmental stewardship.

OUR VISION

The Nature Center at Shaker Lakes will be recognized as a model urban environmental resource that welcomes all and enriches people's lives through education, innovative programs and community involvement.
Despite the unusual, snowy weather for early May, it was a great day to explore this park! The story of how the Nature Center at Shaker Lakes saved this greenspace is unique -- we recommend you learn more by visiting their ShakerLakes.org website.
When we visited, we saw our friend, Christi Carlson, who is the Welcome Desk Supervisor at the Nature Center. She and some new staff members to whom she introduced us were working on cleaning the park grounds. They let us know that it was good that we came that day, since part of the grounds of the Nature Center at Shaker Lakes would be closed soon for a major renovation project.
Here is a video which shows some of the work that has already been done, plus a little of what is still coming this fall.
Stearns Woodland Trail is closing for vital restoration and renovation beginning Monday, May 11. This exciting project is the third phase of a comprehensive vision to enhance and reinvigorate our outdoor classroom, which will expand our ability to fulfill our mission to conserve a natural area, educate visitors about nature, and inspire environmental stewardship.

The new fully restored Stearns Woodland Trail will include enhanced features such as:

A NATURE PLAY AREA
featuring natural structure and materials for creative play in nature

A TREEHOUSE
for imaginative play, giving a bird's eye view to the surrounding forest canopy

WETLAND OBSERVATION DECK
with increased seating alongside our south marsh

A NEW, WELCOMING ENTRANCE AND TRAIL INFRASTRUCTURE
for added safety and trail stability

RESTORATION
of surrounding habitats

INTERPRETIVE SIGNAGE
to enhance visitor experiences and connections with nature
In the Akron Section, the Buckeye Trail (BT) passes through the Cuyahoga Valley National Park . . . Included are cliffs, waterfalls and many artifacts from the Ohio & Erie Canal.
The Ohio & Erie Canalway is a National Heritage Area designated by Congress in 1996 to help preserve and celebrate the rails, trails, landscapes, towns and sites that grew up along the first 110 miles of the canal that helped America and our nation grow. Annually, more than 2.5 million Americans find their way to the iconic 87-mile Towpath Trail running through the heart of the Canalway.
Information about the Cuyahoga Valley National Park from the Ohio & Erie Canalway website:
CUYAHOGA VALLEY NATIONAL PARK

Cuyahoga Valley National Park preserves and protects 33,000 acres along the Cuyahoga River between Cleveland and Akron, Ohio. Managed by the National Park Service, the National Park combines cultural, historical, recreational and natural activities in one setting. It's one of the Top 11 most visited parks in the National Park System, welcoming over 2 million visitors every year.

The park runs through the southern Cuyahoga County and northern Summit County sections of the Ohio & Erie Canalway National Heritage Area.

Learn more at the CVNP website.
Julie drove down to Cuyahoga Valley National Park and joined Stuart for the latter part of his hike on this section of the Buckeye Trail. We saw a beautiful pileated woodpecker, and some dazzling yellow warblers.
Visitors pass by a unique system of sandstone ledges, into Glacier Cave and to a wetland before traveling back to the trailhead over a long boardwalk. The plants growing close to the rock are called the "living skin." Ferns, mosses and lichens make up this "living skin." For the protection of natural resources, please stay on the trail.

History & Wildlife

Long before Liberty Park was formed, prehistoric people camped here, drank the clean, cold springs, and hunted game. Upon European settlement, trees were cleared for farming, but maples were spared for their sweet sap.

Today a nature center sits amid 3,000 acres. The park harbors countless rare and endangered species, including Indiana bats, marsh wrens, and bald eagles. Other creatures seen here include beavers, otters, red-backed salamanders, wood frogs, gray ratsnakes, and numerous dragonflies and butterflies. Large trees exist on rock ledges and in wetlands within the conservation area, where fens and bogs are "protected" by poison sumac and swamp rose. In 2006, Liberty Park was designated as an Important Bird Area by the Audubon Society.

The park (the largest natural area managed by Summit Metro Parks) is a unique partnership between the City of Twinsburg, Ohio State Parks and the park district. In 2001, Twinsburg residents passed a bond measure to purchase the Twinsburg Ledges Area. In 2014, Summit Metro Parks entered into an agreement with the Ohio State Parks to manage Tinkers Creek State Park and Tinkers Creek State Nature Preserve. The State properties are contiguous with Liberty Park's Pond Brook Conservation Area.

Liberty Park Ledges is a special ecological area that has been set aside for the study and enjoyment of nature.
We have been seeing some fascinating birds in our travels. On this day, we saw a rose-breasted grosbeak! The trail here included some cool rock formations, including Glacier Cave, and a long boardwalk by wetlands.
TO GEAUGA AND BEYOND...




ENJOY STARS ABOVE & BEAUTY BELOW

This 1,100-acre park encourages visitors to explore Nature from the ground to the galaxies. Six trails total 3.97 miles. Numerous site features include a trail with interactive pods representing each trail proportionate to the sun, a trail with interactive stations representing ways to study weather, life-sized cornerstones of the Great Pyramid of Giza, earthern mounds, henge stones and, via a woodland trail, access to the Nassau Astronomical Station.
This park offers a fun and unusual way to learn about our solar system, astronomy, and weather! We also enjoyed walking the Woodland Loop Trail which leads to the Nassau Astronomical Station.
NASSAU ASTRONOMICAL STATION




ASTRONOMY NIGHTS

Just north at 10350 Clay Street, or accessible via woodland trails, find a separate entrance to the Nassau Astronomical Station, which was renovated and reopened in August 2017. The Nassau Astronomical Station was built in 1957 by the Warner & Swasey Company of Cleveland; researchers at Case Western Reserve University used it for visual study of the heavens through the '80s. Geauga Park District teamed with CWRU to offer public Astronomy Nights at Nassau from 1994 to 2005, and after CWRU discontinued use of the station, it sold the facility to Geauga Park District in 2008.

"Nassau Astronomical Station's 36" Warner & Swasey telescope is one of the largest public viewing scopes in the state of Ohio," Geauga Park District Executive Director John Oros said. "We are excited to provide opportunities to experience astronomy and the night skies to our residents now and for many, many years to come."

Fundraising efforts made it possible to restore the facility and telescope to their former glory. In addition to the restoration of the area's largest publicly accessible research-grade telescope and refurbishment of the equipment necessary for its operation, renovations to Nassau included the addition of museum features, redecorating in the historic living quarters, wheelchair accessibility to the upper telescope floor, and restrooms.
1 OF ONLY 39 IN THE U.S.
DARK SKY PARK

Observatory Park has permanent distinction from the International Dark-Sky Association as a Silver Tier Dark Sky Park. As of December 2017, it was one of only 39 Dark Sky Parks in the U.S. and 55 in the world.

Visitors to the park will notice downward-facing red lighting. Light pollution worldwide is increasing faster than ever, but why should we care? Click here for details.
Stuart had just learned about the International Dark-Sky Association (IDA) last month, so it was very interesting to see the Geauga Observatory Park (U.S.) listed on their website.
Lake Erie Bluffs is nationally significant. The property permanently protects a significant amount of wetland, meadow and mostly undeveloped lakefront habitat used by rare and common plant and animal species. The mix of 40-foot-high beach bluffs and open sandy and cobble beach across 9,000 feet of shoreline are the site's dominant features. The beach area hosts trees, shrubs and small plants including the majority of the park's rare plants.

Visitors can enjoy low-impact recreational activities such as hiking and fishing at this park. Improvements made to enhance public use include parking lots, a reservable three-season shelter, restrooms and installation of gravel trails with scenic overlooks and access to a natural beach along Lake Erie.

. . .

The development of Lake Erie Bluffs was made possible with help from a wide range of committed partners. Working together, this collaborative effort secured more than $10 million in local, state and federal competitive grants and donations to purchase the $11 million property. More than 1.6 miles of undeveloped shoreline and nearly 600 acres of diverse and important natural habitat are now protected by Lake Metroparks thanks to the help of many valuable partners.

The funding for Lake Metroparks' purchase came from the following sources: Clean Ohio Conservation Fund, Ohio Department of Natural Resources, Ohio Environmental Protection Agency, National Oceanic and Atmospheric Administration, U.S. Fish and Wildlife Service, National Fish and Wildlife Foundation, The Conservation Fund, the Novak Trust, Lake County Soil and Water Conservation District and the Lake Metroparks Improvement Fund. The project would not have been possible without the dedicated support and hard work of the Western Reserve Land Conservancy and The Trust for Public Lands.
On a lovely evening walk, we saw another rose-breasted grosbeak, many red-winged blackbirds, three deer, and two rabbits.
When returning to the tower, we saw the camera for the Lake Erie Bluffs webcam video feed:
Due to the coronavirus crisis, the tower and campsite areas were closed, so here are some tweets with photos that I shared on Twitter when we were there in early March -- a week before venues started closing in Ohio, and two weeks before the tower closed on March 22, 2020. I also included information about the monarch butterfly waystation, and more photos of sunsets on Lake Erie.
Once the site of the famous Euclid Beach Amusement Park, Euclid Beach Park now features a 650' beach with shaded picnic areas, a scenic observation pier and a reservable pavilion. Though it closed in 1969, signs of the amusement park including the shuffleboard area, remnants of the beachside fountain and concrete footers of the Flying Turns roller coaster are still visible.
Julie and our son, Kevin F. Smith, are on the Board of Euclid Beach Park Now, and Julie is a ride attendant at the restored Euclid Beach Park Grand Carousel at the Cleveland History Center. Therefore, it is appropriate that we did our last park walk for this blog post at Euclid Beach on the 110th birthday of the Euclid Beach Park Grand Carousel. Here is an announcement by the Cleveland History Center about the Carousel followed by our @sos_jr tweets photos from our sunny afternoon walk:
As we stated at the beginning of this blog post, one of our goals of writing this was to "further explore past favorites." In planning our walk at Euclid Beach, we took at look at the park map and decided to go further down the lakeside path to explore the neighboring Villa Angela Beach and Wildwood Marina.
Villa Angela is a quiet woodlot named for the Catholic School once located on the site. The beach offers swimming when permitted, and is a favorite location for bird and monarch butterfly observation.
Along the west bank of the mouth of the Euclid Creek, Wildwood Park provides access to the marina, the fishing pier, hiking trails and a picnic shelter.
Wildwood Marina Ship Store & Fuel Dock Open daily after Memorial Day from 8 a.m. to 7 p.m. Enjoy a fully stocked ship store with all your fishing and boating needs. Live bait and tackle are available from our knowledgeable marina staff.
The mission of Euclid Beach Park Now is: To support the education of the public as to the history of Euclid Beach Park through lectures, exhibits, displays, memorabilia shows, television and radio appearances, and any other available form.

This website was launched to assist in meeting that part of the mission. It contains historical information on Euclid Beach Park and some of its rides and attractions. Euclid Beach Park opened on June 22, 1895, and closed on September 28, 1969, after 74 seasons.

The western portion of the old amusement park is occupied by a health service facility and two senior citizen high rise apartments. The old arched entrance to the amusement park stands at the entrance to these facilities on Lake Shore Boulevard at East 159 Street, Cleveland, OH 44110. The eastern portion of the old amusement park is now a public park under the management of Cleveland Metroparks. The entrance to the current park is at 16301 Lake Shore Boulevard, Cleveland, OH 44110.
We recommend if you want to learn more about the history of this famous Cleveland amusement park, please see the Euclid Beach Park Now website, and read our blog post:
Thank you, @CleStartsHere, for the shout-out!
---
Park Campsites
We wanted to add this section about campsites, since topic came up on Twitter. Also, we have seen some of the campsites and they are really nice!
For years, we did not know of any local park systems that had campsites. Now, we learned that most park systems do have campsites. Here is information as well as links to learn more:
Obviously, some campsites may be closed due to the current coronavirus crisis, but we still wanted to let everyone know this information for the future.
Related Blog Posts
Our afternoon park walks, and Stuart's hikes on the Buckeye Trail, are filling the void caused by so many activities being canceled. Most of the venues that we write our sosAssociates.com/Blog posts about are currently closed. Our "Social Distancing" blog posts capture some of our current activities. Once the coronavirus crisis is over, it will be interesting to read these to see the contrast between these times and "normal life."
Also, please see all my trail-related blog posts by clicking here.
Stay well!