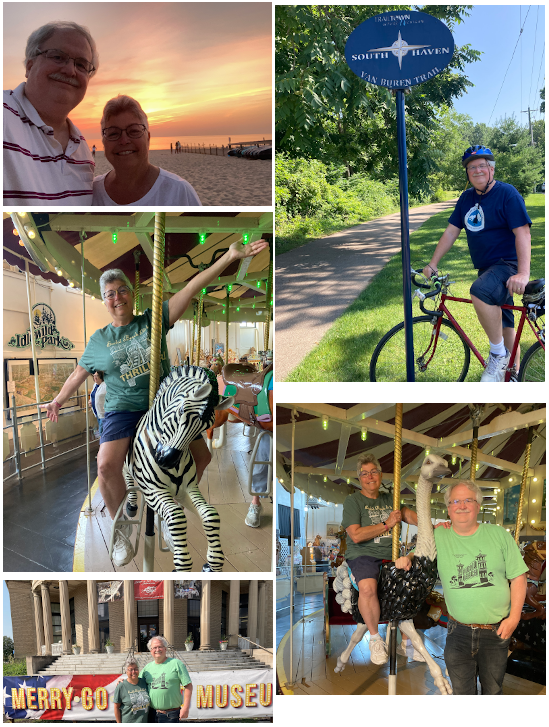 Enlarge Image
We wanted to share our summer vacation with you, so we created this blog post to capture our experiences in and around South Haven, Michigan, and at the Merry-Go-Round Museum in Sandusky, Ohio. Originally, we had planned a trip to Alaska for August 2023 that we decided to cancel due to the uncertainty about Stuart's recovery following his surgery. We thought it was best to make our 2023 vacation within a day's drive from our home. South Haven is just over four and a half hours from Cleveland.
Please see our three Hypertrophic Cardiomyopathy blog posts to learn how Stuart went from not being able to walk up two steps without being completely winded, to his current status of being fully recovered. Part of the reason for the delay in publishing this blog post is that Stuart didn't have time to organize his photos from the trip, since he has been very busy making up for the six months that he was not able to be active. He has been hiking sections of the Buckeye Trail to regain his stamina, working out at University Hospitals cardiac rehabilitation program and attending four days of hiking workshops at the Buckeye Trail Associations's 2023 Trailfest/campout. He has also been planning our trip this coming weekend to an Appalachian Trail (A.T.) thru-hikers reunion at the A.T. Museum (the A.T. Hall Of Fame Induction Ceremony weekend is also this weekend). Stuart is also getting ready for a backpacking trip on the Appalachian Trail later this month. We were sad to have to postpone our Alaska trip, since it has been a dream of Julie's for as long as Stuart has known her, but this week, we have already begun planning an Alaska adventure for 2024!
We organized this blog post around Stuart's photos and videos about different parts of our vacation:
Monday, July 31, 2023 - Monday, August 7, 2023, Michigan Vacation
Monday/Tuesday, August 7 - 8, 2023 - Exploring Sandusky & Huron, Ohio
We hope you enjoy learning about our vacation! We recommend viewing the videos of our trip in full screen view.
Monday, July 31, 2023 - Monday, August 7, 2023, Michigan Vacation
Sunset Inn Bed & Breakfast
The Sunset Inn is centrally located on the beautiful North Shore Peninsula where the Black River meets Lake Michigan. 25 feet to South Haven's Picturesque Marina, or 270 level steps (no stairs) to the water at Beautiful North Beach . Walk to several Fine Restaurants and Antique Shops. Our Bed and Breakfast is open May through September. . . .

There is so much to see and do in the area surrounding Sunset Inn. Enjoy hiking, biking, fishing, and more in the great outdoors. Or explore historic landmarks, art galleries, and quaint shops in nearby towns.
Julie learned online about the Sunset Inn in South Haven, Michigan, and staying at this Bed & Breakfast ended up being an excellent choice for us! It was so conveniently located that most days during our stay in South Haven, we didn't even drive our van. North Beach was a short walk from the front door (about 0.1 miles), and the Black River, with its scenic riverfront path to town, was just at the bottom the steep back drive. The center of downtown South Haven is about 0.8 miles from Sunset Inn. We enjoyed walking around the area with its public artwork, beaches, riverfront, and gardens so much that most days, Julie's Fitbit indicated we walked four to five miles.
Breakfast was served daily at the tiki hut at the front of the house, and choices consisted of potatoes with onions, eggs, sausage, St Pierre Brioche Waffles, yogurt, fruit, cereals, and a huge selection of bakery and snack foods. Some days, blueberry pancakes were were made for us -- this area of Michigan is known for its blueberries. We ate outside at a table next to the tiki hut with other guests of the Bed & Breakfast. This was a good way to meet new people, and get information from them about places to visit in the area.
Very funny -- the part of the tiki hut facing the street displays the psychiatric booth run by Lucy Van Pelt of Charles Schulz's Peanuts comic strip -- see photo of Stuart visiting the psych booth. Since Lucy is often giving advice to a Charlie (Charlie Brown), we found it humorous that the owner of Sunset Inn is also a "Charlie" -- Charlie Dever.
Here are our photos of the house, tiki hut, and flowers in front of the house:
We recommend viewing in full screen mode!
South Haven, Michigan
Welcome To South Haven, Michigan

From the beautiful beaches along Lake Michigan to the eclectic eateries, award-winning wineries, quaint boutiques and the natural scenic surroundings - there's just something special about this place.

South Haven and the surrounding West Michigan area offer much more than typical tourism, but a vacation getaway experience you'll never forget. The charming beach town of South Haven offers lakeside fun for the entire family, a walk-able downtown with unique shops and restaurants, and enough maritime history, arts, live music, and culture to keep you coming back time and time again.
We noted that South Haven had several ice cream establishments in town within a short distance of each other, which helped us cool off on hot days. The ice cream parlors were interspersed with many fun beach-themed shops and public artwork. Most days, we walked to town for our meals. Clementine's, which is located in an historic former bank building, is the most famous restaurant in town. Its fame unfortunately causes long waiting lines -- the owner of Sunset Inn, Charlie Dever, gave us good advice to ask to be seated at the bar to eat, so that we didn't need to wait in the lines. In addition to walking to the eateries in town, and Captain Lou's Boathouse & Grill on the riverfront, on Wednesday, we drove to a 50's style drive-in restaurant that was nearby.
"When the RED flag is flying the water is closed to the public due to the high surf and/or strong currents. Rip currents are especially prevalent and dangerous along the piers."
In South Haven, a Red Flag Day is a day to stay out of Lake Michigan -- we were fortunate to have had good swimming weather while we were visting. We saw S.H.A.P.E. (South Haven Ambassadors Program & Education) posters in town with a QR code that led to their "Fun things to do on Red Flag Days" web page with suggestions on what to do on bad weather days. Of course, all of their suggestions are also good for any day that you want to visit other venues other than the beach. We liked the ideas listed by S.H.A.P.E., and suggest you take a look at their list when visiting South Haven.
On Thursday nights, the City of South Haven has their outdoor Riverfront Concert Series. On Wednesdays and Saturdays, the South Haven Farm Market attracts a huge crowd with their local foods and crafts. We met a woman who makes handcrafted cloth purses, and we purchased one for Julie.
On Sunday, we had our only slightly rainy day, so we toured the Michigan Maritime Museum (see museum photos below), which was very near the Sunset Inn, and then walked into town to take in the movie Oppenheimer at the local historic movie theater -- the Michigan Theatre.
We recommend viewing in full screen mode!
Waterfront: Lake Michigan & Black River
City Of South Haven Beach Camera

South Haven Light - 360° Live Lighthouse Cam on Lake Michigan Historical Association of South Haven
. . . Started streaming on Aug 7, 2023
About the Light-
The South Haven South Pierhead Light is a lighthouse in Michigan, at the entrance to the Black River on Lake Michigan. The station was lit in 1872, and is still operational. The tower is a shortened version of the Muskegon South Pierhead Light, and replaced an 1872 wooden tower. The catwalk is original and still links the tower to shore: it is one of only four that survive in the State of Michigan. To learn more or to support the Light, visit https://southhavenlight.org

Historical Association of South Haven is responsible for the care of our beautiful lighthouse. Visit HASH at https://historyofsouthhaven.org
The waterfront, both Lake Michigan and the Black River, is the main draw for vacationers coming to South Haven. Visitors enjoy swimming, walking the riverfront path and beaches, boating, sunbathing, and watching the great sunsets over the lake. On Wednesday night, the sunset at North Beach even got a round of applause from the people on the beach!
Of course, concession stand on both North Beach and South Beach offer many varieties of ice cream!
Another advantage of staying at the Sunset Inn, is that they provide beach umbrellas for guests. On a sunny day, the shade of an umbrella is very much welcomed if you want to spend any length of time on the beach.
We recommend viewing in full screen mode!
Day Three: Wednesday, August 2, 2023 - Kal-Haven Bike Trail


Open Image of Map in New Browser Window
Click HERE to open Kal-Haven Trail Map PDF file (53 KB) in new browser window.
Stretching 33.4 miles between Kalamazoo and South Haven in southwest Michigan, Kal-Haven Trail State Park rests on an abandoned railroad bed constructed in 1871. The converted rail-trail winds through gorgeous scenery including wooded areas, farmlands, streams and rivers.

Today, the limestone/slag trail is a popular destination for hikers, bikers, cross-country skiers and snowmobilers. A much-anticipated stop along the trail is Camelback Bridge.

The trail has been recognized as a Pure Michigan Trail and designated as a heritage trail. The City of South Haven has also been designated as a Pure Michigan Designated Trail Town.

The Kal-Haven Heritage Trail project includes 31 exhibit panels that explore the natural and cultural history of the area. An accessible mobile app adds the opportunity to explore the area's natural and cultural history. Using geo-locations, the app will alert users about nearby heritage sites. To get the app, Android users can download it on Google Play, and Apple iPhone users can access it through a web browser at iwr.msu.edu/KHT/
The Friends of the Kal-Haven Trail are community members who originally gathered for the purpose of transforming an abandoned railroad into a regional trail and tourist destination. Today we focus on maintaining and growing the Kal-Haven and Van Buren Trails.

Our Mission Our mission is to provide support for expansion and maintenance of the Trails and continued programming, thereby attracting more people to take advantage of this regional resource.
Welcome to Bumbleberry Acres WHERE FARM MEETS FUN!

Blueberry u-pick . . .

Tour the Farm!
Take a tractor ride to tour the farm! You get to taste different blueberries and learn all about the blueberries and the farm. Great family activity.

Farm Animals
Come meet and pet our farm animals. We have goats, donkeys, bunnies, and more!

See How we package our Blueberries
On Wednesday, we rode our bikes to the Black River Park Marina and Boat Launch, and then rode the beautiful Kal-Haven Bike Trail to Bumbleberry Acres for a lunch of their blueberry crumble. Bumbleberry Acres was a good destination for us, since in addition to blueberry treats, they have a petting zoo and other activities. If you go to South Haven, we highly recommend you bring your bikes and ride the Kal-Haven rail-trail.
We recommend viewing in full screen mode!
Day Four: Thursday, August 3, 2023 - Day Trip to Saugatuck, Michigan
Welcome to Saugatuck/Douglas
From award-winning beaches to scenic waterways and grassy dunes, from a thriving art scene born from a creative, open-minded culture to a culinary landscape that's become world-renowned—this is a one-of-a-kind place where people long to stay.

For a getaway that's rich in both recreation and relaxation, explore Saugatuck/Douglas and discover your ultimate escape.
Saugatuck Center for the Arts

. . . For more than a century, Saugatuck has been home to a renowned artist colony (now the Ox-Bow School of Art & Artists' Residency) and lots of artists. In 2001, a group of local creatives looked to that legacy with a larger purpose in mind. Believing that a great arts community should have a great art center, and that a robust art center could help create an even more vibrant community, they purchased the abandoned Lloyd J. Harriss Pie Company factory.

They envisioned the factory coming to life again, this time as a buzzing community-based art center. Fast forward and indeed, the former pie factory – now the Saugatuck Center for the Arts – is not only buzzing with year-round activity, it is the center of gravity for a community built on creative spirit.
The weather forecast for Thursday was hot, so we decided to tour the countryside in our air conditioned van. We visited some small parks along Lake Michigan, including West Side County Park, on our way to Saugatuck, Michigan. We enjoyed Saugatuck's beautiful gardens, waterfront, and public art. The Saugatuck Center for the Arts is also located here.
We recommend viewing in full screen mode!
Day Five: Friday, August 4, 2023 - Van Buren Bike Trail


Open Image of Map in New Browser Window
Click HERE to open map of both the Van Buren Trail and Kal-Haven Trail PDF file (345 KB) in new browser window.
The Van Buren Trail State Park is a 14-mile linear, multi-use trail that links the cities of Hartford with South Haven via Covert. The trail runs through open farmland, blueberry fields, dense forests, cranberry glades and wooded areas. As it crosses the Paw Paw river it enters Potawatomi tribal territory. The surface of the trail creates a challenging ride that is more suitable for hiking, horseback riding, and snowmobiling. And though flat, mountain bikes often find the trail a challenging and worthwhile ride.
. . .
The paved Van Buren Trail Spur, opened in 2015, is a 4.5 mile paved trail connecting the Van Buren State Park to the City of South Haven.
Together, we started riding the Van Buren Trail from South Haven, and then Stuart continued on the Van Buren Trail Spur all the way to the Van Buren State Park, which offers camping and other activities. On the way back, he stopped to see the South Haven Disc Golf Park, which was established in 2021.
We recommend viewing in full screen mode!
Day Seven: Sunday, August 6, 2023 - Michigan Maritime Museum
We are excited to announce the opening of our new Maritime Heritage Center, which features our latest exhibit, Full Steam Ahead: The Golden Age of Great Lakes Passenger Steamships!

From hands-on exhibits at an authentic waterfront campus to historically immersive experiences aboard an on-water fleet, the Michigan Maritime Museum has something for every Great Lakes enthusiast.

Five separate structures offer a variety of engaging opportunities for the Museum visitor, including permanent and changing exhibits on Michigan maritime history, a center for the teaching of boat-building and related maritime skills, and a fleet of period and replica vessels available to visitors for on-water experiences. Waterfront festivals and events are complemented by the hustle and bustle of a modern harbor and vast sandy beaches in one of west Michigan's most picturesque shoreline communities.
We waited until our last full day to visit the Michigan Maritime Museum, since we wrongly assumed that the main building was one big room that would not take long to tour. The museum looks bigger on the inside than it does from the outside. We ended up touring the inside of the main display all morning, had lunch next door at Captain's Lou's Boathouse & Grill on the riverfront, and then returned to see the historic boats and other buildings with displays.
We recommend viewing in full screen mode!
On Monday, August 7, 2023 (Day Eight), after our final breakfast at the Sunset Inn Bed & Breakfast, we traveled back east to Ohio. We carried with us fond memories of our time vacationing in South Haven, Michigan.
Monday/Tuesday, August 7 - 8, 2023 - Exploring Sandusky & Huron, Ohio
Day Eight: Monday, August 7, 2023 - Afternoon/Evening Exploring Sandusky, Ohio
Community Foundation Preserve at Eagle Point
Eagle Point provides countless opportunities to enjoy nature from birdwatching, hiking, kayaking, canoeing, and more! Designated as a stop on the Lake Erie Birding Trail, this park offers excellent birding year-round and can be extraordinary during the spring migration.

. . .

Erie Metro Live Steamers is a nonprofit group that promotes railroad history, safety, education, and the live steam community. The club operates an ever-growing layout of 7.5-inch gauge track and has scheduled about ten public runs per year. Find out more at www.eriemetrolivesteamers.com

Also located within the Eagle Point area is the Enchanted Cottage which features a beautiful deck overlooking Plum Brook. Multiple public programs are held at The Enchanted Cottage and it is also available to the public by reservation for children's themed parties.
Discover Ghostly Manor For Fun Things To Do In Sandusky, Ohio!

Are you keen on discovering family fun near Cleveland? Set your destination to Sandusky, Ohio! There's a gem tucked away in the heart of this bustling city: the Ghostly Manor Thrill Center. Known as a prime hub for varied and exhilarating entertainment options, Ghostly Manor is a favorite attraction for friends and family members of all ages.

. . . . Get a taste of the excitement by exploring the full 360° tour video here.
After our drive from South Haven, we first visited Erie Metroparks' Eagle Point. The Enchanted Cottage area of Erie Metroparks' Eagle Point has great displays with fun activities for interacting with your environment. From there, we walked the trails to the Erie Metro Live Steamers area of the park. It was a very impressive area of 7.5-inch-gauge tracks for miniature trains that people can ride. We were familiar with this type of live steamer train from the Lake Metroparks Penitentiary Glen, which we wrote about in our blog post:
Sandusky's Shoreline Park has some unique public artwork in the form of sculptures suspended on cables above the park. Cedar Point Amusement Park can be seen from this park.
We ended our day with some 3D Blacklight Mini-Golf, as we took the "Wizard's Journey" at the Ghostly Manor Thrill Center. We wore 3D glasses that made Stuart's orange golf ball appear to float above the floor, and Julie's blue golf ball appear to be lower than the floor.
We recommend viewing in full screen mode!
Day Nine: Tuesday, August 8, 2023 - Merry-Go-Round Museum
TAKE A RIDE ON STARGAZER
The carousel at the heart of the museum was purchased in 1991 as a permanent addition to the collections. Built in North Tonawanda, New York, the machine came without any of the original animals. The frame was cleaned and refurbished, scenery panels were repainted, and museum staff and volunteers constructed a new platform.
The doors to the Merry-Go-Round Museum opened to the public on July, 14, 1990 but the idea was born on October 1, 1988 when the U.S. Postal Service issued four carousel stamps. . . .

The Merry-Go-Round Museum display artifacts that add to the public's awareness, knowledge, and appreciation of the history of the carousel. Dentzel carving shop tools are a permanent exhibit, along with a working woodcarving shop, and the museum's own machine, (circa 1939 Allan Herschell Corporation). The museum continues to seek artifacts from amusement parks, carnivals, and private individuals, and encourages long and short-term loans of memorabilia and antiques from earlier periods of the amusement and carousel industry.
Julie volunteers every week at the Euclid Beach Park Grand Carousel in the Western Reserve Historical Society's Cleveland History Center. Therefore, we could not pass up the chance to stop at the Merry-Go-Round Museum in Sandusky on the way home from Michigan.
The museum includes displays on merry-go-round history, and is filled with many fascinating carved animals, carousel miniatures, band organs, and memorabilia. The centerpiece of the museum is the beautiful Stargazer Merry-Go-Round. FYI, a merry-go-round has a variety of carved animals, whereas a carousel (like the one at the Cleveland History Center) features only horses.
Within the museum, there was an exhibit of Euclid Beach Park memorabilia, some of the memorabilia in the museum we recognize at being the same as our son, Kevin's memorabilia Euclid Beach Park collection. See our Euclid Beach Park blog posts to learn more!
We highly recommend visiting the Merry-Go-Round Museum, and we hope you enjoy our photos of their displays:
We recommend viewing in full screen mode!
Day Nine: Tuesday, August 8, 2023 - Afternoon Exploring Huron, Ohio
After leaving the Merry-Go-Round Museum, we had lunch at the Sand Bar restaurant and visited some sights along the shoreline of Lake Erie in Huron, Ohio.
We recommend viewing in full screen mode!
Related Blog Posts
Here are our other "travel" blog posts that you might find interesting:
Find related blog posts using these blog tags:
Read about how you can ride the The Lake Shore Live Steamers just east of Cleveland at Lake Metroparks Penitentiary Glen in our blog post:
We were very grateful to be able to go on this wonderful vacation after the events that occurred earlier this year.