Enlarge Image
This blog post is about the creative and historical events I attended Friday, September 24, 2021, through Sunday, September 26, 2021:
moCa Cleveland (Museum of Contemporary Art Cleveland) and more in University Circle

Ingenuity at the Lake

16th Annual Remembering The Sights & Sounds of Euclid Beach Park
Learning About "Ingenuity at the Lake!"
Ingenuity at the Lake is a culmination of our year-long neighborhood programming, activating our community through monthly Ignite! Neighbor Nights in Saint Clair Superior, and our series of Hip! Hooray! popups with partners from the Cleveland Metroparks, Famicos Foundation, and the CHEERS initiative.
I enjoy IngenuityFest every year, and remember when it used to regularly move to new, unique locations to open people's eyes to new possibilities! From deserted office spaces in PlayhouseSquare years ago, to under the Detroit Superior Bridge, to warehouses north of the Browns stadium, to shipping containers in North Coast Harbor -- IngenuityFest explored how to bring life to Cleveland spaces that could be put to better use.
When I heard about Ingenuity on the Lake, it reminded me of how IngenuityFest used to be before being hosted in recent years at the permanent home of Ingenuity Cleveland at The Hamilton Collaborative at: 5401 Hamilton Avenue | Cleveland, OH 44114. Don't get me wrong -- the Hamilton Collaborative space is wonderful -- but with COVID-19 safety in mind, it was great to see Ingenuity Cleveland taking it on the road for a lakefront event.
Ingenuity on the Lake took place at South Gordon Park and North Gordon Park. I really appreciated that Gordon Park was being featured this year by Ingenuity Cleveland, since I have written two blog posts about the area:
Blog Date: July 1, 2020 - Social Distancing Park Visits - June 2020
See the "Monday, June 8, 2020 - Gordon Park, City of Cleveland" section where I wrote about visiting the site of the old Cleveland Aquarium building. I wondered if the area could be improved so that it could be put to better use for the benefit of the local community. I wrote in the blog post: "It was intriguing to see what remains of the old building, and wonder if more could be done with this property."

Blog Date: February 24, 2016 - Cleveland Waterfront Panel: Is Development Paying Off?
Be sure to look in the blog post at the photo of the "February 2016 Screenshot of the Lake Shore Power Plant" and compare with the current Google Map of the area in the blog. In these maps, you will see that the power plant, which has now been removed, is near Gordon Park. I wrote in the blog post: "It is my hope that in future years (decades?), when we compare this screenshot from today to the Google map of the future, we will see a more park-like environment."
Friday, September 24, 2021 - Museum of Contemporary Art Cleveland (moCa)
Cleveland's Museum of Contemporary Art (moCa) plays an urgent and exciting role in the city's cultural landscape. As a non-collecting institution and the region's only contemporary art museum, moCa is ever-changing, introducing new exhibitions three times a year to create fresh experiences for visitors each season. Since its founding in 1968, moCa has presented the works of more than 2,000 artists, often through artists' first solo shows. For more than 50 years, moCa has been both conduit and catalyst for anyone seeking creativity and inspiration, bringing the art and ideas of our time to Cleveland and the region at large. moCa was the first in the area to exhibit the works of vanguard artists such as Roy Lichtenstein and Andy Warhol. We continue in that tradition, featuring the work of emerging and established regional, national, and international artists.

Mission
Unique and dynamic, moCa Cleveland advances the visual art of our time. We challenge, inspire, and teach a wide range of audiences in order to push the boundaries of innovation, creativity and exploration through exhibitions, publications, and programming.
In 2020 (pre-COVID-19 vaccine), I stopped going to moCa Cleveland, so in 2021 (after being fully vaccinated), I had gotten out of the habit of looking to see what the new exhibits were at the museum. Therefore, I greatly appreciated receiving the following Twitter direct message on September 6, 2021, from @moCaCleveland reminding me to visit: "Stuart, have you been in to see our new season? Just an fyi we have a new Sr Marketing Director . . . moCa hopes all is well." The following are my tweets with photos of my visit on Friday, September 24, 2021.
Before entering the museum, I visited the "Judy's Hand Pavilion," and remembered the Cleveland Triennial for Contemporary Art exhibitions in 2018. Learn about these 2018 exhibitions in my 11 "FRONT International" blog posts.
FRONT International 2022
Cleveland Triennial for Contemporary Art
July 16 - October 2, 2022
Due to the COVID-19 pandemic, the timing of the "Triennial" is off, but I received a reply tweet from Fred Bidwell after my visit to moCa Cleveland, saying to watch for more to come. Learn more by following @fredbidwell and @FrontTriennial on Twitter, and visiting their website: Frontart.org
I recommend talking to the front desk staff when you enter moCa Cleveland. They are always very helpful in providing background information about the current museum exhibitions before starting your tour.
Axis Mundo: Queer Networks in Chicano L.A.
Mueller Family Gallery

July 16, 2021 - January 2, 2022

Axis Mundo: Queer Networks in Chicano L.A. maps the intersections and collaborations among a network of Los Angeles based queer Chicanx artists and their artistic collaborators between the late 1960s and early 1990s. Taking its title in deference to the artist Edmundo "Mundo" Meza (1955-1985), a central figure within his generation, Axis Mundo presents over two decades of work—painting, performance ephemera, print material, video, music, fashion, and photography— created in the context of significant artistic and cultural movements, from the emergence of the Chicanx civil rights, women's, and LGBTQ liberation movements through to the political activism around the AIDS epidemic. . . .
moCa AIR: Joyce Morrow Jones

July 1, 2021 — November 30, 2021

Joyce Morrow Jones is a mixed media fiber and sculpture artist weaving the art of storytelling through her creations. Her work is inspired by transformational stories of women in their journey through life, history, and cultural traditions. African and Diaspora themes reflecting cultural traditions often with multicultural images are also prominent in her artwork. Born in Cleveland, Joyce acknowledges her Jamaican and African heritage. Those influences will continue throughout her residency with moCa as she expands "Ancestral Tributes" in both oral tradition of storytelling and creative expression. Select exhibitions include shows at BayArts in Bay Village, OH; Artists Archives of the Western Reserve, Cleveland, OH; and the Sculpture Center, Cleveland, OH. She was a 2019 Artist-in-Residence at Karamu House.

Find out more about Joyce Morrow Jones at joycemorrowjones.com

Enlarge Image
Before going to moCa Cleveland, I saw an article and video about Stina Aleah's 'Helping Hands' exhibition at MOCA Cleveland through September 26, 2021:
I recommend watching the Cleveland 19 News video, since it excited me to see Stina Aleah's (@StinaAleah) artwork, plus it taught me about the Museum of Creative Human Art program at MOCA Cleveland.
I really enjoyed Stina Aleah's (@StinaAleah) paintings, and since I saw her work on one of the last days it was at the museum, I will refer you to her website: StinaAleah.com On the website, you can learn more about her art and her Cleveland studio, which is open to the public.
moCa Cleveland Practice Lab:
After leaving moCa Cleveland, I joined my wife, Julie, for an outdoor picnic lunch at the Cleveland History Center, and then enjoyed a quick walk through the Cleveland Museum of Art. Julie volunteers as a ride attendant at the restored Euclid Beach Park Grand Carousel at the Cleveland History Center, and with our son, Kevin F. Smith, is on the Board of Euclid Beach Park Now. (See more in the Euclid Beach Park section of this blog post.)
Saturday, September 25, 2021 - Ingenuity at the Lake!
Enlarge Images

On our traditional IngenuityFest weekend, we're excited to continue expanding our neighborhood offerings with a family-focused, open-air event in Metroparks' North Gordon and City of Cleveland South Gordon Parks. The site is near the 72nd Street Harbor and Lakefront Reservation at the North end of Cleveland's Rockefeller Park and intersection of Saint Clair Superior and Glenville Neighborhoods, and the event is set up to emphasize the pathways and connections that bring residents to the Lakefront - Strap on some skates with RollinBuckeyez Foundation at South Gordon, then lace your walking shoes and follow one of the activated pathways to experience muralists and live painting, pop-up performance, Community Conversation boards and more!

End at the water's edge in North Gordon Park to catch a Lakefront Stage performance, jam with our fave resident mobile DJ & recording Rig the Splice Cream Truck, get your groove on with Cleveland Flow Collective, enjoy youth activities and crafts or some good ol' fashioned outdoor fun with Recess Cleveland!
When I first arrived, I did not know what to expect. I ended up really enjoying some of the yard games with my family, and of course talking to people from different organizations providing services to our community.
It is always good to talk to Cleveland Public Library TechCentral Manager Suzi Perez (@wx_rocknchic) at #IngenuityFest. Her TechCentral team brings out some great makerspace tech every year, so that people can learn about this resource that is available to all at the library!
I was fortunate to attend both the TechCentral grand opening and the Greater Cleveland PC User Group (GCPCUG) "field trip" to TechCentral in 2014:
The location of Ingenuity at the Lake was right next to the Port of Cleveland's Cleveland Lakefront Nature Preserve. From my 2020 blog post: "We have visited the Cleveland Lakefront Nature Preserve at all different times of the year, and it has a different feel during each season" -- if you have never visited, I highly recommend you take a walk there. Learn more in:
I enjoyed meeting Alexa R (@Alexa_Wehrman) and learning about her work interning at Ingenuity Cleveland. She is a painting major at the Cleveland Institute of Art.
Who you gonna call? Ghostbusters!
It's fun to see Ghostbusters: Cleveland (@CLEGhostbusters) every year at IngenutiyFest.
It was a great way to end the day of Ingenuity at the Lake -- enjoying the lively music of the Da Land Brass Band as the sun begins to set over Lake Erie.

Enlarge Image
Thank you to Ingenuity Cleveland sponsors and Ingenuity at the Lake partners for a fun day.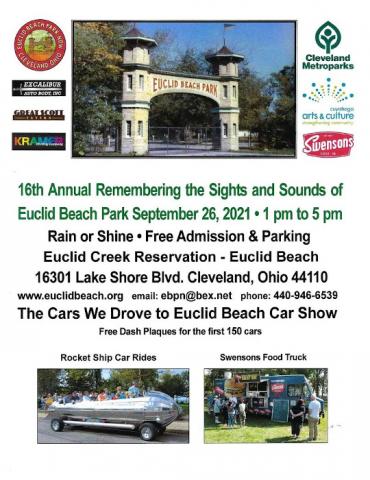 Enlarge Image
Remembering the Sights and Sounds of Euclid Beach Park, 16th Annual

Euclid Beach Park Now's annual event held on the Sunday closest to the date of September 28, 1969 when Euclid Beach Park closed for the last time. The Metroparks location is the eastern portion of where the park once stood.

Take a journey back in time with a self-guided tour of where rides and attractions stood on the eastern portion of the park. Euclid Beach Park Memorabilia will be displayed along with descriptive photo posters of rides and attractions.

See, "The Cars We Drove to Euclid Beach Park" a car show which should only see cars manufactured prior to 1969.

Take a ride in the Rocket Ship Car.

Purchase a new Euclid Beach Park T-Shirt. This year's design pays homage to the Great American Racing Derby, 100 years old this year.

Swensons Food Truck - Weber's Premium Custard

1pm-5pm
Euclid Beach Park, Euclid Creek Reservation, Cleveland Metroparks, 16301 Lakeshore Blvd., Cleveland, OH 44110
My son, Kevin F. Smith, displays his Euclid Beach Park memorabilia collection every year. Learn more details about the history of this amusement park, and how Kevin and my wife, Julie, are on the board of Euclid Beach Park Now in my blog post:
Here are tweets about this year's event:
Another day -- another big event in the Cleveland Metroparks!
Just before the start time, the wind coming off the lake suddenly increased. Our canopy and several others near the lake had to be taken down to prevent them from flying away.
Searching for Euclid Beach related Tweets during the event, I learned from Cleveland Public Library Chief of Special Projects and Collections John Skrtic (@SkrticX) that John F. Kennedy was at Euclid Beach Park on this date 61 years ago. For his Euclid Beach Park memorabilia collection, Kevin recently purchased a slide, from which he printed a photo, of John F. Kennedy at the amusement park.
Yes, there were the famous Humphrey Popcorn Balls at the 16th Annual Remembering the Sights and Sounds of Euclid Beach Park! It was fun to see how a woman who now lives in Maryland has happy childhood memories of the special treats from Euclid Beach Park.
Kevin's display of memorabilia from Euclid Beach Park and other defunct amusement parks has grown to now require seven large boxes and more. If you know of anyone who has memorabilia for his collection, please contact Kevin.
We ended this long day watching the sun begin to set over Lake Erie.
Euclid Beach Park opened in 1895 and closed on September 28, 1969.
Related Blog Posts
I always like to end my posts with a list of related blog posts, so you can learn about the events and venues my wife and co-blogger, Julie, and I enjoy exploring. Since this blog post deals with so many different venues/events that all happened over a Friday-through-Sunday weekend, I have not listed all the individual blog posts, but instead listed categories of posts:
Thank you for reading my blog post. You can learn about my travel journeys with Julie, and the venues we explore in Cleveland and Akron at: sosAssociates.com/Blog