The Mission of Cleveland GiveCamp is to pair creative and technology talent with nonprofits in need.
Cleveland GiveCamp (@CleGiveCamp) weekend on July 29-31, 2016, marked the seventh year of serving nonprofits from the Cleveland and Akron areas. I am fortunate to to be part of Cleveland GiveCamp every year.
Cleveland continues to have many creative people volunteering (over 225 registered for 2016). It is believed that Cleveland has the largest GiveCamp (@GiveCamp) in the nation. It is exciting that again this year there were so many volunteers that the tech volunteer tickets sold out, and a waiting list had to be started. (Note: For future reference, tech volunteers should still sign up to be on the waiting list, since additional opportunities to help do arise as the weekend approaches. In 2016, I heard that many on the waiting list were called into action! Also, it is understood that some people need to cancel, but know that you are needed! If you can't attend GiveCamp, please release your ticket so others can fill your space to help a local charity.)
CodeSmiths - Proud of My Sons' Involvement
In 2014, Cleveland GiveCamp volunteer Heidi Cool (@hacool) wrote "CodeSmiths share their GiveCamp experience" to describe my family's involvement in year five. I like the term "CodeSmiths," and enjoy using it here as I share a bit of what my sons and I did at Cleveland GiveCamp this year. I am very proud that now, as adults, my sons continue to be active in helping local charities as Cleveland GiveCamp volunteers.
Mike Smith is now an "old-timer" at Cleveland GiveCamp. He volunteered the first year (2010), working on his first WordPress website, and has only missed Cleveland GiveCamp once in all these years. (See @WEWS's Volunteers help local groups with websites 2010 video [at 0:48], which was shared for "Throwback Thusday" on Twitter here.) This year, Mike contributed to building a WordPress website for Loyola Retreat House, Inc.

Enlarge Image of
Loyola Retreat House Team - Cleveland GiveCamp 2016

See all 2016 Cleveland GiveCamp Team Photos by Albert Bell (@PhotoAlBell)
This was Kevin Smith's fourth year working on the Cleveland GiveCamp social media team. In addition to contributing to the @CleGiveCamp Twitter feed and posting to Facebook.com/CLEGiveCamp, he was responsible for creating the official Cleveland GiveCamp YouTube video for the third consecutive year.
Once other teams building websites learned that Kevin had video editing experience, the Loyola Retreat House, Inc. and EYEJ: Empowering Youth, Exploring Justice (@eyejcleveland) teams had him edit videos to be used for their new websites. Here is the Loyola Retreat House video which will act as an online tour of the retreat house.
You can learn more about Kevin through his blog: Kevin's Journal | Poetry From The Heart
YouTube.com/user/ClevelandGiveCamp
View and share 2016 via Facebook Video here.

Enlarge Image of
2016 Cleveland GiveCamp Social Media Team

See all 2016 Cleveland GiveCamp Team Photos by Albert Bell (@PhotoAlBell)
I continue to work on the Cleveland GiveCamp Steering Committee year-round, assisting with the planning for the weekend, managing the ClevelandGiveCamp.org website, and coordinating some of the social media activities. During this year's Cleveland GiveCamp weekend, I served with my son Kevin on the social media team.

Enlarge Image of
2016 Cleveland GiveCamp Steering Committee
and "Red Shirt" Tech Experts Floater Team

See all 2016 Cleveland GiveCamp Team Photos by Albert Bell (@PhotoAlBell)
2016 Cleveland GiveCamp Steering Committee:
My Cleveland GiveCamp Photos and Videos
Here are my photos and videos from Cleveland GiveCamp weekend. In the list below of other bloggers who wrote about the weekend, you will note that I contributed my photos for others to use.
If your device does not support Flickr.com photos/videos,
please view them here.
2016 Cleveland GiveCamp Nonprofit Partners
See all 23 2016 Cleveland GiveCamp Team Photos by Albert Bell (@PhotoAlBell)
on the Cleveland GiveCamp @CLEGiveCamp Facebook page
Here is the list of the 19 Cleveland GiveCamp Nonprofit Partners for 2016 (one nonprofit lost the opportunity since their representative could not attend the weekend). All received a new or updated website, except for Neighborhood Housing Services of Greater Cleveland, which had a security team audit, and The Nightlight Cinema, which received a special data management dashboard.
For 2016, there were enough volunteers to also create a 20th team which worked on updating the Cleveland GiveCamp website. I look forward to promoting Cleveland GiveCamp 2017 on the new website when it goes live.
Cleveland GiveCamp 2016 Sponsors
A big thank-you to the Cleveland GiveCamp sponsors who make it possible to serve the Cleveland GiveCamp Nonprofit Partners. Here is the list of 2016 sponsors, along with information from the Cleveland GiveCamp sponsors official web page explaining their importance.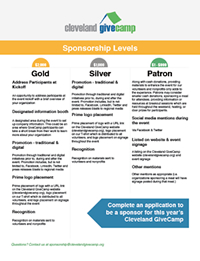 Open the Cleveland GiveCamp
Sponsor Information

Our 2016 sponsor packet is available. Please email us at: info@clevelandgivecamp.org

Cleveland GiveCamp could not happen without the generosity of our sponsors. Their financial and in-kind support helps us continue the important work we do each year. A typical project created during GiveCamp weekend would cost a nonprofit $5,000-$10,000. By doing them for free, we allow them to allocate their financial resources to directly fulfill their mission.

Sponsors help ensure that nonprofits continue to benefit from this valuable work, with no cost to participate. With your support, we also give volunteers tools to do the work (everything from printing supplies to hosting) and fuel them with food and caffeine throughout the weekend.

Thank you to our Cleveland GiveCamp Sponsors.

2016 Sponsors

Gold Sponsors

Silver Sponsors

Patron Sponsors

The Cleveland Section of the Institute of Electrical and Electronics Engineers (IEEE) is Cleveland GiveCamp's fiscal sponsor. The IEEE is a tax-exempt organization, under IRS section 501(c)(3), and is eligible to receive charitable contributions that are deductible for U.S. income tax purposes.

Donate

If you would like to make donation to the Cleveland GiveCamp, please use the PayPal button below. Payments are made through the Institute of Electronics Engineers (IEEE), our fiscal sponsor.
Of special note is the unique and beautiful location for Cleveland GiveCamp. Thank you, Arras Keathley Agency (@AKACleveland), Burke Lakefront Airport (@BurkeLakefront), and LeanDog (@LeanDog).
Be sure to see the photos I share in my slideshow and on Twitter to see what it was like for the teams working in the Arras Keathley Agency and LeanDog offices, which are located on a boat! In addition, Burke Lakefront Airport is filled with interesting technology and historical displays from the International Women's Air & Space Museum (@WomenintheAir).
Incredible views of Cleveland's Terminal Tower (@TowerLightsCLE), Rock & Roll Hall of Fame (@Rock_Hall), Great Lakes Science Center (@GLScienceCtr), USS COD Submarine (@SubmarineCod - @USSCod), and the city skyline can be seen during Cleveland GiveCamp -- It is just a great place to work for the weekend.
Remembering Andy Craze - Cleveland GiveCamp Co-Founder
Cleveland GiveCamp co-founder Andy Craze passed away on Sunday, July 24, 2016, one week before everyone came together to help local nonprofits at Cleveland GiveCamp. The weekend was a fitting tribute to what he started in our city, and which will continue on into the future.
Andy used to run the stand-up meetings at Cleveland GiveCamp, so in his honor, there was a moment of silence at the first stand-up meeting of the weekend. My son, Kevin Smith, came up with the idea of adding a tribute to Andy to the official Cleveland GiveCamp 2016 YouTube video, and worked with Andy's partner, Jane Winik, to choose appropriate photos.
At the Cleveland GiveCamp closing ceremony, Andy's partner, Jane Winik, along with Bob Coppedge of Simplex-IT (@Simplex_IT), surprised all the attendees by announcing the creation of the annual "Craze eCool Award" with the goal of supporting a local nonprofit with a cash donation in memory of Andy Craze.
For this first year, a cash donation was given to both EYEJ: Empowering Youth, Exploring Justice (@eyejCleveland) and the Northeast Ohio Voter Advocates. Read all the details in the Simplex-IT blog post: Simplex-IT helps start new award to remember Andy Craze
Attending the August 5, 2016, Andy Craze memorial, I learned more about Andy's life. It was an honor to know him.
Tweets & Retweets
Here are my @sos_jr tweets and retweets sharing the experience which was Cleveland GiveCamp 2016. Please share any photos and videos that you find interesting by retweeting. Clicking on Twitter photos will enlarge them! Note that I organized them into five sections.
Cleveland GiveCamp Resources
Here are some of the technical resources, and resources for nonprofits, that were shared over the weekend:
If you are interested in GiveCamp (@GiveCamp) in other cities around our nation, please check out the Twitter list that I developed for @CleGiveCamp. Not all these groups are active, so check their Twitter feeds and websites to see if they are meeting. Many other GiveCamps occur in the fall.
What Others Say
Here are some of the articles and blog posts about Cleveland GiveCamp 2016. I always like to include what others have shared about events I attend. If you know of additional blogs/articles, please feel free to add a comment below or mention it to me at my @sos_jr Twitter account.
My Past Cleveland GiveCamp Blog Posts
Photos, nonprofits served, resources, and more. You can read about some of the past Cleveland GiveCamps here:
2017 will be the eighth year that Cleveland GiveCamp volunteers will provide free tech solutions to local charities. Please tell everyone you know about this opportunity for nonprofits. We want to let nonprofits that don't know about this resource learn how to apply to be served in future years. Thank you.