At the start of the week of August 15, 2016, we were prepared to write a blog post about how lucky we are in Cleveland to have PechaKucha Night Cleveland (@PKNCLE), which was coming up on Friday, August 19th. As the week progressed, we realized that, starting on Wednesday, we were going to have the opportunity to attend five consecutive free creative arts events! All of these events deserved at least a special mention and a thank-you, while some even warranted a full blog post.
Thus, this blog post has morphed into something different. While focused on PechaKucha Night Cleveland, it will also include mention of the other free creative events, and an additional inaugural arts event. This is our way to publicly thank the following organizations for their work to provide these free arts events: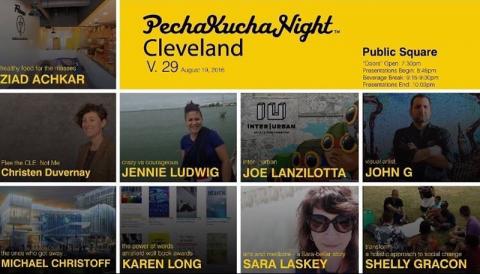 "The art of concise presentations" - PechaKucha Night Cleveland (@PKNCLE) is always a great event to attend to learn about what is happening in Cleveland. Their outstanding leadership team brings together creative people from throughout our community to share their knowledge in an entertaining manner.
Here is the official description of PechaKucha Night Cleveland, Volume 29:
VOL 29
August 19, 2016
@ Public Square

On Friday, August 19th, PechaKucha Night Cleveland is partnering with our friends at Public Square to host Volume 29 in the completely re-designed PUBLIC SQUARE!!!

While everyone is hoping the rain holds off, have no fear, in the event of rain, the PKN show MUST GO ON and will be inside Old Stone Church which sits right on the Northwestern Quadrant of Public Square; one of the most beautiful and intimate spaces in Cleveland. Please keep an eye on Facebook for any weather announcements.

In a series of six minute long presentations, they will be coverings topics from the need to think differently about mental health to how art can instigate conversation around social equity and identity.

From remarkable comic book illustrations to why people are what connects us to place.

From how literature has changed the world to stories about important Cleveland architectural projects that never came to fruition.

From the role art can play in healing/medicine to a conversation about the importance of a holistic approach when working toward social change.

Hope to see you there, sign up for your free tickets now!
http://ptix.co/29wZT9U

Because we are expecting a large turnout for Volume 29, we ask everyone to please register by purchasing a FREE ticket to the event by August 19th. Early registrants will be eligible to win one of the 50 limited edition screenprinted posters! To purchase your FREE tickets, please CLICK HERE: http://ptix.co/29wZT9U

Not sure if you can make it? That's OK - we'll be happy to see you on August 19th whether you've registered or not. But any pangs of regret about not winning one of those sweet posters will be ALL ON YOU!:) Attendees are encouraged to arrive early and bring lawn chairs for comfortable seating.

Japanese for "the sound of conversation," this event features a succession of 10 speakers, each sharing new ideas about topics ranging from visual art, architecture, and technology to food, film, music, photography and furniture design through a vibrant 400 second long presentation (20 slides X 20 seconds each).
Before the event, Stuart noted that he was particularly interested in the Volume 29 list of presenters, since many of these presenters represented organizations of which he was aware, but did not know the particulars of their programs. Here is the presenter list (click on their photos to enlarge), along with our observations:
Here are our photos from the evening:
If your device does not support Flickr.com photos/videos,
please view them here.
It is extra special that PechaKucha Night Cleveland chose to partner with the new Cleveland Public Square (@CLEPublicSquare) for this event. Public Square has been receiving a lot of postive press since opening just before the Republican National Convention in Cleveland (see our Cleveland Shines at the Republican National Convention blog post for positive press about Cleveland).
Go to the new ClevelandPublicSquare.com website to learn about all the new activities happening at our city center. We were fortunate, after PechaKucha Night Cleveland, to be able to meet and thank the Manager of Special Event Operations at Cleveland Public Square, Zoe Adams (@ZoeAdams), for the exciting happenings at this beautiful, new venue.
As we have written in the past, we can't say enough how impressed we are with the PechaKucha Night Cleveland leadership team! Thank you to:
Please learn more about the organizers from the links on the "About the City's Organizers" section of their website.
Here are our tweets and retweets about PechaKucha Night Cleveland, Volume 29. They show our photos and comments during the event, plus what others shared. Enjoy!
Volume 30 will be in November 2016, so be sure to watch PechaKucha Night Cleveland's website, and follow @PKNCLE on Twitter for details.
The first free event of the week was WOW! Wade Oval Wednesdays in Cleveland's University Circle. We highly recommend these weekly summer music events. Go to University Circle (@InTheCircle) website for all the details, plus see the WOW! concert section of our blog post, Cleveland Shines at the Republican National Convention, for our insights about these concerts.
Similar to University Circle's Wade Oval Wednesdays, which we have been attending for years, the Cleveland Metroparks' (@CleveMetroparks) Edgewater LIVE is a weekly public concert series, but on a beach! Yes, a Cleveland park that, in our opinion, did not get much use, now has huge crowds enjoying our city's lakefront. August 18th was the last concert of the 2016 summer season, so plan on attending next summer.
Of special note for this event was that B. Bonin Bough (@boughb) introduced the new show being produced by LeBron James (@KingJames) -- Cleveland Hustles (@ClevelandCNBC) -- at the concert. A big thank-you to Mr. Bough for contacting us to follow up on the video that Stuart took of him at the event. We look forward to learning more about Cleveland Hustles.
In addition to these summer concerts at Edgewater, there are also the Cleveland Metroparks' Euclid Beach LIVE concerts, which we have attended in the past. Since our son, Kevin, and Julie are both active with Euclid Beach Park Now, we are excited to see increased use of this park.
We had attended the Cleveland Shakespeare Festival's (@Cleveshakesfest) performance of The Tempest at Lincoln Park in Tremont as part of Arts in August (@ArtsInAugust). When Stuart heard that Tremont West Development Corporation (@TremontWest) was having another Arts in August event featuring the Cleveland Opera Theater (@CLEOperaTheater), he decided to attend as the fourth free event of the week.
Many years ago, Stuart had worked on the stage crew for an opera his cousin had directed at the Cleveland Institute of Music (@cim_edu), so he was curious to see Cleveland Opera Theater performing at Arts in August. Unfortunately, Julie was not able to attend. Stuart also enjoyed meeting one of the organizers of the event, Assistant Director of Tremont West Michelle Davis, who runs their @TremontWest Twitter feed. Michelle Davis has been with Tremont West Development Corporation for twelve years and loves working in the community development field. She recently sent us a direct message letting us know about the Tremont Arts and Cultural Festival which we then attended.
The inaugural Flats Festival of the Arts (@FlatsForward), which had only a $10 admission fee for three days of activities, also took place on Saturday. Stuart most enjoyed seeing the performance of Cleveland School of the Arts (@CLEMetroSchools - @CLESchoolofArts), and talking to an artist he had met at IngenuityFest 2015 (@Ingenuityfest)
Please view the following tweets to learn about Stuart's day:
We talked to so many interesting people at the booths from the partner organizations for Cuyahoga Valley National Park Celebrate 100 (@CVNPNPS - @forcvnp) that we could write an entire blog post on just this one event. Instead, we will let the tweets from the day tell the story, and challenge you to learn more about the organizations and services mentioned.
We do want to highlight our connection to Cleveland's own The Singing Angels (@TheSAngels). Stuart remembers that his grandfather was very involved with supporting The Singing Angels (they even sang at his 90th birthday celebration), and a family friend used to be a member.
You can also learn more in Kabir Bhatia's (@KabirBhatiaTime) August 22 and 25, 2016, @WKSU audio blog posts:
Related Blog Posts
Here are some of our blog posts that relate to what we wrote about in this post. We are lucky to have so much happening in our community!
Thank You To All!
Thank you to all the comunity organizations and their leadership for these five days of great, free cultural events! We hope to see the community organizations sponsoring these events represented as presenters at a future PechaKucha Night Cleveland (@PKNCLE).
Thank U @InTheCircle @CleveMetroparks @PKNCLE @CLEPublicSquare @TremontWest @CVNPNPS @forcvnp for 5 days of free fun https://t.co/2urKEWObjw

— Stuart O. Smith, Jr. (@sos_jr) August 22, 2016
Thank you @ChrisRonayne @CEO_CleMetParks @mchristoff @ZoeAdams for 5 days of free fun activities in #Cleveland! https://t.co/2urKEWObjw

— Stuart O. Smith, Jr. (@sos_jr) August 22, 2016