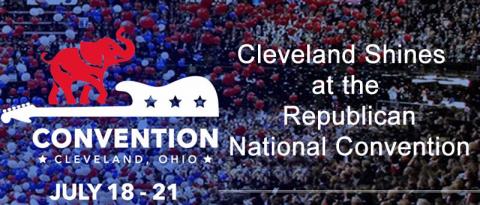 Another month, another BIG 2016 event where Cleveland shines -- The July 18-21, 2016, Republican National Convention (@GOPconvention)!
July is the third consecutive month in 2016 where Cleveland had a huge event that reflected positively on our area.
Please see my blog posts about the incredible number of people interested in the scientific research happening at Cleveland's NASA Glenn Research Center (@NASAglenn) on May 21 and 22, 2016, and how a million+ people came out on June 22 to honor the Cleveland Cavaliers (@Cavs):
While I did not attend the actual Republican National Convention (@GOPconvention - #RNCinCLE - @2016CLE - #2016CLE), which was directed to out-of-state convention delegates visiting Cleveland, I did attend related events that engaged many local people and visitors.
With the Rock & Roll Hall of Fame (@Rock_Hall) offering free admission, the unveiling of the new Cleveland Public Square (@CLEPublicSquare), and special programing by the great cultural institutions of both North Coast Harbor (@NCoastHarbor) and University Circle (@InTheCircle), there was an amazing amount of activity crammed into four days.
There was so much happening in Cleveland that I wanted to capture a snapshot of the week. Twitter was the main resource I used during the week to learn about convention-related activities. Thus, I am including my tweets and retweets in this blog post.

Enlarge Image

Enlarge Image
The first event I attended was primarily a Clevelander-only event, and kicked off the week by occurring the day before the start of the Republican National Convention on Sunday, July 17, 2016. Outside of the convention itself, Circle The City With Love in Cleveland (@CircleCityLove) was the largest event that occurred during the convention week.
It has been estimated that 4,000 Greater Clevelanders came together from all over to "circle the city with love" by joining hands in a huge circle which spanned the Hope Memorial Bridge which led to the convention site. The entire group observed 30 minutes of silence with the hope of setting a standard of peace in our city during the convention. It was a very powerful event that many believe set the stage for the week.


Enlarge Image 
A week later, on July 24, 2016, attendees were asked to wear their Circle The City With Love shirts again as a tribute to this worthy endeavor. I received very positive feedback from people who saw me wearing the shirt. Based on the positive reports during the convention in Cleveland, I would have to say that the goal of the gathering was accomplished.
Here is the mission of the Circle The City With Love organization, followed by videos, my photos, and much more shared on Twitter.
The mission of Circle the City with Love - Cleveland 2016 was to embody the power of love that brings peace and justice to our city, our country and our world through the simple act of holding hands and standing together as one in intentional silence at an important moment in our history.
Here are two videos created by Jim Ridge (@ridgej) of Share The River (@ShareTheRiver) before the event. Learn more about this interview with Sister Rita Petruziell on the Share The River's July 14, 2016, blog post: Circle the City With Love, A Prelude to the RNC
Here is the "Circle the City with Love Cleveland - RNC 2016" video from the event that was published on July 19, 2016:
It is very important to me to share with you my photos and videos from Circle The City With Love in Cleveland, since they will give you an idea of how many people came out to support this great start to the RNC week.
If your device does not support Flickr.com photos/videos,
please view them here.
Be sure to scroll through and view the photos and videos in these 105 tweets and retweets. Also note the links to articles with more details.
Keep the Promise - Sunday, July 17, 2016
Attendees of Circle The City With Love in Cleveland were then invited to attend, later that same day, the Keep the Promise Rally & Free Concert (@ktp2016 - Also see for Cleveland/USA the #KTPUSA hashtag) at Cleveland State University's Wolstein Center (@CLE_State - @WolsteinCenter). With the temporary wall built for convention security, it would have been difficult to drive from the Hope Memorial Bridge to the Quicken Loans Arena (@TheQArena), but luckily, I had planned in advance and brought my bike. Thus, I was easily able to tour Cleveland Public Square (@CLEPublicSquare) and PlayhouseSquare (@PlayhouseSquare) before attending the concert and rally at the Wolstein Center
Here is the official information about the event from the AIDS Taskforce of Greater Cleveland (@AIDSTaskforceGC) and their partners. This is followed by 46 tweets/retweets which include photos, videos, and links for more information. The AIDS Taskforce of Greater Cleveland is the Cleveland affiliate of AIDS Healthcare Foundation (@AIDSHealthcare). I decided to include all of the information that follows, since these organizations are doing important healthcare work.
(Scroll Down For Information)
Wolstein Center @WolsteinCenter

Announcement
Hey #CLE A Free Concert with @theroots, @therealmarymary, @bobatl Sunday presented by @AIDSHealthcare! Doors 4PM. pic.twitter.com/pc453vzMpQ

— Wolstein Center (@wolsteincenter) July 13, 2016
"Keep the Promise" to Cancel Cleveland March; Will Continue with Free Concert Sunday, July 17th

In light of Dallas and other recent deadly incidents nationwide, advocates planning the July 17th "Keep the Promise'" March and Free Concert are cancelling the march, but will go on with the free "Keep the Promise" concert at the Wolstein Center at Cleveland State University the day before the RNC starts.

Concert will also serves as a forum for advocates to publicly call on Republicans to articulate clear domestic and global policies on HIV/AIDS, income inequality and other critical social justice issues.

CLEVELAND, OH (July 8, 2016) In light of Dallas and other recent deadly incidents nationwide, AIDS and health care advocates planning the Cleveland 'Keep the Promise' free concert and march (#KTPUSA) issued the following statement regarding their decision to cancel the march portion of "Keep the Promise" in Cleveland on Sunday, July 17th but will carry on with the free "Keep the Promise" concert at the Wolstein Center at Cleveland State University as planned.

"In the current uncertain environment nationwide, we are concerned for police officers who would be charged with protecting our marchers and advocates as well as for the safety and wellbeing of our march participants. In an abundance of caution, we have therefore decided to remain on campus and not march. We feel strongly that remaining on campus at The Wolstein Center at Cleveland State University allows us the share our 'Keep the Promise' message loudly and clearly without increased risk for police and all participants in the event. We sincerely hope that the current perilous environment for democratic discourse will improve, for it is our freedom that we cherish which is at risk from the senseless violence we are enduring. We appeal to everyone across the political spectrum to bring civility back into the public discourse."

Michael Weinstein, President, AIDS Healthcare Foundation, and
Tracy Jones, Midwest Regional Director & National Director of Advocacy Campaigns for AHF.

The upcoming 'Keep the Promise' in Cleveland will bookend a parallel 'Keep the Promise 2016' concert and march taking place 8,600 miles away in Durban, South Africa on July 16th calling for similar awareness and action on the fight to end global AIDS. That Keep the Promise event takes place before the opening of 'AIDS2016,' the 21st International AIDS Conference and will feature performances by Queen Latifah and Common.

About AHF
AIDS Healthcare Foundation (AHF) is the largest non-profit HIV/AIDS healthcare provider in the USA. AHF currently provides medical care and/or services to more than 600,000 individuals in 36 countries worldwide in the US, Africa, Latin America/Caribbean, Eastern Europe, and Asia. Additional information is available at www.aidshealth.org, find us on Facebook: www.facebook.com/aidshealth and follow us on Twitter & Instagram: @AIDSHealthcare

WHAT: CLEVELAND 'KEEP THE PROMISE' Free CONCERT

WHEN: SUNDAY, July 17, 2016—-5:00 PM (Doors open at 4:00 PM)

WHERE: The WOLSTEIN CENTER at CLEVELAND STATE UNIVERSITY
2000 Prospect Ave., Cleveland, OH 44115

WHO: Soledad O'Brien, Host

Keynote Addresses by civil rights leaders:
Dr. Cornel West
Diane Guerrero, Actress (Orange is the New Black, Jane the
Virgin) and White House Ambassador for Citizenship and
Naturalization

Musical Guests:
The Roots, Grammy Award-winning band
Jussie Smollett (FOX's Empire television series)
Mary Mary, Grammy Award-winning contemporary gospel duo
Raheem DeVaughn, singer/songwriter

Other performances, guests, speakers TBD

Special Guest:
James Brown, Legendary former Cleveland Browns fullback, who will accept an award on behalf of the City of Cleveland

PLEASE NOTE: MEDIA CREDENTIALING REQUIRED FOR WOLSTEIN CENTER CONCERT COVERAGE CONTACTS:
• Rebecca Strong, AIDS Taskforce of Greater Cleveland
Phone: (216) 621-0766 x.2915, Mobile (216) 235-3417 rstrong@clevelandtaskforce.org
•Mr. W. Imara Canady, AHF Regional Director of Communications and Community Engagement. (954) 952-0258 cell (404) 870-7789 work imara.canady@aidshealth.org

Partners for Cleveland's 'Keep the Promise' include:
• AHF
• AIDS Taskforce of Greater Cleveland
• Free Hugs Project
• Reed for Hope Foundation

"While Reverend Sharpton will not be participating in AHF's 'Keep The Promise Concert & Rally' due to the March cancellation, we look forward to his continued partnership, as we work together to raise awareness around HIV/AIDS about AIDS being a Civil Rights Issue at the Congressional Black Caucus in Washington DC this September," said Samantha Granberry, Senior Director of Marketing, Sales, Media and Special Projects for AHF. "The evening of Sunday, July 17th, AHF is moving forward with our free-to-the-public 'Keep The Promise Concert and Rally' featuring Grammy Award-winning artists and the 2016 NBA band, The Roots; keynote speaker, Dr. Cornel West; Host, Soledad O'Brian; FOX TV's star of the hit show 'Empire,' Jussie Smollett, and others. We applaud this myriad of social influencers, acclaimed artists, and community leaders who have opted to use their platforms to magnify our Foundation's non-partisan cause and call to action. We ask concerned citizens to join us as we rally to ensure elected officials 'Keep The Promise' around healthcare rights, civil rights, and human rights for us all."

The Cleveland 'Keep the Promise' is the fifth in a series of similar KTP events spearheaded by AHF since 2012, with the inaugural event in Washington, DC, in July 2012, followed by KTP events in Atlanta (Nov. 2012); Brooklyn, NY (Apr. 2013) and a prior 'Keep the Promise' held in Cleveland in May, 2013.

More information about the "Keep the Promise" effort can be found at http://usakeepthepromise.org

Last edited: July 8th, 2016
Universal access to healthcare is a right – regardless of one's wealth or income.

The presidential candidates MUST clearly articulate a policy on HIV/AIDS.
Domestic AIDS: Increase funding for testing and treating HIV/AIDS; preserving Ryan White Care Act; increasing funding for STD prevention and treatment programs

Global AIDS: Commit to FULLY funding The Global Fund and PEPFAR

The President's Emergency Plan for AIDS Relief (PEPFAR) is the cornerstone of U.S. global health efforts and of HIV/AIDS efforts around the world
Reverse restrictive trade policies that undermine access to affordable generic medicines around the world
AHF is concurrently hosting a march and rally in South Africa

Access to healthcare needs improving.

i.e. rising healthcare costs, overburdened medical safety net providers, costly prescription drugs are obstacles to maintaining one's health

 
Snapchat Celebs - Tuesday, July 19, 2016

Enlarge Image
Thank you, Cleveland.com (@ClevelandDotCom), for hosting the Meet Snapchat Celebrities event that was presented by AT&T (@ATT) and the Rock & Roll Hall of Fame (@Rock_Hall).
You're invited to a free RNC event Tuesday night about Snapchat, political coverage at Rock Hall

CLEVELAND, Ohio -- Four of Snapchat's biggest stars will headline a free event Tuesday, July 19 at the Rock & Roll Hall of Fame, sharing the secrets behind their mega success on the booming app.

Mark Kaye, Ali Spagnola, Audrey Spencer and Wysamx and are taking over the cleveland.com Snapchat account July 18-21 to help cover the Republican National Convention in Cleveland.
Here are links to the Snapchat Celebrities' websites and their Twitter names. You can also click on their Snapcode to enlarge and scan to follow on Snapchat:
If you wanted to attend, but missed it, you are in luck!! Cleveland.com shared the event (1:09:48) using Cleveland.com's Facebook video: "Snapchat celebrities take over the Rock and Roll Hall of Fame."
Here is a video showing what Cleveland.com Snapchat account looked like during the RNC with Wysamx:
Here are 46 tweets and retweets relating to the Meet Snapchat Celebrities:
More...
WOW Concert - Wednesday, July 20, 2016

Enlarge Image
People in the know in Cleveland attend the University Circle's (@InTheCircle) weekly summer WOW (Wade Oval Wednesday) concerts. Years ago, it was the best kept secret in town, attracting only a few hundred people.
The secret is out! Now, it feels like most of the city attends this event. As University Circle, Inc. President Chris Ronayne (@chrisronayne) always says, "It never rains on summer Wednesdays in Cleveland."
Thus, it was great that this summer tradition continued during the week of the Republican National Convention. I hope some RNC attendees were there to experience this great weekly Cleveland event. During RNC week in Cleveland, the music of Welshly Arms (@welshlyarms) was featured, along with a performance by the St. Edward High School (@WeAreStEds) Trash Talkers, at the WOW concert.
In addition to increased security for this Wednesday, July 20th, event, there were two extras, since the Republicans were in town for their convention:

Enlarge Image
(See 3 Fireworks Videos in 3 Tweets Here)
Be sure to see the videos and photos in my 34 tweets and retweets relating to the concert. Since this is a weekly event, please share with your friends by retweeting and using them to invite others to attend.
GOP Convention Tweets & Retweets

Enlarge Image
There were many events going on during the week of the Republican National Convention that I followed with interest on Twitter. Note that the following 271 tweets are not all the tweets that I shared about the GOP Convention week, but are some that I picked out to represent the week and how it impacted Cleveland. If you see something of interest to others, please remember to retweet so others will see.
(Before & Days 1, 2, 3)
(Day 4 & after)
Cleveland Shines In The Press
Here are some of the many articles written about the Republican National Convention in Cleveland. I recommend you take a look at those whose titles interest you. Note how most paint Cleveland in a most positive light! Please feel free to add comments below about other related articles or blogs about the Republican National Convention.
Many people and organizations have worked hard to make Cleveland shine locally for a long while now. With all the concerns about turmoil during the Republican National Convention, the positive outcome of the week made Cleveland shine even brighter to a national audience.
Cleveland is moving forward. As outlined in several of the articles I linked to in this blog post, Cleveland leadership effectively used the RNC week to share the city's successes with a larger audience.