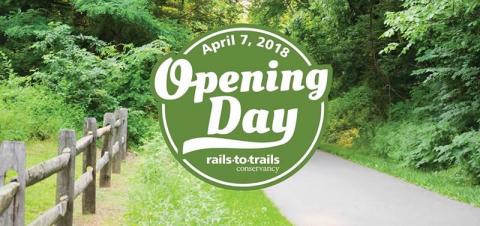 Every year, because of my personal history, I always think that April 7th is a special day to explore a trail! So when I saw Bike Cleveland's tweet announcing that on Saturday, April 7, 2018, the Rails-to-Trails Conservancy would have a Cleveland location for its annual Opening Day for Trails, I knew that I would need to attend! 
As I learned more about the day from Share The River's blog, and very informative @ShareTheRiver tweets, I grew more impressed with the strong partnership of organizations in Cleveland that were coming together on April 7th to promote trails and good environmental stewardship in northeast Ohio. The day's activities were hosted by the Cleveland Rowing Foundation.
Reading about the Facebook event, 2018 Opening Day for Trails - Cleveland, also excited me by mentioning the Ohio & Erie Canalway Towpath Trail and the Cleveland Foundation Centennial Lake Link Trail. I have enjoyed exploring both of these trails, and writing about them in some of my past blog posts.