... "Common Ground" – a community conversation event scheduled to take place Sunday, July 30 at various locations throughout Cuyahoga County. Developed by the Cleveland Foundation in partnership with nonprofit and civic organizations across the region, Common Ground is focused on building connections, valuing all voices and sharing ideas on how to move Greater Cleveland forward.

The day's discussion centers around a singular, open-ended question: "What can we do together to create a more equitable and resilient community?" Common Ground is designed to encourage individuals, organizations and community leaders to think creatively and reflect on possibilities while making new connections.
I first learned about the July 30, 2017, Common Ground event from an announcement by Global Cleveland (@GlobalCleveland) on Twitter. I immediately knew I needed to attend, and share my thoughts about it in my blog.
I also want to thank Cleveland Foundation (@CleveFoundation) Senior Marketing & Communications Officer Jennifer Trivelli (@trivellij), who reached out to me via a Twitter direct message on July 7th to confirm that I knew about #CommonGroundCLE -- Greater Cleveland's largest outdoor community conversation and meal.
The one word that I would use to describe the result of the activities leading up to the Sunday, July 30, 2017, Common Ground day was "growth."
What I originally thought would be a huge event at Cleveland's Public Square (@CLEPublicSquare) ended up growing to include many more locations through partner organizations! Look over the pre-event tweets, and you will see a wide variety of organizations that committed to helping the people of our community to come together to share a meal and talk about our collective future!
On June 7th, the following 17 organizations were on board to host a meal at which people could share ideas:
Anisfield-Wolf Book Awards in partnership with Seeds of Literacy
Dick and Cheri Pace
Later, I saw on Twitter that Jennifer Trivelli and other The Cleveland Foundation staff were attending many Cleveland public events to personally invite people to attend Common Ground. On July 20, 2017, I talked to Jennifer and Chief Marketing Officer Michael Murphy at Cleveland Metroparks (@CleveMetroparks) Edgewater Live, and learned that Common Ground had grown to over 40 locations!!!
What made Common Ground even more interesting this first year is that each location focused on different topics related to improving our community. Please see the Common Ground Locations web page for a list of organizations and the topics discussed.
Here is a map that lists most of the organizations. Please click on the location pins to read information about the topics discussed:
The Common Ground partner organizations are pictured here:
The following 95 tweets from before the event show some of the many organizations and individuals who supported Common Ground. These are only the ones I retweeted -- there are even more people who supported this movement.
Common Ground Morning, July 30, 2017 - Finalizing Plans
The morning of Common Ground, I was finalizing my plans for the day, and planned my route to attend three topic locations.
I had reserved a seat at the big table at Cleveland's Public Square back on July 11th -- this was the main hub of all the events being hosted by The Cleveland Foundation -- but once learning about all the additional topic locations, I had a hard time deciding which ones to attend. I had some level of interest in almost all the topics.
The week before the Common Ground weekend, I decided to RSVP for the Cleveland Metroparks (@CleveMetroparks) Edgewater Beach House site, where we would be discussing how to better connect communities to the park. It was a logical choice, since I had written a blog post in 2016 entitled Cleveland Waterfront Panel: Is Development Paying Off? What better place to talk about the future of the Cleveland Metroparks than their newly developed Edgewater Beach which opened its Edgewater Beach House in June 2017.
If you haven't been to the Edgewater Beach House, here are two YouTube videos from Fox 8 News Cleveland (@Fox8News) which will give you an idea of what it is like:
With so many interesting topics, it was hard to decide on the third location. I finally decided on attending the Better Together Solar (@BT_Solar) discussion about "energy justice," since I was interested in these three items that interested me in their topic description:
"...closure of the Lake Shore Power Plant..." - In my February 24, 2016, blog post Cleveland Waterfront Panel: Is Development Paying Off?, I wrote about the closing and demolition of the FirstEnergy (@FirstEnergyCorp) Lake Shore Power Plant. I wanted to learn what has happened since the First Energy Lake Shore Power Plant demolition. I have included a video of the implosion below. See more in my blog post here.
"...LEED co's offshore wind energy development plans..." - On February 9, 2015, I attended the Case Western Reserve University (@CWRU) chapter of Sigma Xi Scientific Research Honor Society (@SigmaXiSociety ) Science Café Cleveland. At this meeting, I learned about Lake Erie Energy Development Corporation - LEEDCo (@LEEDCo), and of The Cleveland Foundation support of LEEDCo. I hoped to learn at the Common Ground discussion what progress had been made in offershore wind energy development since 2015.
Enlarge Images



(Tweets: 1 2 3)
"...how we can transform the electric grid in Ohio." - I had not heard of Better Together Solar, so I looked at their website before July 30th. Based on what I saw, I assumed part of the Common Ground discussion at their location would be about solar energy and how it works with the big electricity providers. I was intrigued, and wanted to learn how solar energy technology had advanced so that it could be used in the climate of Greater Cleveland with its reputation of cloudy winters. I also noted that Better Together Solar was one of the only organizations hosting a Common Ground discussion that was not a nonprofit or government organization.
Morning, July 30, 2017 - Twenty tweets/retweets about Common Ground:

Enlarge Image
Thank you, Cleveland Metroparks (@CleveMetroparks), for starting my Common Ground day with a healthy breakfast.
Very interesting discussion to start the day! We were charged with talking about "Cleveland Metroparks: Connecting local communities...," but the facilitators really embraced the idea of this being an open discussion for people enjoying a meal together.
The energy level was high, and the discussion ended up going to a variety of places, which I thought was great!! It really was in the spirit of finding common ground! Here are just some of the topics touched on by the group with whom I sat (there were several other groups also actively talking). From parks, libraries, community-wide gun and safety issues, to unresponsive political leaders, the topics were varied and discussions were very productive.
I felt a real connection to the group, and was sorry when I had to say goodbye to go to my next location.
I shared these nineteen tweets/retweets during the first Common Ground session I attended. Be sure to see my tweets of what was discussed during this session.


Enlarge Image
Better Together Solar (@BT_Solar) treated participants to a great cookout, and fresh fruit and veggies! Thank you, Better Together Solar.
As I mentioned above, I was interested in learning about several specific community projects that relate to energy assets in our community. As is often the case when you join others for a meal, sometimes the discussion does not keep to the agenda. When I arrived, I was told that there was no representative from LEEDCo in attendance. It is possible that someone came later, since I was not able to stay until the 3:00 P.M. ending time.
What ended up happening was a very informative discussion about solar energy, and how both technology and political changes have affected the field in the past ten years. I learned some new facts that I would not have known if I had not attended Better Together Solar's session. What used to be true has changed through engineering improvements and supportive government regulations. I learned how solar power can be used in residential and commercial buildings. The main takeaway was that we should learn more about solar energy, and more importantly, push our community leaders to learn more.
Twenty-three tweets/retweets -- Please note the information that I shared about Better Together Solar and solar energy, in addition to others' tweets with information of what was occurring at the many different Common Ground locations. It was great that so much was being shared on Twitter with the #CommonGroundCLE hashtag -- I learned interesting facts from more than just the three locations I attended.

Enlarge Image
I arrived at Cleveland's Public Square (@CLEPublicSquare) in time to hear The Cleveland Foundation's (@CleveFoundation) President and Chief Executive Officer, Ronn Richard, welcome everyone to have a discussion over a meal. Dan Moulthrop (@DanMoulthrop), the chief executive officer of The City Club (@TheCityClub), emceed the opening.

Enlarge Image
Most importantly, the speakers got out of the way and let the attendees talk amongst themselves -- to find their own Common Ground.

Enlarge Image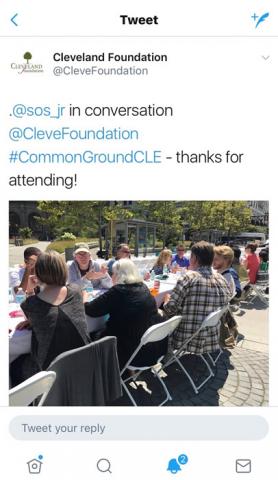 Enlarge Image
The group I was with for lunch focused on the positive things happening in our community. I shared my experiences with resources such as Cleveland GiveCamp (@CleGiveCamp), and BVU: The Center for Nonprofit Excellence (@BVUVolunteers), about which I have written posts in my sosAssociates.com blog.
We found that despite coming from different parts of Greater Cleveland, we had things in common in term of interests and what we wanted to see for the community. I came away from the experience wanting more opportunities to interact in person with others in our community.
Please be sure to explore the links from these 14 tweets/retweets, and if you find the information useful, please share with others be retweeting or posting on other social media. We need to share resources and good information as part of making our community better.
What Others Say
When I write blog posts about events that I attend, I always like to include articles and blog posts from others. If you know of any that I missed, please feel free to add to a comment below or let me know on Twitter: @sos_jr.
Here is the main Common Ground web page and some of the many related articles by The Cleveland Foundation:
Related Blog Posts
Part of my main interest in attending Common Ground was due to the blog posts I have written in the past on events and topics that relate to the sessions I attended on July 30, 2017. I will mention a few key posts that directly relate, and then invite you to explore additional posts that might interest you.
The most important aspect to me about this first Common Ground is how it relates to the my posts about The Cleveland Foundation's 2016 caucus events:
These caucus events helped to identify some of the key issues facing our community. These issues are ripe discussion areas for Common Ground 2016 and into the future. Click on these links to see videos and Cleveland Caucus - Community Solutions survey results:
Please see all 18 of my Cleveland Foundation-related blog posts here.
In addition to the Cleveland Waterfront Panel: Is Development Paying Off? blog post I mention above, I recommend reading my Eastside Greenway - A Vision for a Future Eastside Cleveland Bikeway post that relates to the Cleveland Metroparks Common Ground discussion about reaching out to the community. On August 8, 2017, I attended a meeting hosted by the Cleveland Metroparks where I learned that the Eastside Greenway project is now expanding to be countywide. Watch the #CuyahogaGreenways hashtag for updates, and for a final report in early 2018. Give your input to the Cuyahoga Green Survey.
Many great resources in our community were mentioned in both the first and third Common Ground sessions I attended. Some of the resources that were mentioned, and that I have written about, include the following (click on links to see blog posts):
#OnTheTableAkron!
The Cleveland Foundation (@CleveFoundation) Senior Marketing & Communications Officer Jennifer Trivelli (@trivellij) had told me that the Akron Community Foundation (@AkronCF) was planning an On the Table Greater Akron event.
As I was working on this Common Ground Cleveland blog post, I saw this tweet from ArtsNow (@SummitArtsNow) On the Table Greater Akron, which will take place on October 3, 2017.
I wish the organizers much success, and look forward to learning more about On the Table Greater Akron!
Thank You and the Future!
A BIG thank-you to The Cleveland Foundation (@CleveFoundation) and all the partnering organizations that made this first Common Ground happen! A special shout-out to the three sites that hosted the discussions I attended: Cleveland Metroparks (@CleveMetroparks), Better Together Solar (@BT_Solar), and Cleveland's Public Square (@CLEPublicSquare).
Common Ground was certainly a successful day for those who attended, but the real impact will be seen as it continues into the future. Will people from diverse backgrounds really connect and then take action together to improve our community? Will people continue to find common ground at these events, and will they grow to a larger number of engaged citizens after the novelty of the first year wears off?
I heard it asked during the day, "How do we keep this going?" The answer from @CleveFoundation was: "Volunteer, organize and donate!"

Enlage Image
I, for one, see the future as bright, since I believe the very strong history of volunteerism and charity in our community will be reflected in the people who will make Common Ground work for all of us.
"Who's responsible for driving change in our community?" All who took the time to attend #CommongroundCLE today.


Enlarge Image
Comments
Submitted by Stuart Smith on Thu, 06/07/2018 - 12:00
Comment
As I am planning on attending the Cleveland Foundation's Common Ground 2018 on Sunday, June 24, 2018, I thought I would review what I did in 2017 by looking at this blog post and by reading the official Common Ground 2017 Snapshot PDF file provided by the foundation.
Here is some of the interesting information in the 2017 snapshot:
At more than 40 sites across Cuyahoga County, people came together to talk about our community's future.

Three-quarters of those surveyed (76%) want to create positive change in the community. Nearly the same number (75%) of respondents want to work with others to improve the quality of life in Greater Cleveland.

Nearly half (45%) exchanged contact information with one or more attendees they did not know. And 16% made specific plans to work with another attendee to address a new idea, issue or project in the future.

A large majority (85%) responded they were very likely or somewhat likely to take specific action regarding a new idea, concern, or issue being discussed. Additionally, a significant majority (78%) are already involved in community and neighborhood activities, showing that Common Ground participants represent a subset of Greater Clevelanders who are already civically-engaged.

The top four concerns: 1) Education, 2) Safety; 3) Diversity, Racial Disparities & Social Justice; 4) Job Creation & Economy.

96% of participants would recommend joining Common Ground conversations to their friends or family.
You should download and read the full Common Ground 2017 Snapshot yourself, and plan on attending the Common Ground 2018 on Sunday, June 24, 2018.

Read 2017 Common Ground Snapshot
Website
sosAssociates.com
Permalink