Enlarge Image
Anyone who has known Stuart for any length of time knows that he enjoys going to technology and arts events. IngenuityFest is his favorite event of the year. Most years that Stuart has been able to attend, he has gone all three days -- he tries to live the event, and drink in all that it has to offer. See our blog post from 2012: IngenuityFest:Festival of Art & Technology
Julie, Kevin, and Stuart attended much of the weekend's activities, but found that there was more to do than anyone can fit in one weekend. We recommend that you take a look at the links in the tweets, since they will lead you to more information about the participants. You can also see the full official program from the weekend by selecting this link.
The following are our photos, videos, and Stuart's @sos_jr tweets/retweets about and from the September 20-22, 2013, weekend event. Our goal is to give you a taste of the our experience and to encourage you to attend in the future.
Ingenuity Is Now Year-Round
Before looking at what we are sharing from the weekend event, we recommend reading Ingenuity Cleveland's history page to learn more about how it was formed in 2004. It started as an annual festival that has grown to now providing year-around programming including: IngenuityLabs, The Ingenuity Conference, Creative Fusion Artist, Cleveland Mini Maker Faire (MakerFaireCleveland.com - @MakerFaireCleve), IndieFest and Workshop, and The Bal Ingénieux (Balingenieux.com).
Learn about Ingenuity Cleveland's evening of vaudeville, dance and mayhem by reading Stuart's blog post entitled: Bal Ingénieux, Ingenuity Cleveland
With all the new Ingenuity Cleveland (IngenuityCleveland.com - @Ingenuityfest) events, IngenuityFest is still Stuart's favorite. In 2013, IngenuityFest took place at the Port of Cleveland ​for the second consecutive year. It more than lived up to our expectations.
On Thursday, September 19, 2013, the Great Lakes Science Center held a great new pre-event -- IngenuityFest 2013 Preview Party!
Please read Stuart's blog post about the IngenuityFest 2013 Preview Party here.
Pre-IngenuityFest Tweets
Ingenuity Cleveland's IngenuityFest 2013 Friday - Day 1
If your device does not support Flickr.com photos, please view them here.
Dixon's Violin​ (DixonsViolin.com - @DixonsViolin)
Ingenuity Cleveland's IngenuityFest 2013 Saturday - Day 2
If your device does not support Flickr.com photos, please view them here.
Head Long Dance Theater (HeadLong.org) - Co-Director: Amy Smith​ (@headlongamy)
Vaudeville and other acts sponsored by
Pinch and Squeal (@_PinchandSqueal) (PLAYLIST)
CWRU's (@CWRU) Tesla Orchestra (PLAYLIST) - TeslaOrchestra.com
Ingenuity Cleveland's IngenuityFest 2013 Sunday - Day 3
If your device does not support Flickr.com photos, please view them here.
MakerGear 3D Printer MakerGear.com - @MakerGear​
The Medicine Cabinet
(TheMedicineCabinet-Music.com - @MedCabMusic)
Señor Symphonifunk (@SrSymphonifunk)
Post-IngenuityFest 2013 Tweets:

What Others Are Saying:
Like like last year, we want to promote all of the great Cleveland people/organizations who are posting positive things about IngenuityFest to the Internet. Stuart always likes to share what others say about great Cleveland events. If you know of more, please feel free to add a comment below.
Cleveland Institute of Art: Ingenuity Fest 2013 from Cleveland Institute of Art on Vimeo.
Thank You!
We want to say thank you to the following for making this great weekend possible:
We are looking forward to next year!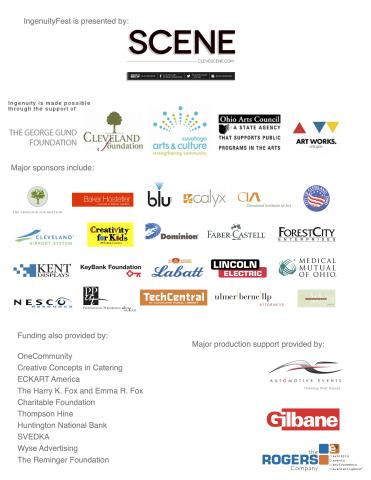 Enlarge Image
Comments
Submitted by Stuart Smith on Mon, 09/01/2014 - 09:33
Website
WebSigCleveland.org and sosAssociates.com
Permalink