2012 to 2015!!!
I am celebrating three years of having fun exploring our community and writing about our experiences!
First and foremost, I want to begin by thanking my great co-writer and wife, Julie Smith! I enjoy sharing the journey with her.
When I look at the titles and images associated with the blog posts from this past year, I get really excited. They not only bring back memories of all the enjoyable things we did this past year, but also make me anticipate the potential of the coming year! Please take a look at our blog posts at: sosAssociates.com/Blog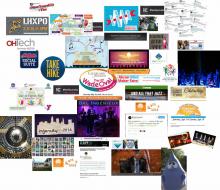 Enlarge view of
all the images from blog posts from this past year
History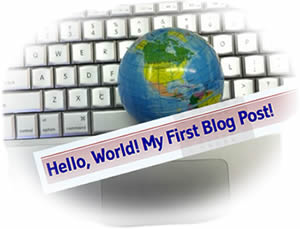 Three very fun and active years have passed since my first "Hello, World! My First Blog Post!" message! On my first Blogiversary, I listed 120 organizations that I tracked.
For my second, Blogiversary: Two, I was tracking 140 organizations, and commented about the exciting growth in Cleveland and Akron, which made it difficult to keep up with my weekly tech/social media announcements.
So, on May 27, 2014, I did my very last weekly Cleveland Tech, Entrepreneur & Social Media Meetings Mon 5/26 - Mon 6/2 post. However, I still post daily @sos_jr meeting announcements over the lunch hour on Twitter at: Twitter.com/sos_jr -- please take a look and share with others by retweeting.
Today
The statement I put on the sosAssociates.com home page has not changed over these three years, since it still reflects the items that Julie and I write about:
sosAssociates.com is an extension of my @sos_jr Twitter interests -- taking it beyond the 140 characters. Current focus areas include:

Promoting and sharing experiences at Cleveland tech meetings, social media events, and some entrepreneur groups
Website Design & Technology
Cleveland Cultural Events, Art, Theatre
Call For Action
2015 marks my 10th year of running the WebSigCleveland.org meetings. Held on the third Saturday of most months, all WebSigCleveland.org meeting are free and open to all, so please help me spread the word by inviting others. I run my WebSigCleveland.org meetings as a labor of love, so like last year, I want to ask you to please do the following to support all the "Tech, Entrepreneur & Social Media Meetings" in Cleveland and Akron.
Call for action! The reason I publish the following list is to encourage you to thank the leaders and assist in promoting their meetings. Please do the following:
See the names listed with the events in my blog posts, and follow them on Twitter, if you do that sort of thing (I find Twitter fun, and a great way to learn about a lot of great activities). Please share their meeting information on your favorite social media.

Most of these Cleveland tech, social media, and entrepreneur meetings are free or low cost. Please go out of your way to thank the leader(s) and let them know you appreciate their good work. Offer to buy them their favorite beverage.

Finally, if you see a group listed that is not currently meeting, or think of a topic that is not being covered, please volunteer to take a leadership role to make the meeting happen!
Our Community is much stronger for having these opportunities to learn from each other. Thank you for supporting each other.
Stuart's List - Please follow @sos_jr for announcements!
This list has grown to the point that I need help promoting them all. If you run one of these groups, please tweet out meeting announcements (it is easier to retweet than create). If you believe in what these groups are doing for Cleveland and Akron, please ACTIVELY promote them on all your favorite social media. Thank you!
I have put "2015" in bold for the groups that I know I added since last year, so you can check them out.
In the rush to get this list out, I know there are probably errors. If there are bad links, please feel free to let me know via Twitter at @sos_jr or in the comments below. Of more importance, if you know of a tech or social media meeting in our community that I should add to my list, please leave a comment below, so all can share in your knowledge.
Thank you to all. I'm looking forward to another year full of great possibilities!
Stuart O. Smith, Jr., M.N.O.
=========================================
Web SIG Cleveland Leader - WebSigCleveland.org
Blogging at: sosAssociates.com
Follow me on: @sos_jr