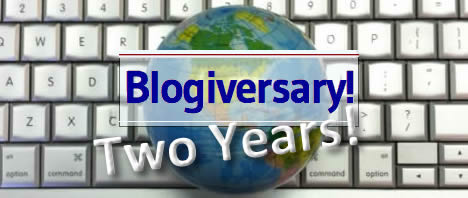 Two very fun and active years have passed since my first "Hello, World! My First Blog Post!" message!
Last year, for my first Blogiversary, I listed 120 organizations that I tracked. I have found that in the last five months, I have not been able to keep up with all the exciting growth in Cleveland and Akron, but I try to do so in my weekly tech blog posts.
In addition to my weekly tech and social media blog posts for our community, I (and sometime we -- my wife and sons co-write with me) also write about other items that interest me. Please check out all the blog posts that I have completed these past two years on my "Blog sosAssociates" web page at: sosAssociates.com/Blog/
As stated on the home page:
sosAssociates.com is an extension of my sos_jr Twitter interests -- taking it beyond the 140 characters. Current focus areas include:

Promoting and sharing experiences at Cleveland tech meetings, social media events, and some entrepreneur groups.
Website Design & Technology
Cleveland Cultural Events, Art, Theatre
In addition to writing this blog, I also enjoy running my WebSigCleveland.org meetings. I hope you will join us on the third Saturday of each month, if there is a topic of interest to you. All meeting are free and open to all, so please help me spread the word by inviting others. Planning the WebSigCleveland.org meetings takes time, but it is a labor of love -- the only payment I receive is knowing that those who attend appreciate what they learn.
Please do the following...
Call for action! The reason I publish this list is to encourage you to thank the leaders and assist in promoting their meetings. Please do the following:
See the names listed with the events in my blog posts, and follow them on Twitter, if you do that sort of thing (I find Twitter fun, and a great way to learn about a lot of great activities). Please share their meeting information on your favorite social media.

Most of these Cleveland tech, social media, and entrepreneur meetings are free or low cost. Please go out of your way to thank the leader(s) and let them know you appreciate their good work. Offer to buy them their favorite beverage.

Finally, if you see a group listed that is not currently meeting, or think of a topic that is not being covered, please volunteer to take a leadership role to make the meeting happen!
Our Community is much stronger for having these opportunities to learn from each other. Thank you for supporting each other.
I have bolded the groups that I know I added since last year, so you can check them out.
Comments
Submitted by Holly (not verified) on Thu, 03/13/2014 - 18:29
Comment
Happy Blogiversary Stuart!
Website
http://blog.hollyhammersmith.com
Permalink