It was an evening of excitement and anticipation!! The announcement of the 2016-2017 KeyBank Broadway Series was a Broadway production itself!
Clevelanders have come to expect PlayhouseSquare (@PlayhouseSquare) and partner organizations to provide great theatre. We think that Cleveland theatergoers who have never attended the 2016-2017 KeyBank Broadway Series Announcement Celebration would be happily surprised by the high level entertainment and engagement of the launch. It is not a simple announcement of the upcoming season, but instead a very entertaining production with musical guests and interesting interviews with facts about the upcoming season's Broadway shows and about PlayhouseSquare.
Pre-launch #party music and #BWYinCLE tweets on the @PlayhouseSquare's BIG screen for @KeyBank #Broadway Series! pic.twitter.com/sK5kQ5Acu5

— Stuart O. Smith, Jr. (@sos_jr) March 22, 2016
.@rara023 #Band love happening at @PlayhouseSquare's #BWYinCLE before @KeyBank #Broadway Series announcement! pic.twitter.com/JbycrL3I98

— Stuart O. Smith, Jr. (@sos_jr) March 22, 2016
There was a great band on stage before the show began, setting the mood with with Broadway showtunes. The audience responded with applause and laughter to requests from tweets shared on a giant screen. From the names on the big screen, a random audience member, Hannah Stroh (@_HannieBananie), was selected to win KeyBank Broadway Series season tickets.
What's happening in #Cleveland? Learn at @PlayhouseSquare's #BWYinCLE @KeyBank #Broadway Series! #ThisIsCLE!!! pic.twitter.com/celJ6xHLsA

— Stuart O. Smith, Jr. (@sos_jr) March 22, 2016
The announcement of each show was accompanied by a special surprise. PlayhouseSquare presented the evening as a Cleveland event, not just a theatre event, to encourage pride in our city.
Great #Cleveland!
All that jazz at @PlayhouseSquare's #BWYinCLE @KeyBank #Broadway Series Launch! #ThisIsCLE!! pic.twitter.com/aNNiPmegx3

— Stuart O. Smith, Jr. (@sos_jr) March 23, 2016
We had a very energizing evening attending our second PlayhouseSquare's KeyBank Broadway Series Launch Celebration on March 22, 2016. We have known for a while that Cleveland's PlayhouseSquare is the second largest theater venue in the United States, and last year we learned that Cleveland is the #1 city in season ticket sales for touring Broadway shows. This year, the huge Cleveland audiences are making it possible for PlayhouseSquare to outdo themselves even further for the 2016-2017 KeyBank Broadway Series:
The KeyBank Broadway Series has expanded with a third week of performances. This grows the series from 16 to 24 performances of each show.

With more shows comes more seats! Now is your chance to guarantee season tickets in some of our very best locations – many of which have not been available for decades.

More shows and more seats mean more choice for you! Choose from an unprecedented selection of seat locations on the day which suits you best.
Read about all these ticket option details, and information on the "Swap-a-Show®" benefit for season ticket holders on this web page: Broadway.PlayhouseSquare.org/Ticket-Options

Enlarge Image
PlayhouseSquare Success Stories
In addition to the excitement of expanding the number of shows, PlayhouseSquare's President and CEO Art J. Falco started the evening with an update on just a few of their many incredible outreach programs for youth. We have listed them here with links for more information:
Playhouse Square and Disney present a special opportunity to introduce the collaborative art of musical theater to your school. Strengthen arts programming and develop partnerships among students, faculty, staff and the greater community through this outstanding program.

Any Cuyahoga or Lorain County public elementary school, including public charter schools, with a student poverty level of 50% or higher (according to the Ohio Department of Education's 2013 Typology Report) is eligible to apply. The application deadline is April 8, 2016.
May 21, 2016, 7:30 p.m.
Connor Palace

The Dazzle Awards aim to inspire and honor excellence in high school musical theater, and to recognize the importance of musical theater and arts education within the Northeast Ohio community. A panel of adjudicators attend one production at each participating school, provide educational feedback on the official evaluation form and determine nominees and awards for participating schools. This regional program culminates at the Connor Palace with the Dazzle Awards, modeled after the Tony Awards®, to recognize outstanding musical theater productions and students. The winners in the Best Actor and Best Actress category will have the opportunity to participate in the National High School Musical Theatre Awards in New York City.
Find out more on the PlayhouseSquare Community Engagement & Education web page.
Mr. Falco also talked about some of the great capital improvements happening at PlayhouseSquare -- if you have not seen the new ceiling of the Ohio Theatre's George Gund Foundation Lobby, you must go and see it! It is incredible! Updating of the other theatre lobbies, and new restrooms are part of the spectrum of improvements.

Enlarge Image
Here they are! The links in the show titles go to the official PlayhouseSquare "Broadway in Cleveland" web page for each show. There you can read a synopsis of the show's plot, see official show photos, and purchase your tickets. We have also included the Twitter name for each show, so you can see what is shared about each production.
Fun Home composer Jeanine Tesori (@JeanineTesori) and Broadway actress Alessandra Baldacchino performed music from the show.
#Cleveland!! @funhomemusical for @PlayhouseSquare's #BWYinCLE @KeyBank #Broadway Series! #ThisIsCLE pic.twitter.com/TUJo9Ztcjz

— Stuart O. Smith, Jr. (@sos_jr) March 23, 2016
---
It was amazing that PlayhouseSquare brought in Trista Moldovan (@tristamoldovan), who starred on Broadway in Finding Neverland, to sing a song from the show.
---
Cleveland's own Singing Angels (@TheSAngels) sang "Children Will Listen" from Into The Woods.
---
Ted Chapin, president of the Rodgers & Hammerstein Organization (@RnH_Org), shared interesting information about the current production of Rodgers & Hammerstein's The King and I that is coming to PlayhouseSquare.
---
Julie has read the book on which The Curious Incident of the Dog in the Night-Time is based, and found it interesting to see the video of how it will be brought to the stage.
---
Writers of Something Rotten!, brothers Karey & Wayne Kirkpatrick wrote their first play about two brothers writing their first play in the time of Shakespeare. We really enjoyed their stories, humor, and performance of songs from the show.
It's a musical with @RottenBroadway authors at @PlayhouseSquare's #BWYinCLE @KeyBank #Broadway Series! #ThisIsCLE pic.twitter.com/hiTZtDl3T6

— Stuart O. Smith, Jr. (@sos_jr) March 23, 2016
with @RottenBroadway authors at @PlayhouseSquare's #BWYinCLE @KeyBank #Broadway Launch Party! #ThisIsCLE pic.twitter.com/BpoCzweXtQ

— Stuart O. Smith, Jr. (@sos_jr) March 23, 2016
---
Stuart Oken, producer of An American In Paris, talked about this new production.
A contest for a trip to Paris for two was also announced. Go to this web page for all the details: PlayhouseSquare.org/Paris
After Party

Enlarge Image
The evening's excitement continued at the after party on the stage of the State Theatre. Trays of delicious desserts were circulated amongst the guests as the had an opportunity to purchase their season tickets.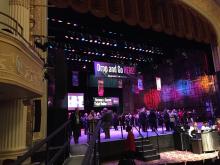 Enlarge Image

Enlarge Image
We also attended a media after party at the Cleveland Play House's (@ClevePlayHouse) Allen Theatre, and enjoyed hearing some behind-the-scenes stories from the PlayhouseSquare staff. It was great to finally meet Digital Communications Manager Stephanie Anderson and be able to thank her personally for inviting us to be part of this wonderful evening.
Social Media & Photos/Video
As we mentioned in both our 2014 Dazzle Cleveland! and last year's PlayhouseSquare 2015-2016 Broadway Launch Party! blog posts, PlayhouseSquare uses social media in a superior, professional manner to involve the audience. (If interested in more details, be sure to see the list of engaging methods we put together last year, which they also used this year.)
People were encouraged to share messages and photos on social media throughout the event, and to use the #BWYinCLE hashtag year-round. Here are our @sos_jr tweets and retweets, which we have separated into three sections. Please share any photos and videos that you find interesting by retweeting. Clicking on Twitter photos will enlarge them!
Tweets before the event:
It was really fun to see everyone sharing on social media during the Broadway Series Announcement Celebration. After the event, I learned about others' articles and blog posts via Twitter. First set of tweets during the event:
More Tweets during and after the event:
Since PlayhouseSquare encouraged sharing on social media during the evening, we were able to take photos/videos to share with you here (please remember that video and audio recording, and photography are normally prohibited in the theatres):
If your device does not support Flickr.com photos/videos,
please view them here.
What Others Say
We always like to include what others have written about events we attended. If you know of any others, please feel free to add them in the comment section below.
Past PlayhouseSquare Blog Posts
This PlayhouseSquare 2016-2017 Broadway Series: Broadway Glamour in Cleveland! blog post is our 13th blog post pertaining to PlayhouseSquare. Also, if you watch our @sos_jr Twitter feed, you will often see our tweets about attending shows, or enjoying the PlayhouseSquare district of Cleveland in other ways.
To learn more about our experiences at PlayhouseSquare, please watch our @sos_jr tweets and see our sosAssociates.com/blog posts:
We are looking forward to more fun at PlayhouseSquare!
---
Disclosure: We received two general admission tickets from PlayhouseSquare to attend the 2016-2017 Broadway Launch Party event. We were also PlayhouseSquare's guests for the Broadway Series Launch after party and media party, where we enjoyed free drinks and desserts. We were approached to attend because of our support of PlayhouseSquare via our @sos_jr Twitter feed. We enjoyed the event, and wrote this blog to share our experience and our opinion of the performance and after parties.