On August 21, 2017, the first total solar eclipse in the continental United States since February 26, 1979, occurred. It was also the first total solar eclipse to cross the entire country (from Pacific Ocean to the Atlantic Ocean) since June 8, 1918! We knew this would be a special day!!! Stuart used his last available vacation day to fully experience the phenomenon, and our son Kevin joined us as well.

Enlarge Image
We often saw "Eclipse Tip" tweets from NationalEclipse.com (@NationalEclipse) about how August 21, 2017, might have been the most requested vacation day of the year!
Many Thanks!!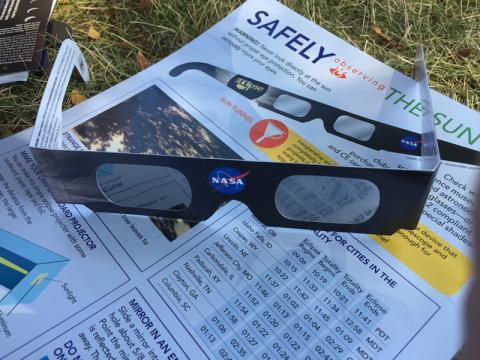 Enlarge Image
We owe a huge thank-you to Astrozap (@Astrozapceo) for donating the eclipse glasses that we used. This historic, natural event would not have been the same without these eclipse glasses!!!!
Thank you to the Cleveland Metroparks (@CleveMetroparks) for organizing the event at Edgewater Park -- for providing staff for parking, naturalists and volunteers to staff nature exhibits, and organizing the distribution of the eclipse glasses in a very organized manner. We also appreciated that the park was able to arrange for the National Aeronautics and Space Administration - NASA (@NASA - @NASAglenn) to have staff and displays on-site for the eclipse watch party!

Enlarge Image
A big thank-you to the volunteers of the CAA: Cuyahoga Astronomical Association (@CuyAstro) who provided their telescopes equipped with special filters for viewing the eclipse. Read all about the CAA event at Edgewater Park on the CAA web page: It's Happening August 21: Edgewater Eclipse Watch
These organizations giving of their talent made the day even more special!
Preparing For The BIG Day!
Before the eclipse, Dante Centuori (@ScienceDante) of the Great Lakes Science Center (@GLScienceCtr) was featured in an excellent video entitled, "Do you know what to expect for the Aug. 21 solar eclipse? @ScienceDante breaks it down for you!" Great Lakes Science Center was one of the many great locations sponsoring eclipse watch events.
Here are our 41 @sos_jr tweets/retweets from before the big day. Note that the first tweets are from August 2016 -- one year before the solar eclipse, interest was already growing!
We also shared on our @sos_jr twitter feed the many great local parks and museums that were planning special events for the day. The most important thing about sharing these tweets is that many link to very interesting and useful articles about the solar eclipse.
August 21, 2017, Solar Eclipse
Here are our photos from the day. They don't capture the views of the eclipse as well as others you can find online, but we share them to show all the excitement at Edgewater Park that day.
If your device does not support Flickr.com photos/videos,
please view them here.
To see some great photos of all the people at Edgewater Park, see Emanuel Wallace's (@MannyWallace) photo gallery for Cleveland Scene (@ClevelandScene): Photos from Edgewater Park's Solar Eclipse Viewing Party
We were thrilled to be contacted by the Weather Channel on Twitter, since they wanted to use one of our photos. After the event, we saw that @Fox8News had posted a photo of us on Twitter, and were told by friends that they saw us on the Fox 8 News live feed.
Here are our 117 @sos_jr tweets/retweets from August 20 and August 21, 2017. Again, be sure to look at the links for interesting articles about the day. There was a lot of interest online that day, as evidenced by the analytics report from Twitter I recieved stating that my "28 tweets net 22,714 Organic Impressions on Monday, August 21, 2017."
2024 Total Eclipse In Cleveland!
The next solar eclipse in the Americas comes on April 8, 2024, and this time it will be a total solar eclipse in Cleveland! Be sure to have your eclipse glasses ready for seven years from now!
We recommend seeing the 2024 Cleveland eclipse information and animation from TimeAndDate.com (@TimeAndDate).
Here is the Free Countdown Timer from TimeAndDate.com to the time that the eclipse begins in Cleveland at 1:59 pm on Monday, April 8, 2024.
Maximum eclipse in Cleveland (when the moon is closest to the center of the Sun) will be at 3:15 pm on Monday, April 8, 2024.
See you in 2024!
Comments
Submitted by Cliff (not verified) on Fri, 10/06/2017 - 21:43
Comment
Wow, wasn't that something to see and feel! Was my first time seeing totality and completely worth the 3 hour drive. Felt like the nation came together and was genuinely united that day.
Website
http://www.wedefineclean.net
Permalink