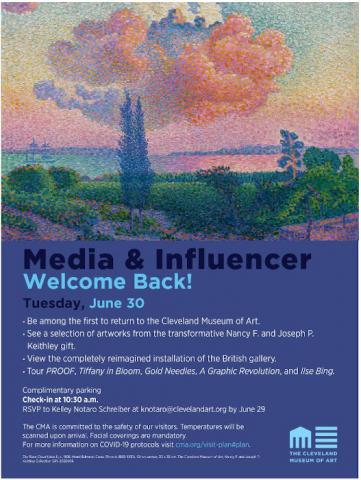 Yes, Ohio is slowly opening in the year of the coronavirus crisis, but can only do so with social distancing and other safety measures. As we approached the end of June, we heard that the Cleveland Museum of Art was reopening following "rigorous safety procedures that adhere to the guidance set forth by state and local officials, as well as the Centers for Disease Control (CDC)."
We decided to make this our first adventure out to a public space by getting tickets, but the day before we were going to order our online tickets, we received an invitation from Communications and Media Relations Manager Kelley Notaro Schreiber to the Cleveland Museum of Art's Reopening Media and Influencer Welcome Back! We accepted her invitation and decided to be one of the first to go to the public reopening of the Cleveland Museum of Art on Tuesday, June 30, 2020.
There is much happening both onsite in the museum galleries and online at the Cleveland Museum of Art. While the online resources are extensive, we do have to say that the absolute best way to truly enjoy the museum's art is in person, visiting its galleries! Thus, we were very excited to attend the Cleveland Museum of Art's #WelcomeBackCMA reopening!