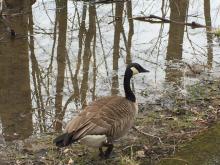 This blog post will share how we used our fantastic, local parks to deal with coronavirus-related stress starting, on Monday, March 16, 2020. An important part of health is mental health -- go for a walk for both physical and mental health!
We include information in this blog post about using the parks safely during this crisis, and resources to learn more about local parks. We have also included tweets about local restaurants from which we got food "to-go," on our way to or from the parks. It is important to support local business where possible at this time.
We want to thank our local park systems for their work to provide a safe place to explore.