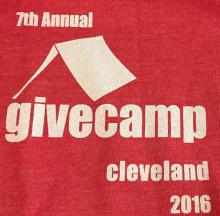 The Mission of Cleveland GiveCamp is to pair creative and technology talent with nonprofits in need.
Cleveland GiveCamp Weekend on July 29-31, 2016, marked the seventh year of serving nonprofits from the Cleveland and Akron areas. I am fortunate to to be part of Cleveland GiveCamp every year.
Cleveland continues to have many creative people volunteering (over 225 registered for 2016). It is believed that Cleveland has the largest GiveCamp in the nation. It is exciting that again this year there were so many volunteers that the tech volunteer tickets sold out, and a waiting list had to be started.