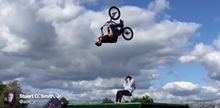 My weekend plans went from nothing planned to really fun when I learned about two free events via Twitter.
I had not planned on writing this blog post about the weekend. I even told people I talked to at the events that I was not going to write about the weekend. However...
After the weekend was over, I decided I wanted to capture the information I learned about local adventures. I also wanted to thank NEO Cycle and the Cleveland Pops for the good time.
Blog Date:
Tuesday, September 29, 2015