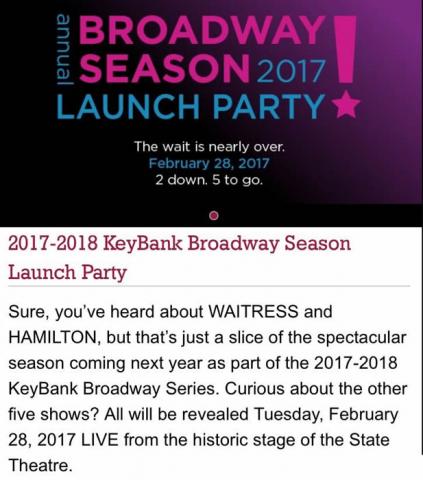 This was the third year that we were invited to attend the PlayhouseSquare Launch Party for the KeyBank Broadway Series. Thank you, Digital Marketing Coordinator Alyssa Brown  for inviting us to attend this great PlayhouseSquare event on Tuesday, February 28, 2017!
It was an evening of fun and anticipation as each show of the new season was announced. For the past two years, the Launch Party announcements took place at the 2,800-seat Connor Palace Theatre, but this year, the event sold out the 3200-seat State Theatre!
In 2015, we learned that Cleveland draws the largest audiences in the country for these touring Broadway productions. This year, the Launch Party audience was the biggest ever for the event, so it will be exciting to find out if this will lead to the largest attendance in the history of PlayhouseSquare's KeyBank Broadway Series.