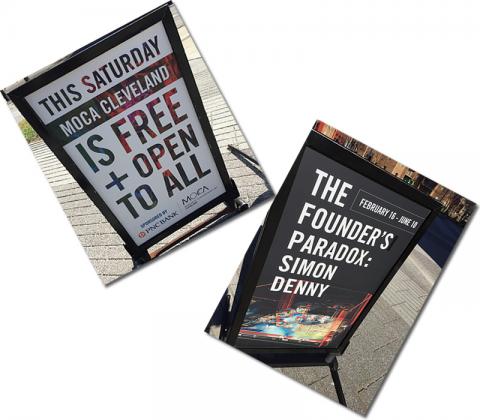 On April, 7, 2018, despite a very busy morning at the Rails-to-Trails Conservancy 2018 Opening Day for Trails - Cleveland, I was still very interested in seeing the current exhibition at the Museum of Contemporary Art Cleveland in the afternoon. 
Thanks to the sponsorship of PNC Bank, the museum offers free admission for all visitors on the first Saturday of every month.
The current MOCA exhibitions include INDUCTION: Tauba Auerbach and Éliane Radigue, Simon Denny: The Founder's Paradox, Claudia Comte: Zigzags and Diagonals, and Mei-Jia & Ting-Ting & Chih-Fu & Sin-Ji: C. Spencer Yeh. 
My son, Kevin, is developing two board games, so when I told him about Simon Denny's board game designs, he joined me at the Museum. In addition to Simon Denny's work, there were also game designs by local college students.